What are the implications of a Turkish buffer zone in Syria?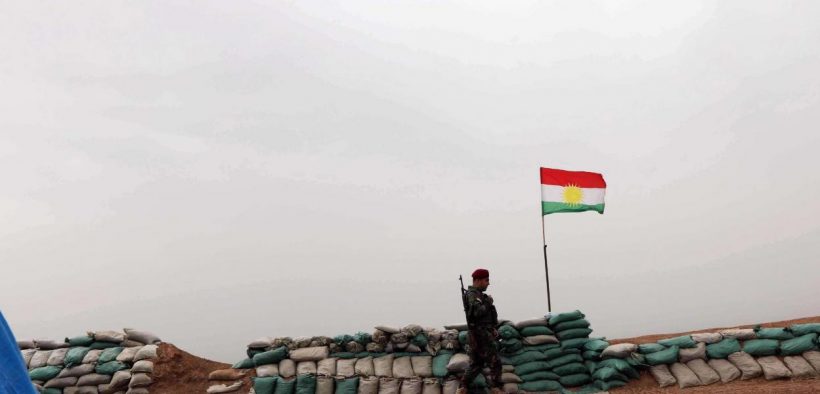 By Rachel Avraham
The Kurdish-controlled territories of Syria have become increasingly unstable since U.S. President Donald Trump announced last month he was pulling out the 2,000 U.S. troops from the region where they have helped Syrian Kurdish forces all but defeat Islamic State.
Two suicide bombs have struck the region this month; the first killed at least 15 people in the town of Manbij, including four Americans. ISIS claimed responsibility for the attack, as it has two more suicide bombings in the Kurdish-held region since then.
An agreement between Trump and Turkish President Recep Tayyip Erdoğan to set up what they said would be a 20-mile safe zone inside Syria along the Turkish border has added to Kurdish worries as it is not clear whether Turkish troops would patrol the area, currently controlled by Kurdish forces called the People's Protection Units (YPG).
"Turkey has a strong relationship with Russia, Iran economically and politically and they are supporting Islamist extremist groups in Syria," said Kurdish journalist Aso Jabar.  "Turkey asking to make a buffer zone inside the Kurdish areas of Syria is like a joke."
Israeli former diplomat Yitzchak Ben Gad said that despite Trump's decision to withdraw troops from Syria, the U.S. president was still a true ally of the Kurds, as demonstrated by his Jan. 14 his threat to "devastate Turkey economically if they hit Kurds".
"The policy of the U.S. is to say to Erdoğan that the Kurds are our allies as they helped U.S. forces defeat ISIS. If you attack them, you attack U.S. interests in Syria," Gad said, though adding that he did not think Washington wanted to clash with Turkey.
Despite Trump's view that ISIS had been almost defeated in Syria and his apparent willingness to hand over mopping up operations against the extreme jihadists to Turkey, according to the Washington-based Arab Center think tank, there are at least 2,500 ISIS fighters still in Syria.
"The withdrawal announcement was a distraction from the military operations against ISIS and has subsequently empowered this extremist group to re-emerge in Manbij and benefit from the chaotic situation," the Arab Center said.
The YPG says it would accept a buffer zone under United Nations control, but the UN has rejected taking on any such role. Turkey sees the YPG as the Syrian wing of the Kurdistan Workers' Party (PKK) that has been fighting for Kurdish self-rule in Turkey since 1984.
Syrian Kurdish opponents of the YPG, allied to the dominant Kurdish party in northern Iraq, called for Kurdish regions of Syria to be placed under UN control and for free and fair elections to take place. But the pro-Iraqi Kurdish parties in Syria have been largely sidelined by the YPG since the Syrian civil war broke out in 2011.
Gad said if Turkey attempted to set up a buffer zone in Syria it would create more problems.
"A buffer zone that prevents an attack upon the Kurds is a good idea. But if Turkey enters Syria, this is an international problem. The Syrians do not want them in Syria. They would be invading their territory," he said.
Salah Bayyazidi, the U.S. representative of the Komala Party of Iranian Kurdistan noted in an interview with Ahval that if the U.S. eventually leaves all of their positions, this will work to strengthen Iran in the region.
"YPG is now talking to the Assad government. They are asking for self-rule. I am afraid that this will lead to more Iranian strength in Syria," Bayyazidi said.
In the past, Trump has noted that an increased U.S. presence in Iraq could counter-balance the U.S. withdrawal from Syria and according to Bayaziddi it is true that there is talk of an increased U.S. presence in Iraq in order to be an assurance against ISIS reemerging and Iran increasing its presence in the region.
"They said the US is in Kirkuk and other areas," he said.
Dr. Michel Calvo, the former chair of the Foreign Relations Committee for French speaking countries of the Israel Bar Association, told Ahval that Turkey does not have the legal right to create a buffer zone in Syria:
"To create a buffer zone without the consent of the Syrian government would contravene international law and would be an act of war.  If it is done in Turkey, then it is fine. But if it is half in Turkey and half in Syria, then they would need the consent of the Syrian government."
According to Former EU MP Paulo Casaca, the only entity that has a legal right to create a buffer zone in Syria without the consent of the Syrian government is the UN.
However, the UN may not be able to successfully create such a buffer zone.
"We just need to look at the Lebanon-Israel border in order to see that the UN is not up to the job. So the only plausible solution is the US or an Arab NATO. But Turkey does not want an Arab NATO and the US wants to leave. The solution could be for Europe to step in. This would mean coming to an understanding that you have to put your boots where your mouth is. So if we want a real solution to the refugee crisis, we must have a Europe that instead of bribing dictators to do the dirty job in fact invests in real safe havens in the region.  This is far from what I see in the horizon. If we continue like this, we will further destroy liberal and democratic movements within the Middle East and we will leave the stage for competing dictators," Casaca said.
Source: Ahval News