Idlib offensive all but inevitable for Turkey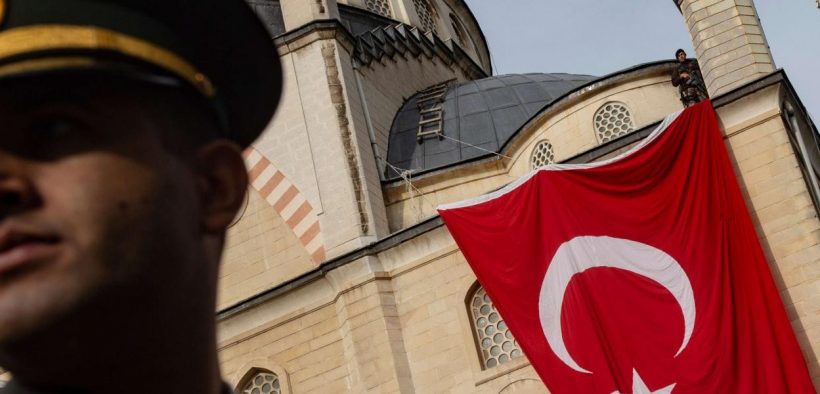 By Paul Iddon
Turkish President Recep Tayyip Erdoğan's visit to Moscow last week to discuss Syria with Russian counterpart Vladimir Putin followed two crucial developments in the war-torn country.
The first was U.S. President Donald Trump's sudden announcement last month that U.S. troops would withdraw from Syria. The second was the capture by jihadist group Hay'at Tahrir al-Sham (HTS) of more territory in the strategically important northwestern province of Idlib.
Turkey has long threatened to invade mainly Kurdish areas in Syria's northeast under the pretext of destroying the Kurdish-led People's Protection Units (YPG), which Ankara sees as directly linked to its arch-enemy, the Kurdistan Workers' Party (PKK). This month, Erdoğan and Trump began discussing the creation of a safe zone in northeast Syria in an attempt to somehow resolve this standoff.
Following his meeting with Putin, Erdoğan said Russia does not oppose the creation of such a zone and that the leaders were "on the same page" . He also said Russia and Turkey's "joint fight against terrorist organisations in Syria's Idlib will continue".
The Turkish Army has deployed troops to 12 observation posts that encircle Idlib province. These posts were established between October 2017 and May 2018 under the Russia-sponsored Astana Process.
Last September, Turkey agreed to establish a demilitarised zone in Idlib and crackdown on HTS in return for staving off a destructive regime offensive into the province, which would likely have resulted in millions more Syrians fleeing into Turkey itself. Ankara has to date demonstrably failed to do this. Rather than being contained, HTS even managed to take over more of Idlib province this month from the Turkish-backed Syrian National Liberation Front (NLF) militia.
On Jan. 10, the NLF agreed to hand over more of the province to HTS as part of a ceasefire agreement, giving HTS more territory and further undermining Turkey's designated role in combating it.
The future of Idlib and northeast Syria are likely the two most important developments that will shape the final phases of the Syrian conflict. Turkey is involved in both of them, but is more eager to destroy the YPG than deal with HTS in Idlib.
Kerim Has, an analyst who specialises in Russian and Turkish affairs, sees four reasons there is likely no deal between Russia and Turkey for a Syrian government offensive into Idlib or a Turkish operation against the YPG.
First, he sees Idlib as "a much bigger threat to Turkey's own national security" than to that of Assad. Second, Moscow does not expect the United States to abandon its Kurdish allies anytime soon.
"Third, Moscow still keeps its position of transferring YPG-controlled regions to Damascus if such a withdrawal really happens, which also envisages a narrow-scoped autonomy for Kurds as described in the first Russia-initiated constitution draft in 2017," said Has.
"Fourth, the future status of northeastern Syria would most likely not be simply determined by an Ankara-Moscow swap deal, but rather horse trading between the Assad regime and the Kurds, as well as Russia-U.S. talks in a parallel manner," he added.
During Erdoğan's Russia visit, Putin referred to the 1998 Adana Agreement between Ankara and Damascus. Under that deal, which Damascus made to prevent a potential Turkish military attack , Syria cracked down on PKK activity on its soil and deported the group's leader Abdullah Öcalan.
Putin's invocation of that agreement, Has said, "was a clear statement pushing Ankara to get in contact with Damascus as a prerequisite to create a buffer zone in northeastern Syria."
On the flight back from Moscow, Erdoğan clearly had the Adana Agreement in mind when he told journalists that Ankara needs "to bring the agreement to the table again".
"Russia is playing the role of mediator while Assad and Erdoğan are raising the Adana Agreement to weaken the negotiation position of the Kurds," said Joumana Gebara, a Middle East analyst and the official negotiator of the Syriac Military Council of the Kurdish-led Syrian Democratic Forces (SDF).
"Turkey would get its five kilometres – not 20 miles/32 kilometres – buffer zone against the Kurds if it allows a limited regime offensive in Idlib," she said, referring to a reported Russian proposal to re-introduce the 1998 agreement that would give Turkey the right to pursue the PKK five kilometres into Syria. "It looks like this will impact Idlib," Gebara said.
Has said a deal between Ankara and Moscow may have to wait for Turkey's local elections on March 31.
"The continuously postponed Idlib offensive is becoming more inevitable and the Turkish Army may get involved with the war against HTS if Ankara doesn't pull back its troops from the military posts around Idlib."
"Such a scenario may require Ankara not only to participate actively in this war against HTS and coordinate its actions on the ground with Moscow, but also to take some military measures soon that would ease the Russia-supported regime offensive in Idlib, directly and indirectly," Has said.
HTS is by far the predominant force in Idlib today.
Nicholas A. Heras, the Middle East Security Fellow at the Center for a New American Security, estimated that HTS controlled nearly half of Idlib, with influence over more than 90 percent of the province and control of all major roadways.
"It is a sad fact that nothing moves into and out of Idlib, including the Turkish military, without HTS being aware of it and giving its approval," Heras said. "HTS has essentially loaned out the land where the Turkish military established its observation posts around Idlib, and HTS maintains extensive surveillance of the posts and the ability to move against the Turkish military with force in Idlib."
Gebara backed recent comments by the former U.S. envoy to the anti-Islamic State coalition Brett McGurk who said all the border crossings to Turkey are controlled by al Qaeda, meaning HTS.
"Border crossings are the epitome of wealth as they process revenues in the millions of dollars," Gebara said. "Also, the Idlib border crossing to Assad's areas were not shut down and are controlled by the regime on its side and HTS on the other."
Source: Ahval News