Turkey's ruling party turns to economic 'tricks' as polls loom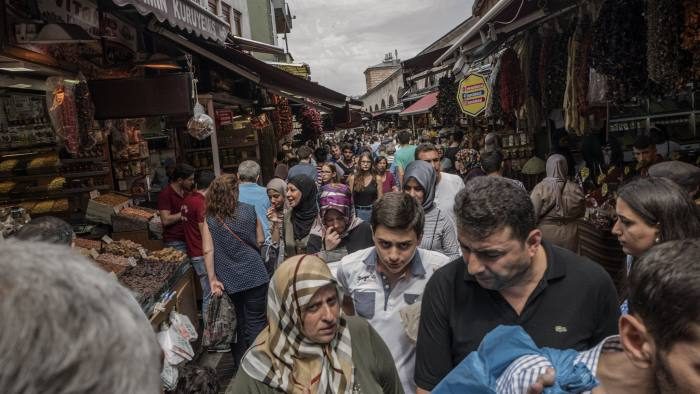 Shoppers at the Eminonu market in Istanbul.
When previous elections have got tough, Recep Tayyip Erdogan has rarely hesitated to throw money at voters. But as a difficult set of local polls looms, the hands of the Turkish president and his lieutenants are tied. Chafing under strict fiscal constraints imposed after last year's painful currency crisis, the government has been forced to resort to more creative attempts to stimulate the economy and give a morale boost to the electorate. "Traditional means of doling out the pork are out," said Atilla Yesilada, an Istanbul-based analyst at the consultancy GlobalSource partners. "Instead we see tricks."  Those tricks have ranged from leaning heavily on the country's state banks to pressing retailers to hold down their prices. But some analysts wonder whether such an approach will last, or whether a nervous president will eventually revert to more conventional spending tactics — to win whatever the cost. Mr Erdogan's ruling Justice and Development party (AKP) is nervous about the mayoral and municipal elections due on March 31, which will take place amid a sharp economic slowdown. The race in the capital city of Ankara, in particular, is expected to be tight and a loss there would be a huge blow for the Turkish president. The fiscal restrictions have been imposed by Berat Albayrak, Turkey's finance minister and Mr Erdogan's son-in-law, who pledged strict discipline to shore up market confidence last year after a collapse in the Turkish currency. His target for this year is a budget deficit of no more than 1.8 per cent of gross domestic product. Given the limitations, the government has placed demands on the private sector. Companies began the new year with a requirement to raise the salaries of workers on the minimum wage by 26 per cent. Retailers have been asked to join Mr Albayrak's "campaign against inflation" by offering discounts. And, after last year's raids on onion warehouses, Mr Erdogan has continued to put pressure on food stores amid daily headlines about rising fruit and vegetable prices. "If these shops continue to exploit people they will pay the price," he warned in a recent speech. Perhaps most striking is the role being played by the country's three state-owned banks. In January alone, they were asked to provide cheap loans to citizens struggling with credit card debt, offer heavily discounted mortgages, and take part in a new scheme to extend loans to small businesses. One senior official at a state-owned bank voiced concern that these measures were storing up problems for the future. "They are borrowing from tomorrow to pay for today," he said. President Recep Tayyip Erdogan in Ankara on Tuesday © AFP In the run-up to landmark elections last June, economic conditions were more benign. Mr Erdogan was seeking election to the helm of a powerful new presidential system and before the vote his government announced a $6bn package of giveaways that was crowned by two payments of TL1,000 ($190) each to 13m pensioners. This time round, voters are feeling the pain, telling pollsters that they are worried about the economy and unemployment. But the available remedies are limited. One way to stimulate the economy would be for Turkey's central bank to cut interest rates that currently stand at 24 per cent. But the bank is still rebuilding its shattered credibility after responding late to last year's currency woes. Investors have warned that cutting rates now, with annual inflation stuck at 20 per cent, could trigger fresh market turmoil. The bank has issued assurances that it will not act prematurely. Mr Albayrak is reluctant to borrow money to fund pre-election stimulus measures because he does not want to push up interest rates in the domestic debt market. That is seen as an explanation of one of the "tricks" that he pulled this month — hastening the distribution of TL33.7bn ($6.4bn) in central bank profits to the Treasury. "It will help the government to avoid larger domestic borrowing needs," said Inan Demir of the Japanese bank Nomura. "I think part of the cash will be spent ahead of elections." The international financial markets have so far appeared relaxed by recent steps. "These are counter-cyclical measures that countries like China always deploy," said Yerlan Syzdykov, head of emerging markets at Amundi Asset Management. "These are all legitimate ways of stimulating your voters, and stimulating your economy at the same time. It's nothing too controversial." The concern for Mr Syzdykov and others is that pre-poll nerves could prompt Mr Erdogan to lose his cool. A drop in support for the ruling party "could prompt an over-reaction of the government on the fiscal side", he said. Mr Albayrak insists that is out of the question. "When it comes to fiscal slippage . . . it is not going to happen," the finance minister said in a bullish appearance at Davos last month.
Source: Financial Times