Could US force regime change in Turkey?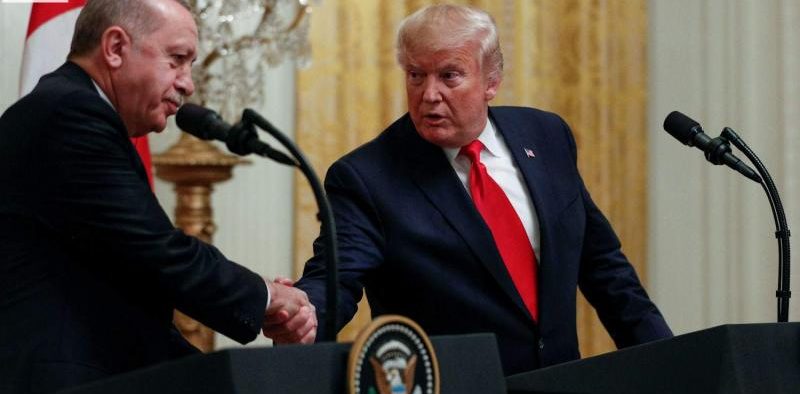 "Trump is weak and easily manipulated. Erdogan has found a way of doing that," said David L. Phillips, director of Columbia University's Programme on Peace-building and Rights.
The United States should initiate policy moves that could help oust Turkish President Recep Tayyip Erdogan, said a former top US official, who said he sees Turkey's long-time leader as a despot under whom Washington's relations are unlikely to improve.
US President Donald Trump and Erdogan met November 13 at the White House, after which Trump declared the Turkish leader "my dear friend" and said a $100 billion trade deal was still possible but conditioned good US-Turkey relations on resolving the issue of Ankara's purchase of Russia's S-400 missile-defence systems.
Since Turkey's Syria offensive began October 9, hundreds of people have been killed and more than 300,000 displaced. Erdogan's plan to resettle up to 2 million Syrian refugees in what he calls the safe zone he hopes to carve out have led to accusations of an attempt at ethnic cleansing.
The Wall Street Journal reported that US military officials saw on video Turkey-backed rebels targeting civilians in Syria, which the officials reported as possible war crimes. This followed reports of roadside executions and white phosphorous use by Syrian jihadists backed by Turkey.
Yet the talks and news conference in Washington passed with Erdogan receiving no censure or sanctions for Syria and facing minimal criticism.
"Trump is weak and easily manipulated. Erdogan has found a way of doing that," David L. Phillips, director of Columbia University's Programme on Peace-building and Rights, told Turkish news site Ahval in a podcast. Phillips served as a senior adviser at the US State Department under Presidents Bill Clinton, George W. Bush and Barack Obama.
In an opinion article, Phillips called Erdogan a despot and detailed crimes committed by Turkey-backed rebels against Kurdish civilians in the north-western Syrian district of Afrin last year and argued that Trump has essentially endorsed a Turkish pogrom against the Kurds.
"There's a pattern of atrocities that has existed for some time," said Phillips. "Crimes that his Free Syrian Army (FSA) mercenaries commit in his name are Erdogan's responsibility; the FSA is under Turkey's command."
Phillips outlined policy moves that would marginalise the Turkish government and potentially lead to a regime change. First, the United Nations or other independent body should be urged to hold Erdogan to account.
"Erdogan shouldn't be in the White House, he should be in the Hague facing judges for the crimes he's committed," said Phillips, adding that he and others are gathering data on war crimes in Syria.
Second, the US Congress should move forward with measures against Turkey for its S-400 purchase under the Countering America's Adversaries Through Sanctions Act and a second sanctions bill for its Syria offensive.
"Both of those should be moving forward. Turkey only responds under duress," said Phillips. "Right now, Turkey is no friend of the United States. We should stop pretending it is. The only way to move Turkey's behaviour is to get tough with Erdogan. I just don't think Trump has the character to make that happen."
A third step would be for the United States to get its nuclear weapons out of the Incirlik air base in southern Turkey.
"We shouldn't have 50 nuclear weapons on Turkish soil and Incirlik has already become redundant," said Phillips, pointing to US bases in Jordan and the Gulf. "I don't think we lose much if Incirlik shutters its doors and the US discontinues its cooperation there."
This might be a relief for Turkey's NATO allies in Europe, for whom the threats coming from Turkey are clear. Erdogan has warned the European Union about its plan to sanction Turkey for drilling in eastern Mediterranean waters claimed by Cyprus. "Beware," Erdogan said, "we have 4 million refugees. We have ISIS terrorists in custody."
Phillips described that threat as "disgusting" and said the fourth step would be moving Turkey's EU accession talks from suspended to terminated.
"Losing Turkey is not such a big deal," he said. "We're prepared to bear that cost, in order to galvanise the public in Turkey in service of an alternate regime."
Phillips said he is confident that principled Turks would express their disdain for Erdogan, even in the face of government pressure. However, he did express concern that Erdogan would expand his purge, which has led to the dismissal of some 130,000 public servants and placed more than 50,000 people in prison, and his assault on free speech, which has left hundreds of journalists, activists and opposition politicians imprisoned or on trial.
Erdogan's government on November 15 dismissed four mayors of the opposition Peoples' Democratic Party, bringing the total number of the pro-Kurdish party's mayors dismissed since the March local elections to 20.
"Since the so-called coup of 2016, Erdogan has turned Turkey into a giant gulag," said Phillips. "It's time to see Turkey as it is, not as it used to be or how we wish it were."
One risk of this policy, mentioned by US Senator Mitch McConnell and others, is that punishments such as harsh sanctions and expelling Turkey from the programme to build F-35 fighter jets drive Ankara into the arms of Moscow and leave the United States in a weaker position in the region.
"Turkey is already embraced by Russia," said Phillips, pointing to Moscow and Ankara working together in Syria, the S-400 deal and conducting talks on Turkey buying Russian Su-35 fighter jets.
Others fear that US opposition to and punishment of Ankara would play into Erdogan's political narrative that the West has it in for Turkey, which could boost his support and help keep him in office, potentially making Turkey less democratic.
"Turkish politicians have always played this card, they conjure up adversaries both at home and abroad in order to marshal nationalist support," said Phillips. "I don't buy the argument that Turks will rally around Erdogan if we get tough with Turkey. I think the exact opposite is true."
Might Turkey's leader of more than 16 years be vulnerable? "His power at home is diminishing as new generations of Turks demand more freedoms and splinter groups from his own party are entering politics," Asli Aydintasbas wrote in the Washington Post.
Erdogan's likeliest challenger, Istanbul Mayor Ekrem Imamoglu, soon takes his first steps onto the world stage, visiting London November 20-21 to meet with top officials including London Mayor Sadiq Khan and executives from Goldman Sachs, JP Morgan and Barclays and sitting down for a high-profile interview with Bloomberg News.
A recent survey indicated Erdogan's support was at 48%, its highest since mid-2018, but another poll said there was a significant drop in support for Erdogan's ruling Justice and Development Party (AKP), with 32% of respondents saying they would vote AKP, down from the 42% that voted for the party in 2018.
"We've already lost Turkey and as long as Erdogan stays as head of government the prospect for US-Turkey relations to improve will remain limited," said Phillips. "We need a regime change, not only in Turkey, but in the United States, to put this relationship back on track."