Turkey has lowest ranking in 10 years in 2021 corruption index: Transparency International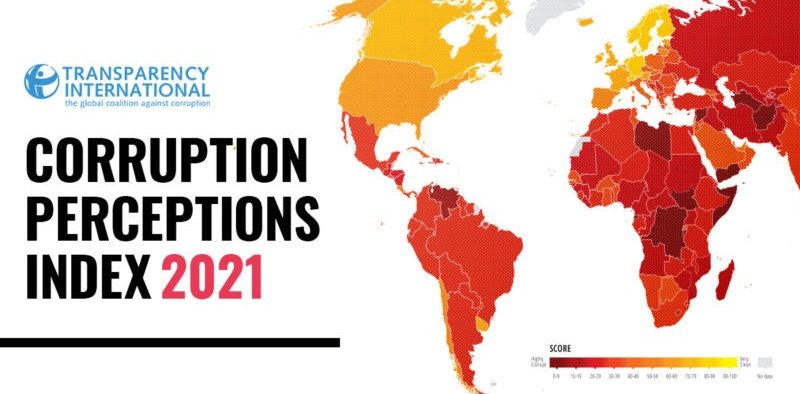 Turkey has taken 10 steps back and was ranked the 96th least corrupt nation among 180 countries –- the lowest in the past 10 years -– with a score of 38 out of 100, in the 2021 Corruption Perceptions Index (CPI) released by Transparency International on Tuesday.
The CPI ranks countries and territories based on how corrupt their public sector is perceived to be. A country or territory's score indicates the perceived level of public sector corruption on a scale of 0 (highly corrupt) to 100 (very clean).
According to the index Turkey was among 23 countries whose scores have seen the biggest decrease in the past 10 years. Turkey also ranked lowest among the European Union countries, 37th among the the 38 Organization for Economic Co-operation and Development (OECD) countries and third to last among G20 countries, CPI said.
The index further said the practice of impunity, which has allowed corruption to prevail and become commonplace in Turkey, was continuing, along with fundamental violations regarding budget transparency and accountability for the use of public resources, and policies of pressure and intimidation of media organizations, journalists and civil society.
The score and ranking of Turkey, which had ranked 54th in the index together with EU member states Latvia and Czech Republic in 2012, have been rapidly decreasing since 2013, when it was shaken by two corruption investigations in which senior members of the Justice and Development Party (AKP) were involved.
At the time prime minister and current President Recep Tayyip Erdoğan described the investigations as a coup attempt against his government, and police officers and members of the judiciary who took part in the investigations were removed from their jobs and then sent to jail.
Some of the claims that were part of the corruption investigations were later substantiated in a New York court, where Turkish banker Mehmet Hakan Atilla was sentenced to 32 months for conspiring to violate US sanctions on Iran and other offenses.
Transparency International is one of the leading global civil society organizations in the fight against corruption and has been publishing the Corruption Perceptions Index annually since 1995.
Globally, New Zealand, Denmark and Finland had the highest score at 88, while Syria, South Sudan and Somalia had the lowest scores from 13 to 11 on the CPI.
"This year, the global  average  remains unchanged for the tenth year  in a row, at just 43 out of a possible 100 points. Despite multiple commitments, 131 countries have made no significant progress against corruption in the last decade. Two-thirds of countries score below 50, indicating that they have serious corruption problems, while 27 countries are at their lowest score ever," the index said.
Source: Turkish Minute