International wing of Yazidi force in Sinjar says it's 'not fighting Turkey'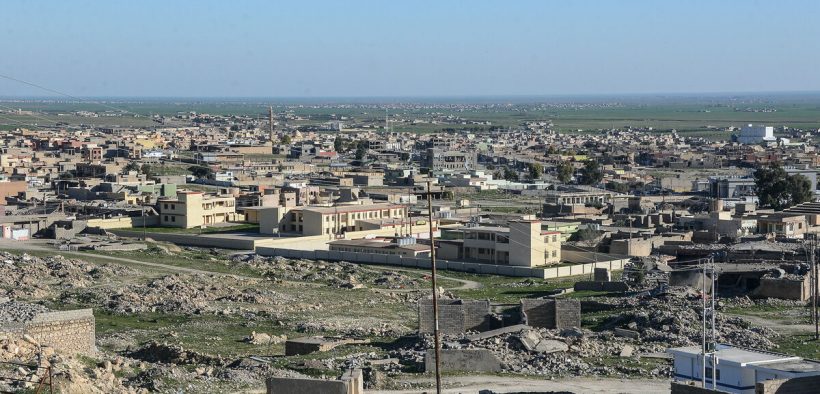 The commander of an international volunteers' brigade linked to a Yazidi force in Iraq's Sinjar region has rejected allegations that they are fighting against the Turkish army and Iraqi Kurdish Peshmerga fighters.
"We are here to defend the autonomy of this region. We are not here to fight Turkey or Iraq. We are here to fight DAESH," said the commander, a 52-year old Spaniard, whose nom de guerre is Bahoz. He was using the Arab acronym for the Islamic State.
The commander of the international wing of the Sinjar Resistance Units (YBS) was reacting to allegations leveled against the Yazidi militia by three foreign volunteers who fled their unit last month, amid spiraling tensions pitting the YBS against Iraqi government forces and Iraqi Kurdish authorities.
Two Americans, Vincent Mark Alexander and Jean Devol, and a British man, Emre Edwards, were reportedly "rescued" by Peshmerga fighters attached to the Kurdistan Regional Government in late April. In a 14-minute video published May 4, by the Kurdistan Region's Security Council, the men accuse recruiters for the YBS' international arm of lying about the true nature of their job, which they thought was to fight IS. Instead, they claimed they were "deceived" into fighting their countries' "allies," Turkey and Iraq, and forced into digging tunnels "with our bare hands."
"The Peshmerga helped us escape … because we did not sign up to be terrorists … we did not sign up to fight American allies," Alexander said. The men claimed they were put on the front lines against Turkey and Iraq and threatened with execution if they decided to quit.
The Security Council said the men were handed over to their respective consulates.
The YBS was formed, with the help of the PKK, after IS swept across Sinjar in August 2014, murdering thousands of Yazidi men and abducting their women and children. The attack has been labeled a genocide by the United Nations and other international bodies.
The group's association with the PKK has put it in the crosshairs of Turkey, which claims they are one and the same, a threat to Turkey's national security. Over the past four years Turkish forces have steadily escalated attacks against the group, killing several senior YBS commanders in drone strikes, notably Zaki Shingali, a top figure who distinguished himself in the fight against IS, and Said Hassan, who was killed in August.
Alexander claimed in the video that when he arrived in Sinjar on Nov. 26 "there were PKK everywhere." Murad Ismael, president and co-founder of Sinjar Academy, said that while that is an exaggeration, the group does have some men on the ground. "The YBS needs to behave and break all foreign links," he added without elaborating.
All of this has left over 200,000 Yazidis displaced by IS and stuck in overcrowded camps, unable to return to their homes. The recent spike in clashes triggered a fresh exodus, with an estimated 1,000 families thought to have left for Duhok in the Kurdistan region. "The cost of a full-fledged military operation will result in displacement of most Yazidis who returned to Sinjar, and this new displacement will likely be permanent," Ismael warned. He reckons between 150,000 to 200,000 Yazidis have gone back Sinjar since ISIS was driven out.
The YBS denies the presence of PKK fighters in Sinjar and posted its own video showing volunteers munching on pizza and surrounded by well-fed shepherd dogs.
Bahoz, the 52-year-old commander of the international brigade, told Al-Monitor, "I came to Sinjar six years ago because I saw the genocide of the Yazidis, the persecution of Christians. I am a Christian. I had to do something." He said members of his force had the option to leave whenever they chose to, but that they had to commit to eight months of active duty in order to join. Those who leave earlier are free to go but have to finance their own way back.
"There are many who leave when circumstances change," Bahoz noted. When the Iraqis approached, he said, he saw that the recent deserters "were very scared." He speculated, "They agreed to make up these stories when they turned themselves to the peshmerga."
A 26-year old American, who joined the group two months ago and calls himself Hunresh Amriki, told Al-Monitor he was drawn by the philosophy of the PKK's imprisoned leader, Abdullah Ocalan, whose long-winded prescriptions of radical communalism and empowerment of women offered "the best system for the modern world." He flew to Erbil, the capital of the Kurdistan region, spent a few weeks there, then took a taxi to Sinjar where he underwent a month of military training. "It was pretty simple," he explained.
"We don't dig tunnels. This is objectively false. The last work we created was a little farm in our little town. We grow tomatoes," he said. He knows the risk of "Turkish bombs, and Turkish drones. But there are no Turkish troops. We do not fight Turkish troops. We are 100 percent a defense force," he insisted.
The YBS makes no secret of its devotion to Ocalan and says that while they share his ideology, they are distinct from the PKK.
The Syrian Kurds' fight against IS inspired thousands of foreign volunteers to join their ranks and a plethora of books and movies. It has also helped to popularize Ocalan among left-wing youth in the United States, Europe and elsewhere across the globe. "Apo is a solution for Spain," asserted Bahoz, referring to Ocalan by his popular nickname, which mean "uncle" in Kurdish.
"Ocalan's theories address problems that exist everywhere — nationalism, dictatorship, religious fundamentalism, racism, the oppression of women. People and organizations inspired by his ideas won historic victories over IS and continue to struggle for freedom and democracy against a repressive regime in Turkey," said Meghan Bodette, director for research at the newly founded Kurdish Peace Institute in Washington. "For those seeking alternatives to a world order that seems to be growing less democratic and more unequal every day, a universalist theory that has succeeded in practice under harsh conditions is naturally inspiring," Bodette told Al-Monitor.
Source:Al-Monitor
***Show us some LOVE by sharing it!***