Erdoğan promises Black Sea gas by 2023 as new drill ship sets sail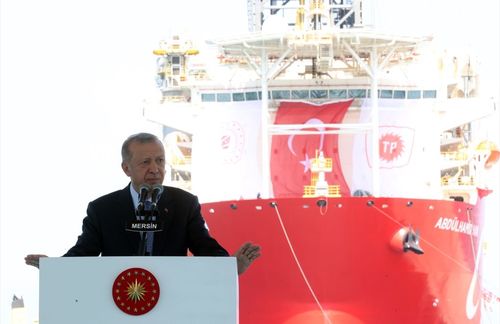 Türkiye's new drill ship, named after the Ottoman Sultan Abdülhamid II, will operate off the coast of Antalya province in the Mediterranean for hydrocarbon exploration, President Recep Tayyip Erdogan announced yesterday (August 9).
"We will send our ship, Abdülhamid Han, to the Yörükler-1 well, 55 kilometers away from Gazipaşa," Erdogan said during a ceremony for the first mission of the vessel at the Taşucu port in the country's southern city of Mersin.
Praising Türkiye's "rare-in-the-world" drilling fleet, which now consists of four drilling ships and two seismic research ships, Erdoğan remarked, "While setting our country's goals for 2023, we saw that foreign dependency in energy was the primary issue that should be addressed."
Also touching on last year's natural gas exploration in the Black Sea, Erdoğan said, "The 540 cubic meter natural gas reserve we discovered in the Black Sea has given morale to our country and nation."
"We are planning to finish the operations in the 10 wells required for the first phase of Black Sea gas and to start putting the natural gas acquired from there into service for our nation in 2023," he remarked, again referring to his government's goals for 2023, the centennial of the republic and the year of the presidential and parliamentary elections.
He added that Türkiye carries out exploration and drilling operations in the Mediterranean within its jurisdiction, saying, "We do not need anyone's permission for this."
Türkiye's hydrocarbon exploration activities in the Mediterranean had caused tensions between Greece and the EU in 2020. (VK)
Source:Bianet