New left-wing opposition alliance led by HDP formed in Turkey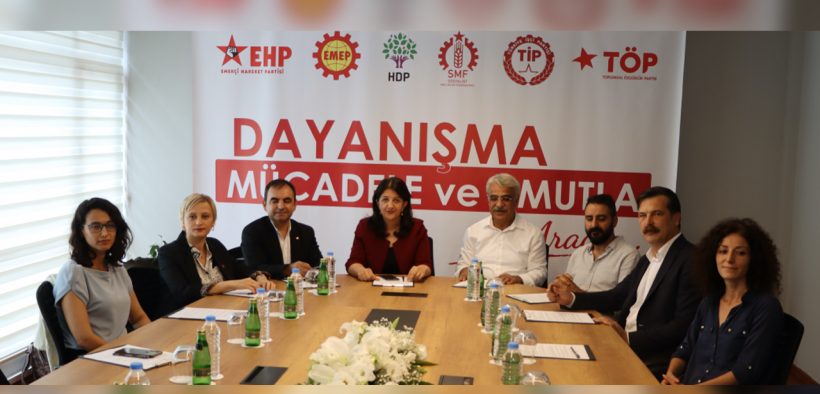 Led by the Peoples' Democratic Party (HDP), Turkey's six opposition political parties and organisations that held talks on 25 August have announced a new umbrella organisation under the name Labour and Liberation Alliance to wage a common democratic struggle that will start before the 2023 elections and continue afterwards.
Representatives of the Labourers Movement Party (EHP), Labour Party (EMEP), Peoples' Democratic Party (HDP), the Federation of Socialist Assemblies (SMF), the Workers' Party of Turkey (TİP) and the Social Freedom Party (TÖP) all met in Istanbul on Thursday.
After the meeting, the block announced the formation of the Labour and Liberation Alliance to fight for change based on the values of labour, peace, freedom and democracy against the policies of the ruling Justice and Development Party (AKP) and its far-right coalition ally the Nationalist Movement Party (MHP).
Following the meeting hosted by TİP, the representatives said in their joint statement that the alliance will declare its principles of struggle, the framework of its political program, and its pre- and post-elections roadmap to the public in September.
"We will fight together for humane working and living conditions; for a strong democracy based on people's sovereignty; for a peaceful and democratic solution to the Kurdish question; for the equality and freedom of women, youth and disadvantaged groups; and for the protection of nature and our cultural assets," they said.
The Labour and Liberation Alliance is the third alliance formed in Turkey's current political scene. The ruling AKP-MHP are accompanied by smaller partners in the People's Alliance, while the bulk of mainstream opposition parties came together under the Nation Alliance.
The Nation Alliance, led by main opposition Republican People's Party (CHP), is also known as the six-party table and includes two smaller centre-right parties that broke away from the AKP in recent years, led by former AKP heavyweights Ali Babacan and Ahmet Davutoğlu.
The alliance's main promise is to create a democratic consensus and roll back the AKP's 2017 amendments to Turkey's constitution, which abandoned the parliamentary system in favour of an executive presidential one.
Source:MedyaNews
***Show us some LOVE by sharing it!***