Turkey in talks with Russia for small-scale military operation in northern Syria: report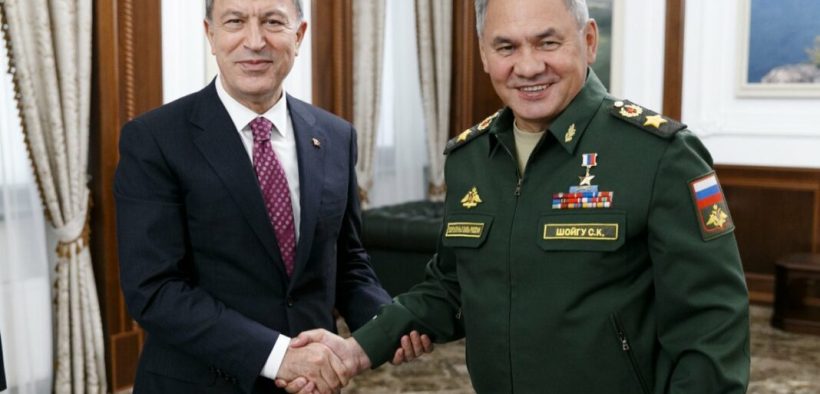 Turkish and Russian officials are negotiating for a small-scale Turkish military operation to remove Syrian Kurdish fighters from the area west of the Euphrates River in the coming weeks, Middle East Eye reported, citing sources familiar with the situation.
Earlier this week Turkish President Recep Tayyip Erdoğan threatened the Kurdish People's Protection Units (YPG) with a ground offensive in response to a deadly bombing in İstanbul on Nov. 13 for which Ankara accused the outlawed Kurdistan Workers' Party (PKK) and YPG.
Turkish Defense Minister Hulusi Akar told his Russian counterpart, Sergei Shoigu, in a phone call on Thursday that Ankara would continue to respond to attacks that target civilian settlements in Turkey, according to the Turkish readout of the call.
Ankara has been conducting a series of airstrikes throughout northern Syria against YPG targets since the İstanbul bombing.
This has drawn American criticism over the proximity of strikes to nearby coalition bases, where US soldiers are stationed.
"[We] have pointed out that the permanent prevention of the terrorist threat and corridor and the neutralization of terrorist organizations is our top priority," the Turkish statement on Akar's conversation with Shoigu read.
Following the bombing in İstanbul Turkey launched a series of airstrikes across parts of Iraq and Syria on Sunday, targeting Kurdish groups.
Turkey blamed the bombing on the Syrian Kurdish YPG militia and the PKK. The PKK is designated a terrorist group by Turkey and much of the international community.
Kurdish groups deny any involvement in the İstanbul attack.
Turkey says the Kurdish YPG militia is allied with the PKK, which has waged an insurgency against the Turkish state since 1984.
According to the UK-based Syrian Observatory for Human Rights, Turkey launched raids Friday on Hasakeh in northeast Syria, held by the US-supported Syrian Democratic Forces (SDF), which is spearheaded by the YPG.
Erdoğan on Friday vowed to protect Turkey's southern border with a "safe zone" in Syria.
He has long sought to build a 30-kilometer-deep "safe zone" inside Syria and repeatedly threatened this year to start a new military operation to achieve this goal.
Russia and the United States have, however, called for de-escalation.
Turkey's military has conducted three offensives against Kurdish and Islamic State of Iraq and the Levant (ISIL) fighters since 2016 and already captured territory in northern Syria, held by Ankara-backed Syrian proxies.
Source: Turkish Minute