Prehistoric world heritage site Gobekli Tepe survives Turkey earthquakes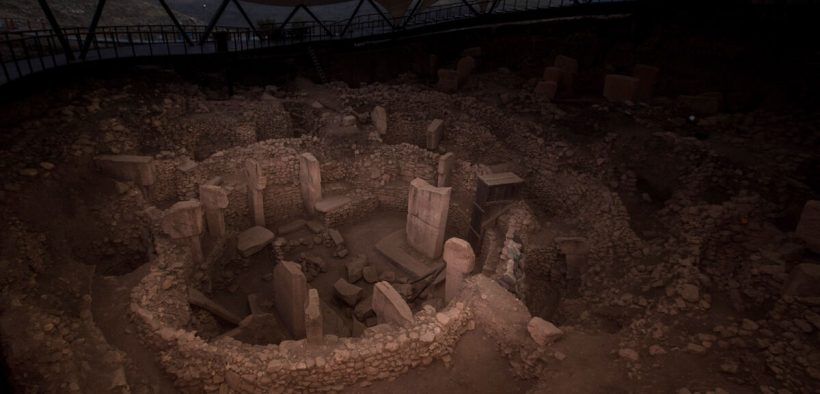 Two devastating earthquakes that hit Turkey and Syria only nine hours apart have killed more than 20,000 people and reduced tens of thousands of buildings to rubble, but two of Turkey's iconic world heritage sites miraculously remain with little or no damage.
Gobekli Tepe, the world's oldest known place of worship, appears to be undamaged despite being a mere 10 miles from Sanliurfa, one of the 10 provinces affected by the 7.8-magnitude quake. With the oldest megalithic structures ever found, it dates to the 10th millennium BC and has been included in UNESCO's World Heritage Sites list since 2018. The site, which means "potbelly hill" in Turkish, consists of T-shaped pillars carved with drawings of animals, abstract symbols and human hands surrounded by smaller inward-facing pillars. The site and its state-of-the-art museum with holograms and videos draw in millions, contributing to the country's tourism-reliant economy.
• 850,000 visitors in 2022

• 12,000-year-old site is dubbed 'zero point of time'

• Listed as a UNESCO World Heritage site

Gobeklitepe, ancient site in Türkiye, hosts record 850,000 visitorshttps://t.co/G3gjKq1ila pic.twitter.com/hNoPbDC3LM

— ANADOLU AGENCY (@anadoluagency) January 9, 2023
A spokesperson for the UN cultural agency UNESCO told Al-Monitor, "According to a preliminary damage assessment undertaken by the national authorities, the World Heritage site of Gobekli Tepe does not seem to have been damaged." Turkey's Culture Ministry also confirmed Thursday that the site, which is among the top five touristic sites in Turkey despite being away from the usual mass-tourism destinations, remains standing.
Some 180 miles to the north, the UNESCO-listed Arslantepe Mound has suffered some damage but nevertheless stands, according to UNESCO. The medieval site is located some 40 miles from the province of Malatya, one of the worst-hit provinces.
A temporary roof covering the museum, which hosts ruins of settlements dating back to 5,000 B.C., "would have collapsed in several areas and some slips can be observed in some of the adobe walls of the mound," according to the Paris-based UN agency.
UNESCO Dünya Mirası Listesi'ndeki 7 bin yıllık Arslantepe karla kaplandıhttps://t.co/hf6g61Fa3q pic.twitter.com/oGigWOc7Ea

— Konhaber.com 🇹🇷 (@konhaber) February 3, 2023
Turkey's disaster zone lies in upper Mesopotamia and is part of a region called the "Fertile Crescent," a curve stretching from the Persian Gulf to upper Egypt and believed to be the site of the world's earliest civilization. Home to some of the world's richest archaeological sites, the region hosts hundreds of historical landmarks including the original location of Iraq's Hanging Gardens of Babylon and the Petra site in Jordan.
Monday's earthquakes took place at the highest point of this curve encompassing Turkey's southern and Syria's northern region, which is home to dozens of archaeological sites, monuments, historical edifices and ancient buildings, including several iconic UNESCO World Heritage sites. Besides Gobekli Tepe and the Arslantepe Mound, the area includes two more UNESCO-listed sites: Mount Nemrut, known for its gigantic statues of gods commissioned by King Antiochos I of Commagene, the Diyarbakır Fortress and the Hevsel Gardens, located on an escarpment in the Upper Tigris River Basin and overlooking the historical city.
Whether there is damage on Mount Nemrut, which lies in the country's southeastern province of Adiyaman — one of the worst hit by the quakes — remains unknown, according to UNESCO. "The site is not accessible because of the weather conditions," the agency said. Television footage coming from the site since Monday's killer earthquakes showed rescuers scrambling to pull survivors from the debris under heavy snowfall. Turkey's Culture Ministry said Thursday that authorities have been "unable" to detect any damage to the structure. UNESCO had previously warned that the site, which hosts giant statues of ancient Greek and Persian gods and goddesses including Zeus, Ahura Mazda and Apollon, was "within a first-degree earthquake zone and is very close to the East Anatolian Fault" and "vulnerable to earthquakes."
Nemrut'un kış uykusuna kuraklık engelihttps://t.co/m5DMTk0UQx pic.twitter.com/UINfITdoIA

— İhlas Haber Ajansı (@ihacomtr) January 25, 2023
At another world heritage site, Diyarbakır Fortress and Hevsel Gardens, "several buildings" collapsed, UNESCO said in a statement earlier this week.
But the fortress seems to have held better than the nearby Gaziantep Castle, parts of which were largely destroyed by the quakes. Yet Gaziantep's award-winning mosaic museum where Roman-era mosaics are displayed remains standing, the Culture Ministry said.
Hatay, one of the places hardest hit by the quakes, has seen the worst historical and architectural losses. The multireligious and multicultural province has been deemed an open-air museum, hosting more than a dozen landmark houses of worship cherished by believers from three religions.
Dozens of landmarks, buildings and historical edifices including mosques, churches and synagogues were flattened or severely damaged by the temblors in the province.
Among the most well known sites, the historical Habib-i Najjar Mosque was mostly destroyed, images circulating on social media show. Jewish community leaders in Turkey confirmed to Al-Monitor earlier this week that the main synagogue in central Hatay also sustained damage. The leader of Antakya's tiny Jewish community, Saul Cenudioglu, and his wife's bodies were recovered from under the rubble Thursday.
-Habib-i Neccar Cami
-Sarımiye Cami
-Antakya Katolik Kilisesi (Dış kapı sağlam ancak içeriyi göremedik.) https://t.co/QcgpGALjnA pic.twitter.com/33dTY7Cfus

— Vecih Cuzdan (@VecihCuzdan) February 9, 2023
The social media accounts of a local Orthodox community also reported severe damage to the 19th-century St. Nicholas Greek Orthodox Church and the 19th-century Cathedral of the Annunciation in Iskenderun.
Hatay'ın Samandağı ilçesinde, dağlardan gelen sel sularından korunmak için Roma İmparatoru Vespasian döneminde yapımına başlanan ve oğlu Titus tarafından M.S. 81 yılında tamamlanan tünel, 2014 yılında UNESCO Dünya Mirası Geçici Listesi'ne alındı. pic.twitter.com/eEliVVzads

— TRT Belgesel (@TRTBelgesel) November 1, 2022
The plight of Cenovesean-era watchtower and UNESCO-listed ancient Vespasianus Titus Tunnel, which is located in the ancient Seleucia Pieria settlement, remain unknown.
The Paris-based agency said it could send a mission when time allows and if the Turkish government demands. "We have several mechanisms to help Syria and [Turkey] to restore and repair the damages," the agency's spokesperson said. "We can provide technical and scientific assistance as well as funds: UNESCO has a fund for Heritage in emergencies and the World Heritage Convention also manages a fund for this purposes."
Text ALM to (202) 759-4661 to get Al-Monitor's top news and analysis straight to your phone.
Source:Al-Monitor