Fenerbahçe fans banned from away game after 'earthquake' protests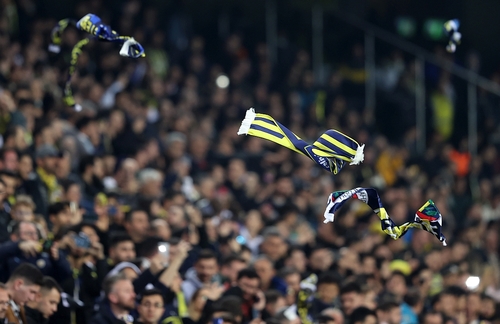 Fenerbahçe fans will not be allowed in the stadium in the football match against Kayserispor on March 4, the Kayseri Security Board announced yesterday (February 28).
The decision came after Saturday's protests against the government over the massive earthquakes last month during Fenerbahçe's match against Konyaspor in his home turf in İstanbul.
Fenerbahçe, one of the "Big Three" of Türkiye's football, criticized the decision, saying it was "unacceptable."
Kayserispor said it had applied to the board demanding a ban on Fenerbahçe fans in order to prevent "scenario from powers outside of football."
Fans of Fenerbahçe and Beşiktaş, another one of the "Big Three," called on the government to resign due to insufficient response to the earthquakes.
Senior government officials, politicians and several other football clubs from around the country criticized the protests, accusing the fans of "politicizing football."
CLICK – Erdoğan government protested during first top-tier football game after earthquakes
CLICK – Football clubs, MPs announce support for government after fans' earthquake protests
On February 6, two earthquakes with a magnitude of 7.7 and 7.6 struck the southern city of Maraş. The first quake in the Pazarcık district at 4.17 a.m. was followed by the second one in Elbistan about nine hours later.
The quakes affected 11 cities in Türkiye's south and southeast, as well as Syria's northern parts.
The official death toll from the quakes stands at over 45,000 and is expected to increase further, as over 160,000 buildings were destroyed or severely damaged, according to government figures.
Nearly two million people have been displaced due to the earthquakes. (AÖ/VK)
Source:Bianet