MHP's Bahçeli hails racist attacks on Amedspor football team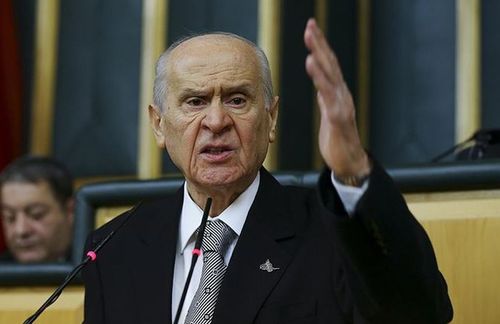 Nationalist Movement Party (MHP) Chair Devlet Bahçeli has praised the racist attacks on Amedspor football team over the weekend.
"I greet Bursaspor fans and congratulate them for their national stance," Bahçeli told his party's parliamentary group today (March 7).
"The separatists provoking the stadium is a murder, a disgrace. My brothers and sisters from Kurdish origin are different, the separatist terrorists are different," he remarked.
During the Second League game, fans of Bursaspor, the home team, displayed banners evoking the memories of enforced disappearances in the country's Kurdish-majority regions in the 1990s.
Also, the fans threw objects such as plastic bottles and firecrackers onto the pitch throughout the match.
On the stands, there were banners making reference to the 1990s' conflict in the country's predominantly Kurdish-majority regions in the 1990s. One of the banners showed Mahmut Yıldırım, also known by the alias "Yeşil" (Green), a former intelligence officer held responsible for dozens of extrajudicial killings in that period.
Another banner showed a white Renault Taurus, which has become a symbol of the enforced disappearances in that period as many people would be put in those cars when being abducted.
The referees did not postpone the game despite the incidents. Bursaspor won the match 2-1. The clubs compete in the White Group of the Second League, the third level in the country's football league system.
"No such place as Amed"
Bahçeli also refused to use the name "Amedspor," which originates from Amed, the Kurdish name of the city and used Diyarbakır instead.
"For us, there is no such place called Amed. So, an 'Amedspor' cannot be talked about," he remarked.
Bahçeli had also used strong words against two İstanbul-based teams, Fenerbahçe and Beşiktaş, because of their fans' protests against the government during last week's games.
He had called for matches without fans if the clubs failed to prevent such protests. Fenerbahçe fans had been banned from entering the stadium in their next game in Kayseri. (ME/VK)
Source:Bianet