Russia-Turkey summit proves Putin is kingmaker in Syria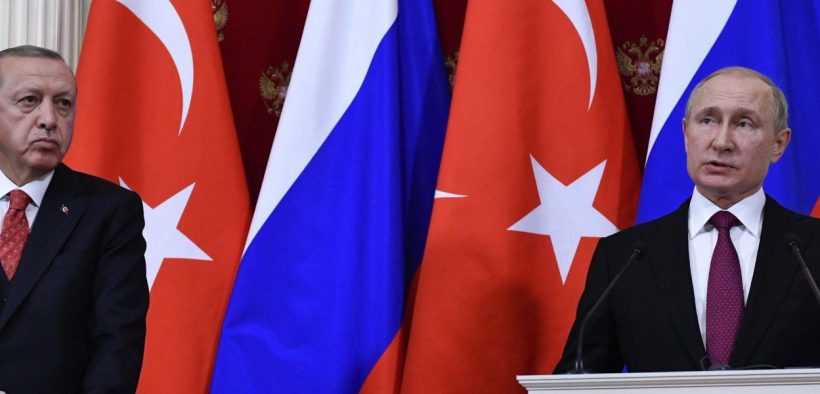 By Dimitar Bechev
If anyone expected much from Turkish President Recep Tayyip Erdoğan's visit to Moscow this week, they had reason to feel let down. Talks with Russian President Vladimir Putin did not yield anything of significance on the big issues between the two countries.
The Turkish president failed to win an express go-ahead from the Kremlin to set up a security zone in northeast Syria following President Donald Trump's promised withdrawal of the 2,000 U.S. troops there. Nor was there an announcement about the fate of the rebel-held enclave of Idlib where the Hayat Tahrir as-Sham (HTS), a radical grouping once allied to al Qaeda, has gained ground.
What Putin and Erdoğan chose to stress instead, during their joint press conference, was the burgeoning cooperation between Turkey and Russia in energy, trade and tourism. Yet even though ventures worth billions such as the TurkStream pipeline to carry gas from Russia across the Black Sea to Turkey, and the Akkuyu nuclear power plant being built by Russian firms in Turkey matter immensely, it is clear that Syria was at the centre of the talks.
Erdoğan has not given up hope that Russia will ultimately approve a Turkish offensive into Syrian Kurdish-controlled lands east of the River Euphrates. He made the case for it in an op-ed published in the highbrow Moscow daily Kommersant, mirroring an earlier piece he wrote for the New York Times.
Russia is not necessarily against such a scenario, but Putin has made it clear that Turkish intervention should happen on Russia's terms.  At the joint press conference, the Russian president acknowledged that Ankara had legitimate security concerns. But then hastened to add that the 1998 agreement signed in Adana by Turkey and Syria charts the way forward.
Back then, the Syrian government agreed to outlaw the Kurdistan Workers' Party (PKK) as a terrorist organisation, close its camps, stop arming it and expel PKK leader Abdullah Öcalan from its territory. Yet what was once a Syrian concession under threat of all-out war made by Turkey now serves Putin as an argument demanding that Erdoğan accept Syrian President Bashar Assad as a partner.
Russia's stance that the Syrian government should take control over the northeast of the country remains firm. If Turkey wants to get rid of the Kurdish forces from Syria, it should coordinate with Damascus.
The situation in Idlib is as precarious as ever. It is effectively an HTS stronghold. Earlier this month, the jihadists routed the rival Noureddine al-Zinki militia across the Idlib governorate and rural Aleppo, seizing 20 townships and villages. The defeat of Ankara's ally, which is part of the Free Syrian Army, puts at risk a deal reached last September by Putin and Erdoğan for Turkey to disarm the HTS.
In the run-up to the Turkish president's visit to Moscow, Russian Foreign Minister Sergei Lavrov criticised Turkey for failing to keep up end of the bargain. For now Putin is playing the good cop and giving Turkey the credit for doing all it can.
He furthermore said that security and defence officials on both sides are still talking. Indeed, Hakan Fidan, the head of the National Intelligence Organisation (MIT) accompanied Erdoğan, after visiting Moscow at the end of December with Turkish Defence Minister Hulusi Akar.
Yet, in reality, the clock is ticking on Idlib. Without any plan for how to deal with HTS, Turkey won't be able to defer a regime operation against the enclave for much longer.
Ankara's main bargaining chip seems to be the future Syrian constitutional committee. To get the body off the ground, Russia and Assad need Turkey's assent as a patron of the opposition. To be sure, the committee has been hindered by political squabbles over its composition. But Putin is now pointing a finger at France, Britain and Germany as spoilers.
At the press conference, he produced a copy of the letter the three countries sent to the UN asking it not to authorise the constitutional committee. Erdoğan, who took credit for convening a four-way summit with Putin, German Chancellor Angela Merkel and French President Emmanuel Macron, focused on Syria's reconstruction and did not push back against the Russian president's narrative. Erdoğan looked comfortable with the view of Turkey and Russia working side by side without the West.
All in all, the talks in Moscow confirmed Putin's role of a kingmaker in Syria. Turkey wants Russia to take its interests into account, even at the risk of alienating Damascus and Tehran. Putin is hedging his bets and is at least rhetorically amenable to Erdoğan's demands. But even if it holds some cards, Turkey has a weaker hand. To bring the Kremlin onto its side, it has to play them with much greater skill.
Source: Ahval News