Turkish foreign policy by the president and for the president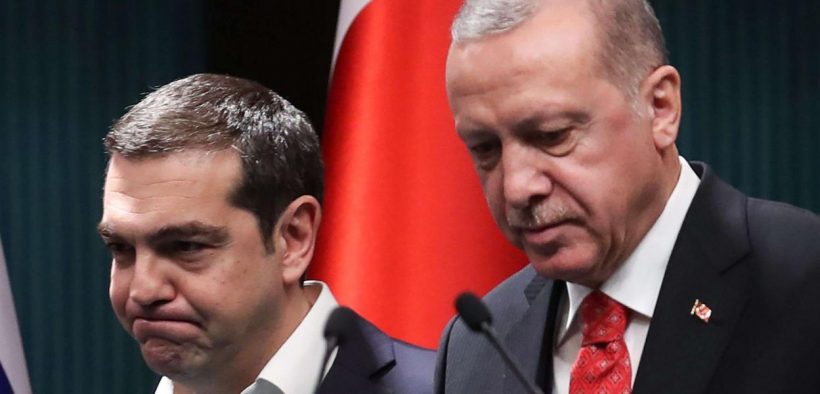 By Cengiz Aktar
In light of Greek Prime Minister Alexis Tsipras's visit to Turkey, cursory attention has been given to a few of the countless disagreements that have existed for decades between the two countries. I do not want to dwell on the visit. My views on the matter could be summed up as follows: There is no point in getting excited. Nothing workable will come of the visit, as the two countries are diplomatically far apart.
This is exactly my point. For some time now Turkey's diplomacy, just like its economy, has been tailored to fit President Recep Tayyip Erdoğan's interests and his style of doing business. Diplomatic and economic decisions are often made in tandem, and often in service of quickly and pragmatically getting the job done. Political requests submitted to other countries, are always accompanied by economic incentives. Turkey offers whatever it has in order to gain whatever it can from the other side. The most recent example is Venezuela's gold.
Turkey's policies, positions, and decisions in all of its bilateral and multilateral relations with foreign countries and international organisations are being made by one person, in accordance with that person's way of doing things and his strictly personal interests.
This state of affairs is nothing new. Take a look at Turkey's EU, UN, and NATO policies, as well as relations with the United States, Egypt, Russia and Syria. The Turkish executive presidency has for some time been pushing around the Ministry of Foreign Affairs, an age-old institution inherited from the Ottoman Empire. As government policies get derailed, just as with the economy, the administration responds by relying more heavily on centralised, top-down interventions trusting solely the National Intelligence Agency (MIT). This condition is now entrenched.
What piqued my interest in the topic was Erdoğan's indecent proposal to Tsipras regarding the status of Cyprus, which has been contested since 1974. Journalists reported that Turkey's omniscient leader suggested the two men find a solution to the Cyprus matter amongst themselves, and then inform other parties if need be. It is unclear if he used this term exactly, but what is clear is that he treats everything as a matter of business.
It is the diplomatic equivalent of the hyper-concentration of power in the service of speed and efficacy that has been forced on us for years. To make sense of the disasters in countries subject to this sort of power concentration, just have a look, especially since 2013, at Turkey. Has there been a single sound decision made by Turkey's one-man regime since then?
But when it is about foreign policy involving other countries and institutions, the absurdity of the leadership style becomes even more apparent. The Republic of Cyprus is an independent country, even if Turkey refuses to recognise it. Negotiations that began after Turkey invaded the north of the island in 1974, and all resolutions reached about Cyprus, have without exception been made with the United Nations at the table. Now one party has taken it upon itself to suggest the issue should be handled by Greece and Turkey alone!
In the service of getting things done quickly, an endless string of phone calls with U.S., Russian, and other leaders has become the essential tool of Turkish foreign policy. When a phone call does not suffice, the next is hopping on a plane to meet in person. The Foreign Ministry is largely excluded from the process. The raison d'être of Turkish embassies abroad is no longer clear. Just like parliament, every state institution with the exception of MIT, is powerless in the face of this decision-making style.
The absence of record keeping in this Turkish-style diplomacy makes it impossible to know what Erdoğan has said, pledged, or demanded. Is it a highway, a bridge, a tunnel, a nuclear plant, a tank factory, a telecommunications company, a summer resort on the Black Sea coast, a bank?
There is an avalanche of problems, confusion levels are rising, and the leadership's inability to keep track of what is happening in the world is leading to blatant inconsistencies. There is no follow-up and no personnel to ensure follow-up. There are only obsessive claims that no one in the world has believed or will believe, such as "the Syrian Kurdish PYD (People's Protection Units) is a terror group", "Assad must go", and "there is no Republic of Cyprus there is only a Southern Cyprus Greek Administration."
On the surface, there seem to be parties willing to buy into this Turkish-style diplomacy, led by President Donald Trump, President Vladimir Putin, and other autocrats around the world.
The illiteracy of the first is well suited to the Turkish leader, as evidenced by their famous phone calls that result in joyful news of deals being struck and jobs done. But there is no follow through, because the United States fortunately retains strong institutions that prevent Trump's charades from going anywhere. The most recent example is the backlash Trump faced in the Senate after agreeing with Erdoğan to a U.S. withdrawal from Syria.
In 2018 alone, Erdoğan and Putin held one-on-one meetings seven times, spoke on the phone 18 times, and met at six international summits. Add to these countless meetings their aides held. Putin is also a one-man government, but his presidency is bolstered by a massive Foreign Ministry under the influential leadership of Sergei Lavrov. Most importantly, Putin is accountable to Russia's security policies. Erdoğan's charm cannot change these facts. Phone calls and visits are not enough to settle their business matters, as evidenced by the fact that after 31 meetings in one year, the only noteworthy agreement they were able to reach was Putin's green light for Erdoğan to invade Afrin in northwest Syria. The "historic" decisions they announce often lack follow-up and finances, or succumb to other issues as with the case of Turkey's purchase of Russian S-400 missiles.
All that is left are dark princes, emirs, and dictators. Diplomacy with this bunch seems less concerned with resolving common problems and more with guaranteeing the survival of Erdoğan and his regime. Perhaps these relationships are the source of the growing value of the "net errors and omissions" figures in Turkey's balance of payments, which are fuelled by unaccounted resources.
So, Turkey's new foreign policy is characterised by both a pragmatic drive to get the job done and an imperative to secure the longevity of the regime. These features do not necessarily match with Turkey's long-term interests. Let us finish with a telling example.
The Center for Economics and Foreign Policy Studies (EDAM) recently released a report that indirectly touches upon the issue.
The ambassador in Ankara of a NATO-member country once indicated that the quantity of S-400 air defence missiles Erdoğan was purchasing from Russia only had the range to protect an area the size of Beştepe, where the Presidential Palace is located. The Center for Economics and Foreign Policy Studies (EDAM) recently released a report  that indirectly touches upon the issue. The report reads:
"Ankara's immediate aim is to procure the system primarily for air defence missions as a surface-to-air missile (SAM) asset, rather than performing ballistic missile defence (BMD) functions. (…) it would be unrealistic to portray the S-400 solution as a panacea for protecting the Turkish territory and population against ballistic missiles."
Rather clear no?
Source: Ahval News