Erdoğan's latest answer to Turkey's malaise – dig another hole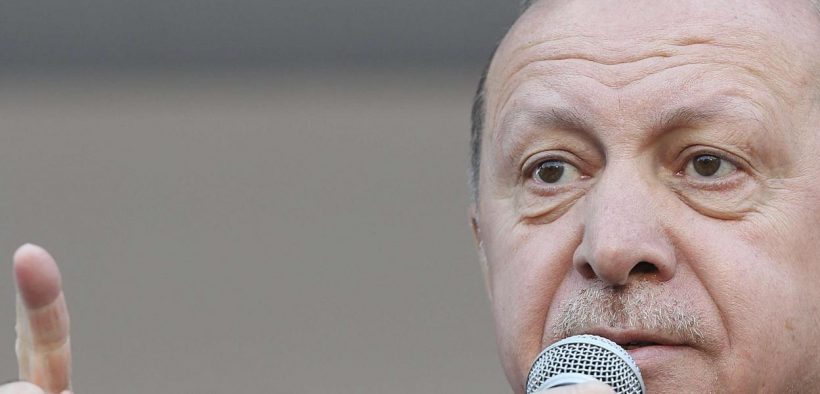 By Mark Bently
Turkish President Recep Tayyip Erdoğan may have finally lost his touch with voters.
Amid Turkey's worst economic downturn in almost two decades, Erdoğan stood before a large crowd of people in the capital Ankara this week and promised to build a canal through the city covering 3.2 million square meters of land. He didn't say which river, if any, it would flow from.
Erdoğan could be losing his once unerring talent for gauging the mood of Turkey after winning vast new presidential powers last year and moving to a multi-billion-dollar palace on a hill over the capital. Nationwide local elections will be held on March 31.
Turks are suffering from a huge decline in living standards after Erdoğan picked a fight with President Donald Trump over an imprisoned U.S. pastor last year, sparking a currency crisis that was already looming due to his populist economic policies.
So, promising to build a huge hole at great expense may not be well advised.
An index of life satisfaction published by the Turkish Statistical Institute (TUIK) on Fridayshowed Turks less happy than they have been since at least 2009, when the survey began. Meanwhile, Erdoğan, while still Turkey's most popular leader by far, is seeing his job approval-rating slide, according to a recent survey by Ankara-based pollster Metropoll.
Local elections are a huge deal in Turkey and Erdoğan knows it. He is campaigning on behalf of his ruling party every day, throwing flowers from buses, shaking hands with shopkeepers and kissing babies.
This year's polls carry extra significance because they represent the first litmus test of Erdoğan's popularity since June, when he enhanced his powers to become the most powerful leader in Turkey's democratic history. The president has also made himself head of the country's sovereign wealth fund, taken away oversight of the biggest state companies from parliament, and put Berat Albayrak, a young businessman married to his daughter Esra, in charge of the economy.
Erdoğan has also used a failed military coup in July 2016 – it's strongly rumoured that he had prior knowledge of the intervention – to lock up Selahattin Demirtaş, his most charismatic political adversary, on charges of supporting terrorism. Police and prosecutors, often hand-picked by his Justice and Development Party (AKP), have also arrested tens of thousands of people accused of complicity in the coup, including journalists, teachers and human rights defenders.
It was no surprise that TUIK's life satisfaction survey found that members of the state security services were the most satisfied people in Turkey. The next happiest were transport industry staff – Erdoğan has invested tens of billions of dollars in Turkey's infrastructure with the help of his business elite, including an unfinished mega airport in Istanbul, with loans guaranteed by Albayrak's Treasury.
The survey also found that Turks who did not finish school have a higher level of happiness than anyone else. Perhaps then Erdoğan spoke to those people when he took to the stage in Ankara on Wednesday.
Others may find 'Kanal Ankara', first announced by a city mayor almost a decade ago, hard to stomach. Turkish food prices surged over 30 percent annually last month – a travesty that Erdoğan and his son-in-law have blamed on "food terrorism " rather than the currency crisis or government policy. Overall inflation is at 20.4 percent and more and more consumers and businesses are going into default after interest rates surged.
Meanwhile, the price of imported goods such as mobile phones has jumped after the lira plummeted 28 percent against the dollar last year. Almost a quarter of young people are now unemployed.
The government has implemented a series of costly short-term measures in response, slashing taxes and using banks to restructure loans.
Let us hope Erdoğan's promise to build the Ankara waterway is indeed an empty one — a canal he pledged for Istanbul just ahead of general elections in 2011 is still to be built. No one with enough money has stepped up to fund it.
Such is the state of the Turkish economy that firms tasked with following up on Erdoğan's pledge would not be able to find the cash either. Its private banks are also short on spare funds. Unless, that is, Erdoğan uses state-run banks that he controls under the wealth fundfor the financing.
But that opens another can of worms. Turkey can ill afford more misguided infrastructure projects. Government finances are only in the black thanks to a one-off profit windfall from the central bank. Investor confidence in the country is still on very shaky ground.
As ratings agency Standard & Poor's said this week, Turkey's currency crisis may not be over yet. It's perhaps time then that Erdoğan's self-labelled 'crazy projects' were.
Source: Ahval News