Women in Turkey: The headscarf is slipping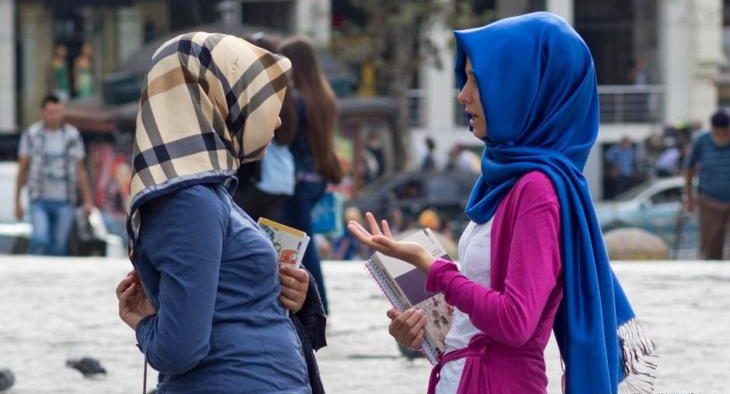 Not long ago women in Turkey fought to cover their hair, yet now it seems the headscarf has fallen out of favour. Seventeen years into Erdoganʹs rule, some things are floundering – including the assumption that Turkish society is becoming increasingly conservative. By Christiane Schlotzer.
When a Turkish woman called Lefife Unal recently put two photos on Twitter, one response was that she should "go to hell". Unal had posted two self-portraits, one showing her with a headscarf, the other wearing her long black hair uncovered, her right hand making the victory sign. In the accompanying text, she wrote: "you will have to accept and respect that women are how they want to be and not how you want them to be." The Tweet also received 10,000 likes. As well as expressions of admiration for her "courage".
"I was surprised," says Unal, "after all I wasnʹt that active on Twitter." Unal sips on a cup of tea, in a cafe reminiscent of an American diner, if you ignore the hookah on the next table and the surrounding area. Bagcilar is an Istanbul neighbourhood that is as conservative as the people who migrated here decades ago, many of them from the Black Sea region.
"I was born in a village near Samsun, where all the women wore headscarves," says Unal. "With a headscarf life has limitations, you canʹt dance, you canʹt wear trousers, or lipstick." Unalʹs lips are painted red, sheʹs wearing a black roll-neck sweater and jeans.
The headscarf about-turn
Not long ago, women in Turkey fought to be allowed to cover their hair. It was prohibited at university and in other public buildings. The military and the secular CHP party set up by the founder of the republic Kemal Ataturk ensured it stayed that way.
It was Recep Tayyip Erdogan who gradually did away with the bans, just as heʹd promised his conservative voters: at universities first in 2008, followed by public service in 2013.
Erdoganʹs daughters had previously studied in the U.S., wearing headscarves. Erdogan himself said he wanted a "religious generation". When the first "covered" women appeared in the elegant shopping malls of Istanbul, other female shoppers were piqued.
This is because previously, girls and women with headscarves tended to belong to the lower classes. That was no longer the case. Yet now, seventeen years into Erdoganʹs rule, some things are floundering – including the assumption that Turkish society is becoming increasingly conservative.
"I am always me"
Lefife Unal isnʹt the only woman to have posted a double portrait recently. Thereʹs a small movement running in Turkey under the hashtags #10YearsChallenge, #1YearChallenge and #YalnizYueruemeyeceksin (Youʹll not walk alone).
"For three years" Unal wrestled with the question of whether she should remove the scarf that sheʹd started wearing at the age of 19 because her family wanted her to. Sheʹs now 30. Making it clear to her family "that her innermost being didnʹt match her outer appearance," was hard. "We broke each othersʹ hearts," she says. Her parents have in the meantime accepted her decision. When other Twitter users asked her whether the two photos were really of the same person, she replied: "I am always me."
In 2018, the renowned Turkish research institute Konda established that 93 percent of 15-to-29-year-olds in Turkey use social media. "Our parents grew up with television and newspapers, and their opinions werenʹt being sought, but our generation is different," says Unal, picking up her mobile and clicking through her Instagram profile.
Busra Cebeci has also shared her story; the journalist was a pioneer of the new young womenʹs movement. Back in 2018, she wrote a few articles about female moral conflicts concerning religion and family, but really made a name for herself after sharing her photos on Twitter. "Men told me, remove the scarf, but stay silent," says Cebeci. Thatʹs exactly what she doesnʹt want. Cebeci is 25 and works at a small Istanbul TV station.
After a broadcast she comes out of the studio tired, but keen to tell the stories of the many other women who have contacted her. Of the Turkish woman who climbed Istanbulʹs Galata Tower just to feel the wind in her hair. "Once she got back down, she put her headscarf back on," says Cebeci. Of others who took pictures of themselves in the mirror, wearing makeup and with their hair on show, and said to her: "I canʹt leave the house like this."
In particular older conservative women who believed the AKP when it talked about womenʹs rights, are disappointed, says Cebeci. "In recent years levels of violence against women have increased and the men in the party are ignoring it." These women felt they were not being taken seriously, "the men see only the headscarf – for them thereʹs no woman beneath it."
Many women use pseudonyms online for fear of attacks. For example "Nurs": Speaking on the phone, she divulges that sheʹs a dentist in Ankara. She was subjected to crude harassment, and when women she defended were also insulted, she deleted her statement Tweet. But then she posted it back online. She says: "Itʹs important to be visible and encourage others."
Official reticence down to upcoming local elections
It may ultimately be only a few women who are daring to make a public statement, but they cannot be overlooked. Even the public office for religious affairs has responded, in an astonishingly mild manner: Ayse Sucu, responsible for womenʹs issues, explained: "The covering of the head" is not one of the five pillars of Islam. Not all believers have such a relaxed take on the matter. "Allah must heal her," read one comment on one womanʹs before-and-after photos, and another: "Youʹve lost your halo."
The official reticence – in pro-government media too – probably has something to do with the approaching local election. In the past, more women than men usually voted for Erdoganʹs AKP. Opinion polls are already predicting a loss of support for the party, primarily due to the economic crisis, which is naturally affecting poorer sections of society more than the rich.
Complaints have also been voiced about party cadres who have made their fortunes despite the Islamic exhortation to live a humble life. Erdogan on the other hand is giving no indication that he intends deviating from his conservative course: a short while ago he exhorted official religious employees to motivate women and children to attend mosque.
Moreover, women who remove their headscarves also serve to confuse the secularists – after all, this means nothing fits the cliche. As the novelist Umit Kivanc wrote, bemoaning the split in society that appears to be almost insurmountable, these women "arenʹt running straight to the Ataturk mausoleum." Thatʹs why conservative women, whether or not they wear a headscarf, also rarely vote for the CHP.
Free women are to be feared
Journalist Cebeci says: "for many, free women are something to be feared." She is however at pains to point out that she does not favour a headscarf ban. Each and every woman should be able to decide for themselves. Liberal feminists also once made the case for allowing women to study while wearing the headscarf.
Cebeci and the others often find themselves being asked if they have forgotten the so-called ʹconviction roomsʹ, where female students were forced to bare their heads in the nineties. One of the responses read: "Back then we were in all probability still watching Tom and Jerry."
Konda ascertained that ten years ago, 50 percent of 15-to-29-year-old Turkish women didnʹt wear a headscarf; this has now risen to 58 percent. "My beauty," one woman wrote to Lefife Unal, "covering oneself isnʹt a divine law, itʹs a tradition, you can rest easy." Unal used her real name. As the second photo was taken she was working in a textile factory, now she plans to study, "maybe philosophy," she says, pushing away the empty tea glass.
An 18-year-old from the Kurdish city of Diyarbakir has already asked her for advice: she wanted to remove her headscarf, but was afraid of her brothersʹ reaction. "Today she called me, she spoke to her mother, it wasnʹt that difficult."
Unal says: "I wanted to support others, thatʹs why I published my pictures."
Christiane Schlotzer
© Suddeutsche Zeitung 2019
Translated from the German by Nina Coon