Sham Fight: Netanyahu-Erdogan spat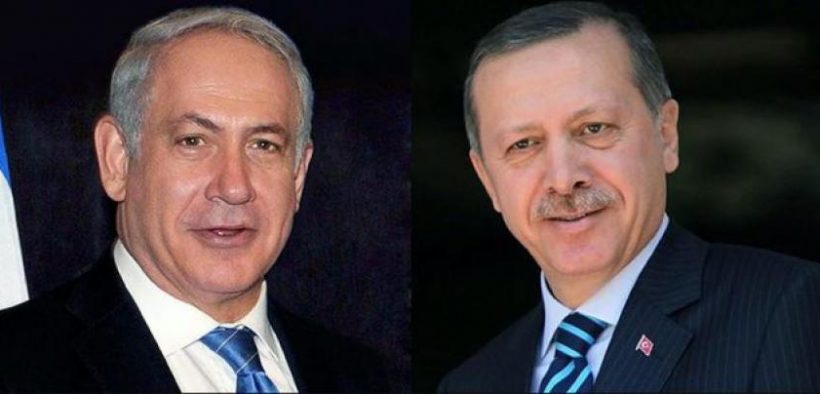 By Yavuz Baydar
Once more, the leaders of Turkey and Israel are busy with a barrage of insults fired at each other. The escalating row began when Israeli Prime Minister Binyamin Netanyahu said Israel was "the national state, not of all its citizens, but only of the Jewish people."
These remarks led to a tense exchange between officials in both countries and climbed up to the highest level of verbal sniping. Turkish presidential spokesman Ibrahim Kalin took to Twitter to condemn Netanyahu's "blatant racism and discrimination" towards Arabs and Muslims.
Netanyahu's office hit back, slamming Turkey's human rights record: "Turkey's dictator Erdogan attacks Israel's democracy while Turkish journalists and judges fill his prisons. What a joke!"
Then it was Turkish President Recep Tayyip Erdogan's turn to go after Netanyahu with his well-known, challenging style. "Hey, Netanyahu!" he roared from the stage while addressing a frantic crowd of supporters in Ankara. "You are a tyrant. You are a tyrant who massacred 7-year-old Palestinian children."
Erdogan commented on the clashes in Jerusalem between Israeli security forces and Palestinians. "Do not provoke us! Look, we have not oppressed any of the Jews in this country. We have not done anything you did (to Islamic holy places) to any synagogues here. We shall not fall into this trap," he said, accusing Netanyahu of corruption. "That robber at the helm of Israel is currently on trial in his country," he continued.
Netanyahu did not delay in striking back. On Twitter, he drove the war of words to a new level. "Erdogan, the dictator who sends tens of thousands of political opponents to prison, commits genocide against the Kurds and occupies Northern Cyprus, preaches to me, to Israel, and to the Israel Defence Forces, about democracy and the ethics of war. A joke," Netanyahu wrote, in a style like that of US President Donald Trump.
On one level, the spat can be seen as two leaders engaging in extreme populist rhetoric to protect their positions in power. Netanyahu is in trouble for alleged corruption. Erdogan is at a watershed moment in his political journey, as he heads a full-scale, nationwide campaign to win local elections March 31.
Feeling less secure in his ability to attract voters than previously, the Turkish leader is deploying all the populist tactics in his playbook, accusing and threatening main opposition figures, Kurdish politicians, civil society representatives, women (for their March 8 demonstrations) and, as expected, "external enemies." At this juncture, a spat with Israel is very handy.
However, there is a strong undercurrent to this. Despite ongoing trade, diplomatic relations between Israel and Turkey have not been repaired since the Mavi Marmara incident. In addition, the tragic Syrian saga further exposed the divide between the two countries.
There is a high degree of anti-Semitism in Turkey, often unifying Islamist segments with secular-nationalist ones. While the former feed off traditional hostility based on religion; the latter latch on to a belief that "the global Jewish lobby" is trying to divide Turkey by empowering the Kurdish political and separatist movements. Ankara sees Israeli leadership as the "secret ally" of the Kurdistan Workers' Party.
There is the bigger picture to consider: In pursuit of gas in the Eastern Mediterranean Basin, Israel is engaged in a new formation with Greece, Egypt and Cyprus — all positioned against Ankara — to form a strong energy line, seeking to be part of a regional defence platform. This project excludes Turkey, to the irritation of Ankara's traditional establishment.
Israel is watching what it regards as Turkey's "wobbly" positioning in the region with concern. In an article highlighting the issue, Hussein Ibish, a senior resident scholar at the Arab Gulf States Institute in Washington, argued that, while the pro- and anti-Iranian blocs remained intact in the Middle East, Turkey was forming a bloc on its own with a "Sunni-Islamist" orientation.
"Ankara is turning into a major regional player with its own agenda, ambitions, ideology and allies," wrote Ibish. "Israel and most pro-American Arab states view the consolidation of this Turkish-led coalition with alarm, partly because it weakens the anti-Iranian camp… Moreover, if Turkey — finally turning away from Europe after a century of unsuccessful efforts to integrate with the West — fixes its gaze eastward, it could become a regional hegemon as ambitious as Iran and more effective."
So, a verbal spat is more than a spat. In the regional context, we may only be in the initial phase of a decisive, major regrouping of powers.
Source; Ahval News