Official downfall of Political Islam in Turkey begins – and a new political star is born in Istanbul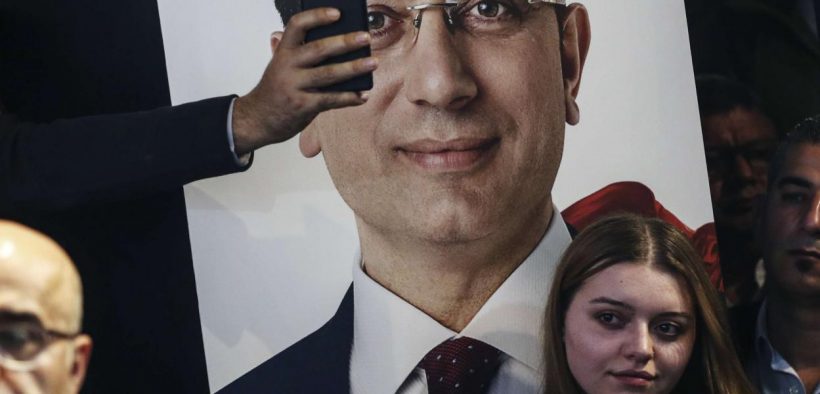 You don't need to understand Turkish to see how Istanbul mayoral candidate Ekrem Imamoglu managed to connect to sceptical supporters of Recep Tayyip Erdogan's Justice Development Party (AKP) on the campaign trail.
In one moment at an Istanbul produce market captured on video, a pious AKP supporter confronts the candidate. The AKP built railroads while the opposition People's Republican Party (CHP) tore down the mosques, he says, in reference to the abuses of Turkey's 20th century secular rulers.
"Grandpa, I wasn't even born yet when that happened," Mr Imamoglu laughs, hugging the old man.
"I do not vote for the CHP," the old man says by the end. "But I want to give you my vote."
On Monday morning, Mr Imamoglu shocked Turkey's entire political class and even many of his own supporters by emerging as the frontrunner in the closely contested race for mayor of Istanbul. His apparent victory, still disputed by the ruling party, was the most high-profile of numerous opposition gains against Mr Erdogan's powerful, well-funded political machine in nationwide municipal elections.
"I believe despite all these disadvantages in terms of money we spent, we had a just cause," said Yuksel Taskin, a member of the CHP's leadership assembly. "Our points were well understood by the public. Sometimes message is more important than money."
Despite the Turkish government's authoritarian drift, the municipal elections also suggested some aspects of Turkish democracy remain intact. Some 84 per cent of eligible voters cast ballots. "They expressed the view that their vote counts," said Yusuf Erim, an analyst at Turkish public broadcasting. "They believe in democracy."
Vote counts remain unofficial, pending verification by the electoral commission and resolution of challenges. And though opposition gains were remarkable, they shouldn't be exaggerated.
The CHP now controls municipal governments of Turkey's three largest cities. It won a net gain of at least seven municipal governments held by AKP or its partner the nationalist National Movement Party (MHP) across the country. The Kurdish-led leftist People's Democratic Party (HDP) also made gains in eastern Turkey, and the MHP managed to make inroads into the AKP's turf, exploiting dissatisfaction with the country's battered economy.
The CHP won in the capital Ankara by significantly fielding a well-known local politician who lost in a disputed vote five years ago against an AKP figure many considered a carpetbagger. Mr Imamoglu was leading the count in Istanbul by just 28,000 out of 8.3 million votes.
The AKP received almost 45 per cent of all votes cast, versus 30 per cent for the CHP. "For a party that's been in power for 17 years, it's a major result," said Mr Erim.
The elections were also the first since the country's financial crisis last year, in which the lira lost 30 per cent of its value. Inflation has eaten away at Turks' earnings and savings. Mr Erdogan's economic failures and what many criticised as his political grandstanding were a likely cause of the party's electoral losses.
"This is very much about everything that Erdogan did wrong – from the campaigning, to the candidates to the economy to the rhetoric," said Selim Sazak, a Turkey specialist at the Watson Institute of Brown University. "At the end of the day this an election about who is going to take our sewage away. This is not about Syria. This is not about Palestine."
No national or local elections are scheduled in Turkey for more than four years, a welcome relief for citizens tired of more than a decade of non-stop campaign-season propaganda and businesses seeking stability and calm.
"The government and political parties can concentrate on foreign policy, economic policy and security rather than politics," said Mr Erim.
Mr Taskin said he hoped the election would send a message to the government, and convince Mr Erdogan to change his ways, including his constant elevated political rhetoric and pressure on dissidents.
"If they try to use government forces to suppress us, the people of Istanbul will punish them," he said. "If they keep putting pressure on writers, dissidents and journalists, the opposition will continue getting stronger. They have to change."
On Monday, there was little sign of that change. State television and pro-government channels mostly ignored press conferences and appearances made by opposition candidates, focusing instead on statements by AKP leade
The AKP may have met its match with Mr Imamoglu. At first he seemed too nice and white-collar to take on the powerful AKP and its mayoral candidate, Binali Yildirim, a former prime minister, parliamentary speaker, and transport minister close to Mr Erdogan. Polls had him down a few percentage points before the vote.
But he proved his mettle during the campaign, and in the tense aftermath of his apparent victory, when he calmly held his ground on Sunday night despite AKP victory claims.
"He never fell into the trap of polarisation," said Mr Taskin. "For him to be able to win, he needed to have gotten the votes of AKP people, Kurdish people, as well as the other opposition forces."
On Monday, he quietly changed his Twitter biography to read "Mayor of Istanbul Metropolitan Municipality," while giving a press conference saying it was time to go to work.
"I was thinking that his moderate, mild-mannered candidate was never going to win," said Mr Sazak. "How did he do it? He did the work, man. He's a fantastic campaigner."
By Borzau Daragahi
Source: Independent
---