Turkey's Squeeze on Swaps Could Come Back to Bite Its Banks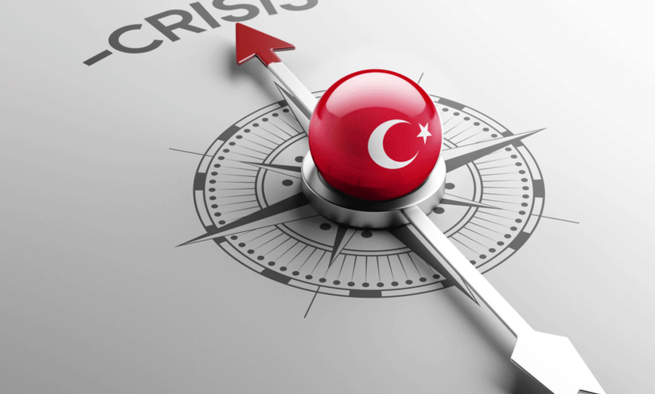 Surprise steps to stabilize lira may curb local funding

Goldman Sachs sees Turkey's economy shrinking 2.5% this year
Turkey's shock measures to tame the world's most volatile currency risk reverberating throughout the recession-hit economy, hitting banks especially hard by curbing their capacity to lend.
In a bid to stem the lira's slide before local elections on Sunday, Turkish regulators orchestrated a currency crunch by pressuring local lenders not to provide liquidity to foreign investors who want to bet against the monetary unit. That sent the cost of borrowing liras overnight on the offshore swap market soaring past 1,000 percent — but it threatens to shoot Turkish banks in the foot given that they rely on the market to raise lira funding to finance lending at home.
"A less-liquid offshore swap market will translate into onshore lira tightness," Goldman Sachs Group Inc. analysts Clemens Grafe and Murat Unur wrote in a report published on Tuesday. "Banks will need to raise their local-currency deposit rates and shrink their lira assets, tightening financial conditions domestically."
The economy may shrink by 2.5 percent this year as a result, the analysts said. That will deal a hammer blow to President Recep Tayyip Erdogan whose grip on power is waning after losing cities that are home to at least half of Turkey's population of 82 million in this weekend's poll.
His administration's push to extend cheap loans to spur growth have already pressured deposit rates as lenders try to protect their profit margins, leading to an unprecedented swing to foreign-currency savings. The average rate on lira deposit accounts has dropped by more than 650 basis points from a 14-year high in September to 20.5 percent, hardly compensating for 19.6 percent annual inflation in March.
Read more on how the swap market reacted to steps by Turkish authorities
Turkish banks, which have ample foreign-exchange funding due to the high level of deposits in currencies other than the lira, have a net swap position of around 217 billion liras ($39 billion) as of end February, according to the banking regulator's data.
Higher lira deposit rates are inevitable to reverse the dollarization of the economy as investors seek protection from inflation, said Cagdas Dogan, a banking analyst at BGC Partners Inc. in Istanbul. Turkish residents' deposits in foreign currencies reached a record $179 billion in the week ending March 22, the central bank data showed.
By Asli Kandemir
Source: Bloomberg