Arab Exiles Sound Off Freely in Istanbul Even as Turkey Muffles Its Own Critics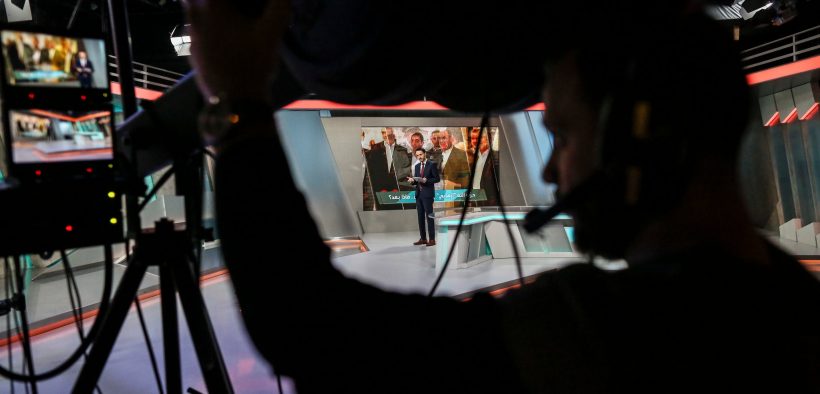 A Syrian TV news program broadcasting from Istanbul.
Credit

Credit

Tara Todras-Whitehill for The New York Time
ISTANBUL — The producer counts down — "three, two, one" — as the music swells, and a new episode of the current affairs television show "Syria Today" goes live, broadcasting pro-opposition programming to Syrians scattered across the world by civil war.
Similar scenes of dissent play out daily all over Istanbul, where firebrands from Egypt, Yemen and elsewhere across the Arab world take on the Mideast's oppressive governments from the relative safety of Turkey's media capital.
As the Arab Spring uprisings have been trampled underfoot by resurgent dictators or devolved into brutal civil wars, Istanbul has emerged as the region's capital for many of the Arab politicians, activists, rebels and journalists who tried to push history in a different direction in the countries where they were born — and stalled.
In Istanbul, they are carving out new lives, carrying on the fight from afar and avoiding jail terms, or worse, back home.
The exiles come from across the Arab world: Muslim Brotherhood members from Egypt; rebel fighters from Syria and Libya; political activists from Iraq and Yemen; dissidents from Saudi Arabia and Jordan; even former members of the Kuwaiti Parliament.
They ended up here for one main reason.
"There is nowhere else to go," said Azzam Tamimi, the founder of Al Hiwar TV, a longtime platform for Arab dissidents. Although the channel is based in London, it recently opened a studio in Istanbul because it is easier to get guests for its talk shows.
"They're all here," Mr. Tamimi said.
Istanbul offers an attractive combination of a Muslim-majority city, close to their homelands, with sophisticated communications infrastructure and a relatively tolerant atmosphere. It also helps that Turkey is much more open to Arab refugees than the United States or Europe.
For the government of Turkey's president, Recep Tayyip Erdogan, welcoming Arab exiles is a continuation of the support offered to the uprisings themselves.
Ayman Nour, a former Egyptian presidential candidate now living in exile in Istanbul, runs two TV channels critical of the government in Cairo.CreditTara Todras-Whitehill for The New York Times

And allowing prominent dissidents to operate from Istanbul boosts Mr. Erdogan's popularity with many Arabs — boosting his clout around the Arab world — although it can annoy his neighbors' leaders.
"Sometimes we hear from some countries that 'you have some people who are against us, who are broadcasting against Egypt,' for example," said Yasin Aktay, a senior member of Mr. Erdogan's Justice and Development Party.
"We tell them that there are many things that we need to broadcast against because they are violations of human rights," he said.
The bitter irony of Turkey's openness to Arab dissidents protesting human rights abuses is not lost on the country's internal opposition and news media.
Since a failed coup attempt against Mr. Erdogan in 2016, thousands of academics, lawyers, journalists and opposition politicians have been jailed, and Amnesty International reported that at least 180 news outlets have been shuttered.
So the Arab exiles here not only have greater freedom of expression than they would at home, but often have far more leeway than their Turkish counterparts.
"I have a mission to do in Istanbul, and the Turks don't get involved in our political or media work," said Ayman Nour, a former lawmaker who ran for president in Egypt more than a decade ago, spent time in prison there and fled the country after President Abdel Fattah el-Sisi seized power in a military coup.
"Not one of us ever gives up the idea that we will go home," he added. "We are not immigrants. We are exiles."
After fleeing Egypt in 2013, Mr. Nour hid out in Lebanon but said he never felt safe, so he moved to Istanbul.
Mr. Nour after being sentenced to a five-year prison sentence in Egypt in 2005.
Credit

Ben Curtis/Associated Press
The city's status as safe haven was seriously tainted last year, however, with the killing of the Saudi dissident Jamal Khashoggi by Saudi agents in the kingdom's consulate in Istanbul. The assassination sent a chill through the Arab exile community because many saw him as a fellow traveler and feared they could meet the same fate.
But Mr. Nour, speaking in his vast office from where he oversees two television channels critical of the Egyptian government, suggested the international outrage over the killing may have actually given the exiles here extra protection, since other Arab governments would think twice about risking the sort of global blowback suffered by the Saudis.
Mr. Nour's office also houses the headquarters of the Arab Council for Defense of Revolutions and Democracy, an association that seeks to keep alive what its members consider "the true spirit of the Arab Spring," Mr. Nour said.
Its other members include Tawakkol Karman, who won the Nobel Prize in 2011 for her role in the uprising in Yemen.
Ms. Karman oversees a Yemeni television station in Istanbul, Balqees TV, whose original office was stormed in 2014 by Houthi rebels when they took over the Yemeni capital, Sana.
"The most important thing is to keep the Arab Spring alive and to keep fighting for freedom and democracy," Ms. Karman said of her media efforts in Istanbul.
While Egyptians, Syrians and Yemenis in Istanbul can blast their governments without restraint, not all the Arab dissidents are given free rein, with the differences in treatment often reflecting Turkey's foreign relations.
Dissidents from Saudi Arabia, for example, are asked to keep quiet so as not to damage Turkish-Saudi ties, according to a Saudi exile in Istanbul who spoke on condition of anonymity to protect his family, who are barred from leaving the kingdom.
When Turkey chose to go after Saudi Arabia for Mr. Khashoggi's killing, it did so by leaking information to the news media to put the kingdom in a corner — not by allowing dissidents to criticize the Saudi government.
s
Majdi Nema, the former spokesman for the Army of Islam, a powerful insurgent group that fought Syrian government troops, is now a graduate student in Istanbul.
Credit

Tara Todras-Whitehill for The New York Time
While Turkey's relative freedoms are a big part of its appeal to exiles, so are the similarities between Turkish and Arab culture.
The influx of 3.6 million refugees fleeing the war in Syria has amplified Istanbul's Arab character, and it is common to hear Arabic on the street in some neighborhoods. Arab restaurants, bakeries, clubs and mosques have spread.
The exiles "feel at home in Istanbul," said Mr. Tamimi, the Al Hiwar TV founder.
Not all of the exiles here are intent on keeping up the struggle, but are building new lives at some remove from their rebel pasts.
A few years ago, Majdi Nema was the spokesman for the Army of Islam, a powerful insurgent group that fought Syrian government troops. Using the nom de guerre Islam Alloush, he wore camouflage fatigues and gave stern statements about the activities of the group.
But he quit when the group's leader was killed in an airstrike in 2015 and settled in Istanbul, where he is completing a master's degree in political science at a Turkish university.
Although Mr. Nema, 31, had spent six months in Europe, he chose to live in Turkey because Europe was cold, it was hard to get residency and he worried about accidentally eating pork products, which he shuns as a Muslim.
In Istanbul, pork is rare, mosques are common and the Turkish security services don't care that he has a long beard.
"They don't follow you, they don't bother you, and they clearly supported the revolution," Mr. Nema said.
Now he is studying Turkish and considering pursuing a doctorate since he has little hope the current course of the war will allow him to return to Syria soon.
"If the revolution was not lost already, it will be lost," he said. "So there needs to be something else."
By Ben Hubbard
Source: Washington Times