Turkey and regional rivals clash in Libya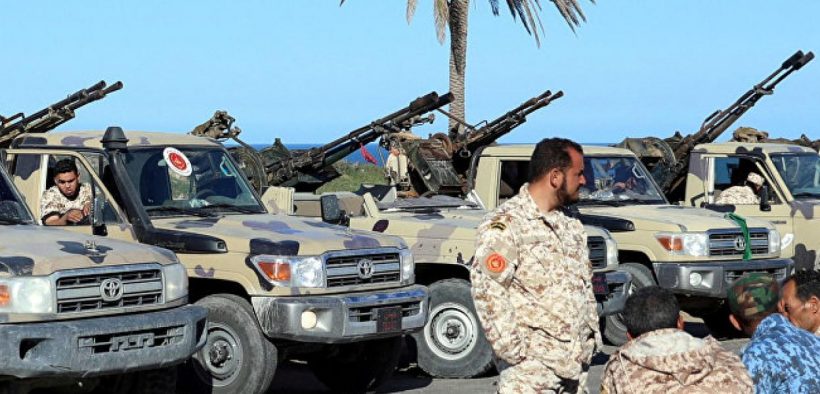 With the civil war in Libya heating up once again, Turkey's role there may become significantly more important.
Turkey supported the NATO operation that helped a popular armed uprising depose Colonel Muammar Gaddafi back in 2011. Since then, Turkey's policy toward Libya's subsequent civil war has diverged substantially from that of its Western allies and most Arab states.
Egypt, Saudi Arabia, the United Arab Emirates, France and Russia support the Libyan National Army (LNA) led by General Khalifa Haftar from the country's eastern city of Tobruk. Turkey and Qatar, on the other hand, have thrown their lot in behind Haftar's rival, the Government of National Accord (GNA), in the capital Tripoli.
Several incidents in recent years indicate that Turkey is supplying arms to Islamist elements in Libya in clear violation of the United Nations Security Council embargo on weapons shipments into the war-torn country. In January 2018, Greece captured a ship bound for Libya from Turkey carrying explosive material. Last January, the Tobruk-based parliament also accused Turkey of supporting bombers who killed 40 people near a mosque in Benghazi.
An Israeli analysis of a shipment of 3,000 Turkish-made handguns discovered in Libya in December observed that: "From the nature of the contraband weapons, it is fairly obvious they were not intended for a regular army, but rather for terrorist activities of armed groups, most probably Islamic organisations linked to the Muslim Brotherhood."
Analysts outlined Turkey's motives in Libya and the significance of its role in the conflict there.
"Turkey has long been deeply concerned about Haftar's rise," said Mustafa Gurbuz, a non-resident fellow at the Arab Center in Washington. "Ankara supported the rival parliament in Tripoli, which was dominated by Muslim Brotherhood-affiliated parties – the Justice and Construction Party and Loyalty to the Martyrs Bloc."
Nicholas Heras, the Middle East Security Fellow at The Center for a New American Security, expressed a similar view.
"Turkey has long been associated with backing Islamist organisations in Libya, especially groups that are tied into the Muslim Brotherhood. In this effort, Turkey and Qatar have been partners and there is no mistake that significant financial resources from Qatar and Turkey have made it over to Islamist groups in Libya that are fierce enemies of Haftar," he said.
Heras urged against overstating Turkey's role in Libya. "The UAE and Egypt, and even countries such as Italy and France, are more invested in the actual conflict and fighting in Libya than Turkey," he said. "Turkey has engaged in more of a soft power approach to Libya, (more) trying to build lines of influence than actually trying to mobilise militias."
In mid-April, for example, it was reported that Saudi Arabia had promised to pay Haftar's forces tens-of-millions of dollars to help them push the GNA out of Tripoli. Egypt has also given its blessing to Haftar's ongoing offensive.
Turkey and Qatar's soft power approach in Libya, while not as substantial as Egyptian and Saudi support to the LNA, remains quite significant.
Joumana Gebara, a Middle East analyst, said Turkey had invested in Libyan institutions when their economic activities came to a halt as a result of the conflict.
"Turkey cannot exist in Libya without its financial investments there, which it hopes will open new markets for it, allow it to invest in the reconstruction process and penetrate Africa," she said.
Turkey's investments and its arming of Islamist forces indicate that it wants a say in Libya's future. In November 2018, after Haftar opposed the inclusion of Turkey and Qatar in the Palermo conference on Libya, Turkey's Vice President Fuat Oktay warned : "Any meeting that excludes Turkey will have a negative impact in finding a solution."
"The Turkish government perceives Libya as an important scene in the larger Red Sea power play," Gurbuz said.
"Haftar's war on the Muslim Brotherhood-affiliated Libya Dawn coalition attracted armed support from Sisi's Egypt, and he called on all citizens of Turkey to leave the country, which led to a remarkable exodus of Turkish businesses."
Gurbuz reasons that economic interests are of "high importance for Turkey in shaping its Libya policy."
"Under the late Gaddafi, Libya was a significant market for the Turkish construction sector," he said. "To the ire of Ankara, Haftar's expansion in eastern Libya, especially in the Oil Crescent region, was facilitated by support from a wide range of actors, including the UAE, Jordan, France, and Russia."
Consequently, the continued security and survival of Ankara's ally in Tripoli "is still essential for the return and expansion of Turkey's financial interests in the country."
"The Turkish government, however, has very limited options to shape Libya's future, and the recent developments in Sudan further weaken Ankara's hands," Gurbuz said.
Turkey was not always opposed to Haftar. In the aftermath of Gaddafi's overthrow, Ankara helped unite the various militias and rebel groups in Libya into a national army. It changed its position around the time of the coup against Egypt's Muslim Brotherhood President Mohammed Morsi in July 2013.
Turkish-Egyptian relations, along with Qatari-Egyptian relations, were severely damaged by that coup, since they both strongly supported the Brotherhood, and neither has had good relations with the government of Egyptian President Fattah el-Sisi, who led the coup when he was army chief. Sisi, who staunchly opposes the Brotherhood, has backed Haftar in Libya.
"Sisi and Haftar teamed up to oust Turkey from Libya, without success, as Turkey had Qatar's moral and financial support to resist Haftar," Gebara said. "Without Qatar's moral support, as an Arab country, along with its financial assistance, Turkey would not have been able to fund its existence in Libya."
Given the lengthy and porous border his country shares with Libya, Sisi naturally fears that the conflict might spill over into Egypt. Haftar's control over eastern Libya serves as a bulwark between Egypt and many of the Islamists in Libya.
Aside from sending arms and ammunition into the conflict zone, Turkey offered to protect Abdelhakim Belhadj, the former leader of the Libyan Islamic Fighting Group, who Gebara said: "was found guilty of several attacks on Libyan public facilities and crimes that destabilised Libya."
In addition, Turkey gave permanent residency to prominent figures in the Benghazi Shura Council and protected several Muslim Brotherhood members.
Turkey's role in the conflict is also of concern to other regional countries.
In December 2018, a Turkish arms shipment to a Libyan port near the Algerian border, the aforementioned shipment of 3,000 Turkish handguns, was denounced by an Algerian security official who reportedly went so far as to call it "a real declaration of war against us." Ankara denied any involvement.
In early 2014, a leaked recording between an adviser to President Recep Tayyip Erdoğan and a Turkish Airlines executive suggested that Ankara was using the airline, which is 49-percent government-owned, to deliver weapons to Nigeria in violation of the U.N. Security Council sanctions on that country. Turkish Airlines denied reports that it was involved in any such scheme.
"Turkey's role in Libya is a strategic one," Gebara said. "It uses Islamists to pressure its allies and foes, be they NATO, the U.S. and the EU or Saudi Arabia and Egypt."
By paul Iddon
Source: Ahval News