However the S-400 Standoff Ends, U.S.-Turkey Ties May Only Get Worse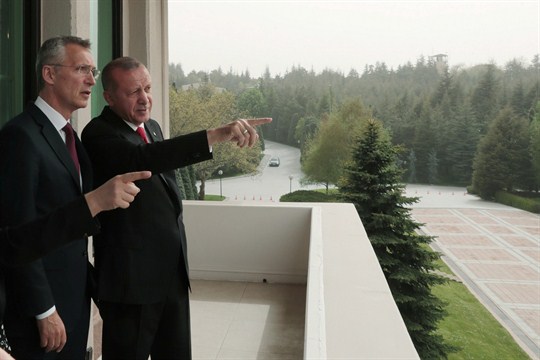 The protracted dispute between the US and Turkey could be resolved amicably, but the underlying tensions that strain ties between Washington and Ankara may persist — and worsen.
The United States and Turkey have engaged in extensive diplomacy for over a year and a half now to try and resolve the festering dispute over the Turkish government's decision to buy the advanced S-400 missile defense system from Russia.
President Donald Trump and President Recep Tayyip Erdogan have spoken about it personally several times, including in a phone call late last month. But the rift between the two is still too great to bridge. How this standoff is resolved, if at all, could permanently alter the trajectory of US-Turkey relations, and by extension, Turkey's role in NATO and its other Western ties.
Washington wants Turkey to terminate the S-400 acquisition, arguing that the deployment of such a weapon system on Turkish territory could compromise the operational effectiveness of the new F-35 fighter jet. Turkey, one of several countries involved in the long-delayed, trillion-dollar F-35 program, has ordered more than 100 of the jets, and was set to have the first ones delivered later this year.
Turkey has argued that the S-400 decision is a sovereign matter, and that if the concerns are technical, it would work with the US and NATO partners to mitigate any risks.
Russian S-400 Triumph surface-to-air missile systems in the Victory Day parade at Red Square in Moscow, May 9, 2015.Reuters
In recent weeks, the US has raised the pressure on Turkey. In early April, it froze the delivery of any F-35s until a solution on the S-400s is found. A bipartisan group of senators then upped the ante bywarning Turkey in an op-ed that while it is an important partner in the F-35 program, "it is not irreplaceable."
They gave Ankara an ultimatum: Decide by the end of the year whether it will have the S-400 or the F-35, because "it will not have both." To back up its position, Congress has threatened sanctions under the 2017 Countering America's Adversaries Through Sanctions Act.
From an American perspective, having a NATO ally buying and operating an advanced Russian defense system is not only a technical liability. It has supreme geopolitical and symbolic importance, given the message it would send about America's defense ties with its allies. Today it is Turkey bucking US demands and buying advanced Russian weapons. Tomorrow it might be another NATO ally.
The S-400 looks like a wedge tactic meant to accentuate NATO's existing fissures at a moment when Western leadership, from Syria to Ukraine, is already shaky—to say nothing of the questions Trump has consistently raised about NATO's relevance and even America's place in the alliance. It was always going to be a nonstarter for Congress and much of Washington to accept Turkey acquiring this missile defense system from Moscow.
President Donald Trump with Turkish President Tayyip Erdogan at NATO headquarters in Brussels, Belgium, July 11, 2018. Reuters
Unsurprisingly, though, Turkey has doubled-down on its position and threatened to open negotiations for a second batch of S-400s with Russia should Western partners continue their pressure tactics.
Foreign Minister Mevlut Cavusoglu has mused about buying advanced fighter aircraft from other suppliers, including in Russia or China, if the Americans pull the plug on the F-35s. Erdogan has called the S-400 contract a "done deal" and even suggested the delivery date could be brought forward by a few months.
Both sides are effectively playing a game of chicken, with some influential American news outlets pushing NATO to " call Turkey's bluff." The argument is that, despite Erdogan's threats of looking elsewhere for military equipment, he would never truly walk away from the West only to become dependent on President Vladimir Putin instead.
The argument is about to be tested, and the Turks won't back down easily. The reality is that Turkish officials have long complained of a "one-sided dependency" on the West for military procurement and national defense needs.
During the Cold War, Ankara felt compelled to accept what Turkish strategists refer to as an acceptable "security deficit" as long the larger Soviet threat existed. Today, the Turks are reexamining their strategic assessment and seeking to hedge, looking farther east, not just to Moscow but across Asia.
TCG Gaziantep in the Black Sea as part of Standing NATO Maritime Group Two, February 1, 2018. NATO Allied Maritime Command
But the costs of diversifying geopolitically for a country like Turkey, especially in sensitive military areas, can be quite high. Beyond its bravado and public rhetoric, the Turkish government knows that the US has the means to impose economic pain.
Not only would Turkey be barred from receiving any F-35 in the future, but Turkish defense firms that are involved in the production, assembly and testing of several components of the aircraft would also forfeit billions of dollars of business. And broader American sanctions would hurt other unrelated exports for Turkish defense firms, including a $1.5 billion contract to deliver 30 Turkish-made T129 ATAK helicopter gunships to Pakistan.
The T129s include critical American-licensed engine technologies that require export permits by the US State Department. Finally, global markets are closely following the situation, with potentially significant implications for the Turkish lira, which has already depreciated significantly against foreign currencies over the past year.
Turkey also has Russia to worry about. How would Putin react if Erdogan reversed himself on the S-400s? In an effort to help Erdogan out, would Putin be happy to see Russia simply receive the money owed by Turkey's contractual obligations if Ankara backed out of the deal? Or would he also play hardball and threaten to terminate cooperation on other areas of joint interest in, say, northern Syria?
Russian S-400 systems at Hemeimeem air base in Syria. Russian Defense Ministry Press Service
All sides continue to negotiate in an effort to find a creative way out of this mess. There is talk—though it's unclear how credible these proposals are at the moment—that Turkey could still buy the S-400s, but never actually deploy them or even ship them to a third country for safekeeping.
American officials are also reportedly offering loaner Patriot missiles, while new Patriot systems are built for Turkey and deployed in four to five years. On Monday, NATO's secretary-general, Jens Stoltenberg, traveled to Ankara to lobby in favor of the option for American Patriot missiles, in order to limit further deterioration in security ties with Turkey.
Regardless of the outcome, though, more questions will arise in Washington and Brussels about Turkey's role and value in NATO, and whether it's really part of the alliance. In Turkey, meanwhile, bilateral relations with the US will be further poisoned, providing plenty of fodder for rising anti-Americanism among the Turkish elite and in the public sphere.
This fight over Russian missiles could end, but the underlying tensions and frustrations that color relations and fuel resentment between the US and Turkey may only get worse.
By Iyad Dakke
Source: Business Insider