University lecturer probed over 'Ask this to Tayyip' option in test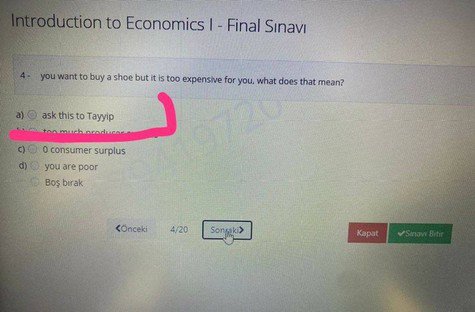 Marmara University has announced that it is investigating a professor for mentioning the president's name in an "inappropriate" way in exam questions.
According to screenshots circulating on social media, a question in the introduction to economics test asks, "You want to buy shoes but it is too expensive for you, what does that mean?" and the answers include "Ask this to Tayyip," referring to President Recep Tayyip Erdoğan.
Dr. Lecturer Bülend Nami Nomer is also accused of "trying to create an impression on the students," according to the statement by the rector's office.
Following the announcement of the investigation, students of the university started a petition on change.org, announcing support for the academic.
"We stand with our professor, we absolutely don't want any sanctions to be imposed against him," says the petition. (RT/VK)
Source: Bianet