"Those who knew that Central Bank Governor Ağbal would be dismissed have got richer": Opposition MP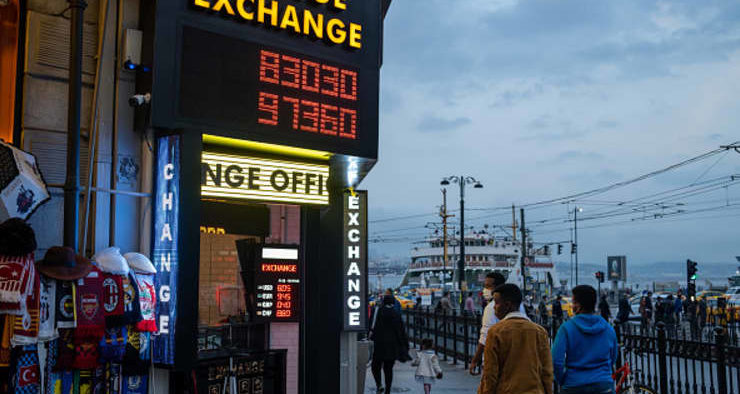 "The foreign exchange deposits of Turkey had grown by 1.1 billion dollars within two days before Central Bank Governor Naci Ağbal was dismissed. Normally, the daily amount purchased in Turkey is between 150 – 400 million dollars. Some people knew that the Central Bank Governor would be dismissed and, using this, they caused a loss of billions of lira for Turkey."
The above remarks are uttered by Necdet İpekyüz, the Batman MP of the Peoples' Democratic Party (HDP) and a member of the Parliamentary Commission on Planning and Budgetary.
Sharing the data of the Banking Regulation and Supervision Agency (BDDK), İpekyüz says that 6.1 billion US Dollars (USD) were exchanged into Turkish Lira (TRY) on the first working day after Naci Ağbal, the Governor of the Central Bank, was dismissed by a Presidential decision.
As indicated by HDP's Güleryüz, the USD/TRY parity had dropped to 7.20 before Ağbal had been dismissed. "With his removal from office, it increased to 8.30. Some people knew about this change. They had bought dollars before it happened; they grew wealthier by exchanging dollars on Monday. As for the people, they got poorer in a day," notes the MP.
Stressing that the government, has been resorting to similar moves more and more with the closure of the markets on Friday, İpekyüz says, "While a load of measures can be taken on weekdays, an opportunity is given for speculations on the stock market and exchange rates by delaying such decisions of dismissal until after working hours on Friday."
'Five times more dollars purchased'
İpekyüz notes that Murat Uysal, the former Central Bank Governor, was dismissed in a similar manner and adds the following:
"They are now always doing the same thing both during the process when Berat Albayrak left office and a new minister was determined and when the Central Bank Governor is replaced. Before the latest change, some people purchased 1.1 billion dollars from the market.
"This is not a thousand dollars or 2-3 thousand dollars… These are figures expressed in millions. When Ağbal left, the exchange rate soared and, on Monday, they changed foreign currency six times this amount.
"This is an abnormal situation. The amount of dollars purchased in Turkey in a day is normally between 150 and 400 million dollars. 4-5 times this normal level was purchased in a day. So, as it seems, some people knew that Naci Ağbal would be removed from office.
"An investigation must be launched into this abnormality immediately. It needs to be inquired to whom these account activities belong and which persons, institutions or firms made this purchase.
"Because this money has been stolen from all of us. Just as it has been stolen from all of us, it is also a situation that leads citizens to get even poorer and it is a revenue entirely based on unearned income."
'It makes the poverty more severe'
According to İpekyüz, only the persons close to President and ruling Justice and Development Party (AKP) Chair Recep Tayyip Erdoğan might have known that the Central Bank Governor would be dismissed.
"Only the cadre must have known it," says the HDP MP and adds: "And the cadre is still hungry. While people are racked with hunger, they are always hungry for money and increasing their income."
HDP's İpekyüz underlines that the upward movement of the exchange rate makes Turkey poorer: "On the other side, debts have been increasing as well. Everything is foreign currency indexed, from the airports to bridges and highways, from city hospitals to other guaranteed projects.
"This is a trouble. It leads to problems for all of us in the future, it causes poverty. Poverty leads to unemployment and unemployment deepens the crisis. Every step of the government has such a successive effect."
'They have hit rock bottom'
İpekyüz briefly adds the following:
"Perhaps we do not appeal to the IMF today; but the place where Turkey goes other than the IMF are loan sharks. We go to London and borrow money from bankers and loan sharks. While the interest rate is normally in the minus in the world, Turkey borrows money at extremely high interest rates. Turkey covers the spiral of debts with more debts.
"The indispensable rule for all Central Banks in all parts of the world is their independence. What was said during the transition to the Presidential Government System? 'Coalitions will end, the Parliament will function more effectively, independent institutions will work more freely. The Central Bank, the law, the judiciary…' But, now, we see that even the breaths taken by people will be determined by Statutory Decrees.
"Ask everyone whether the Central Bank is independent or not, no one can argue that it is independent. How many governors, how many executives have changed in a year? If you wear out the institutions by constantly changing people, you undermine its prestige.
"In his presentation to the commission members after he was first appointed, Naci Ağbal said that the institution would now be autonomous and Erdoğan gave such a directive. But, before he could see the results of his presentation, he was himself removed from office.
"They undermine the trust in the Republic of Turkey and they are aware of it. We have been experiencing its consequences all together. They cannot manage the economy, they have hit the rock bottom.
"Farmers are miserable, women are miserable, commies are miserable, even big investors are miserable. An economy cannot be saved by changing people. Economy is independent of people. You program and principles must be certain. The Central Bank must be independent, it must be autonomous. The economy must cater to citizens, not to pro-government people." (HA/SD)
Source: Bianet