Communist China's Genocidal Crackdown on Uyghur Intellectuals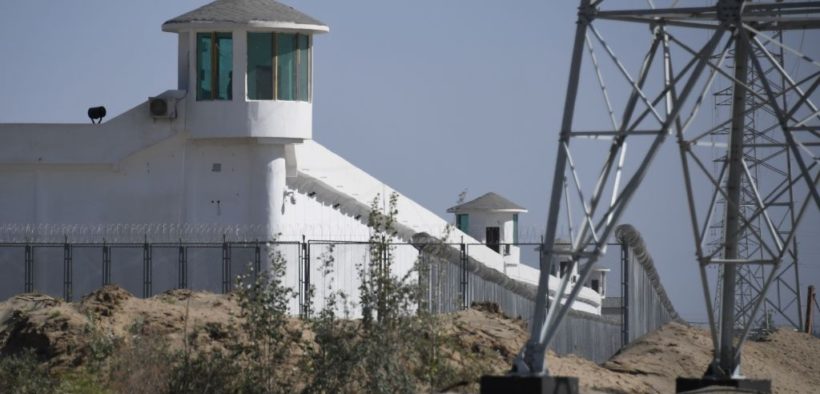 China's genocide against its Uyghur ethnic minority in Xinjiang, also known as East Turkestan, presses on. Up to 1.8 million Uyghurs and other minorities have been detained in extrajudicial "re-education camps" where deaths, torture and political indoctrination take place. Pictured: The outer wall of an internment camp on the outskirts of Hotan, in China's Xinjiang region. (Photo by Greg Baker/AFP via Getty Images)
China's genocide against its Uyghur ethnic minority in Xinjiang, also known as East Turkestan, presses on. Up to 1.8 million Uyghurs and other minorities have been detained in extrajudicial "re-education camps" where deaths, torture and political indoctrination take place. This genocidal campaign seems now specifically to be targeting Uyghur intellectuals. Hundreds have been taken into internment camps, disappeared or died in custody. Among them are professors, journalists, medical researchers, doctors, actors, poets, publishers, writers and students. They are often subjected to harsher prison sentences, as well as death sentences. Many are missing.
One of the victims, Ahmetjan Juma, the principal of a high school and a literary translator, was sentenced to 14 years in prison after being held for two years of "training" in China's internment camps.
Ahmetjan Juma's brother, Mamatjan, suggested that Ahmetjan is being punished simply because he, his brother, works at Radio Free Asia (RFA) as Deputy Director of the Uyghur Service. On May 1, he tweeted:
"China should end this unjust practice of jailing innocent Uyghur intellectuals like my brother and release him unconditionally.

"My brother, Ahmetjan, has never been a religious person, let alone being a religious extremist. He spoke English, Chinese and Uyghur (Uyghur is his mother tongue) and was praised for being an exemplary teacher before.

"It's horrifying to think that his 4-year-old son, who spent most of his life without his father, will be an adult by the time his father is released (if he is ever going to be released alive). It's heartbreaking. Ahmetjan is innocent and China knows it."
In an interview with Gatestone Institute, Mamatjan Juma said:
"My brothers Ahmetjan and Abdukadir were both detained in May of 2017. Abdulkadir spent more than two years in a prison camp near the city of Urumqi and was transferred into a forced labor facility. He made earphones, and garments for a while. Then he was released some time around 2020.

"Abdukadir graduated from one of China's top Universities, the Communication University of China; he translated many books. His latest translation is Red Sorghum, by the Chinese Noble laureate Mo Yan. I am not sure if he is going to be left alone after his release — anything could happen. I worry always about his safety and well-being.

"I have lost contact with my brothers since August, 2016. My parents told me not to contact my brothers; that if I have anything to say to them or other relatives, just to tell my mother and she will pass the message along to them."
He stated that the whole Uyghur community has been targeted by the Chinese government:
"China has been imposing many high-pressure oppressive policies on Uyghurs since its occupation of the Uyghur region in 1949. However, since August 2016, the systematic oppression of Uyghurs has intensified tremendously.

"Since then, the Uyghur language has been banned at schools. Cultural signs that represent Uyghur identity have been systematically erased, earlier textbooks were confiscated, many books were seized or burned as 'counter revolutionary' or 'illegal'. Uyghur intellectuals who were involved in compiling Uyghur literature textbooks were arrested and sentenced to various prison terms; some of them to death sentences. The policy has not changed since then, and the Chinese government has blocked international organizations and journalists from going to the region to conduct an independent investigation.

"According to observers, Uyghur women have been sterilized, thousands of Uyghur children sent to state-run orphanages, and families destroyed. Many Uyghurs are forced to slave labor. The US government and the parliaments of Canada, the Netherlands, U.K, Lithuania, the Czech Republic, and Belgium have called the atrocities a Genocide."
Uyghur intellectuals are targeted for specific reasons, added Juma.
"Intellectuals are the people who can lead the social discourse, guide and educate people about their history, culture and everything about Uyghurs. A nation without its intellectuals would be like a person without its brain. China deems Uyghur intellectuals as the biggest hurdles in its quest to fully and forcibly assimilate Uyghurs."
The first independent expert application of the 1948 UN Genocide Convention to the ongoing treatment of the Uyghurs in China, undertaken by the Newlines Institute for Strategy and Policy in cooperation with the Raoul Wallenberg Centre for Human Rights, was issued on March 8. The report, The Uyghur Genocide, states that China bears state responsibility for an ongoing genocide against the Uyghurs, and is in breach of the UN Genocide Convention.
Among the repeated destructive acts carried out by the Chinese regime with the intent to destroy the Uyghur people, according to the report, is "the selective targeting of intellectuals and community leaders"…..
"The intent to destroy the Uyghurs as a group is further demonstrated by the Government's deliberate targeting for prolonged detention or death the guardians and transmitters of Uyghur identity, including household heads, intellectuals, and cultural leaders, regardless of Party affiliation or educational status. The deliberate targeting of Uyghur leaders and sacred sites indicates an intent to destroy the essential elements of Uyghur identity and communal bonds, which define the group as such."
According to Uygur Pen, at least 500 Uyghur intellectuals have arbitrarily been detained, arrested and imprisoned and sent to concentration camps since 2017.
The well-known Uyghur poet, Adil Tuniyaz, arrested alongside his wife in 2017, remains missing. Their eldest son, Imran, 19, was also arrested at a Beijing school and sent to a detention facility in Xinjiang. It is believed that their three younger children have been placed in state-run "orphanages" for Uyghur youths whose family members have been detained. Adil's father-in-law died in a "re-education" camp in Urumchi in 2018.
Another prominent Uyghur writer and poet, Abduqadir Jalalidin, a professor at Xinjiang Normal University, was detained by state security forces in Urumqi in 2018. His family has not been able to obtain information about his situation since learning of his detention.
According to Uyghur PEN:
"Jalalidin's writings have been popular among the Uyghur people, as have his literary translations into Uyghur, including George Orwell's iconic novel Animal Farm. He had advised a number of graduate students, training a new generation of community researchers."
Jalalidin's Japan-based daughter, Bulbulnaz, said that "her father was careful not to discuss politically sensitive issues."
"He's never been a religious man or a political man. He [was] always encouraging people to try new things. I remember people respecting him, and they loved to spend time and [have] conversations with him.'"
The Chinese Communist Party also appears to have brought back the totalitarian practice of book burning. The work by the prominent Uyghur writer Ahtam Omer is one of the victims. Omer was detained from his home in 2017 and has been missing ever since. His work was targeted in a book burning campaign following his detention four years ago, Radio Free Asia reported.
The continued mass imprisonment and persecution of Uyghur intellectuals reveals the Chinese government's motive to criminalize and eventually erase Uyghur art, literature and culture.
On May 10, PEN International issued a statement concerning the silencing and oppression of Uyghur intellectuals:
"'The suppression of human rights in Xinjiang is a colossal tragedy, encompassing the entire range of human rights. The arbitrariness, the secrecy, the unjustness, and the pitiless cruelty of the state has been consistent. The lack of access to information only compounds the tragedy. We wish we could have expressed our outrage earlier. Ahmetjan Juma and Ahtam Omer should not have been jailed at all; and yet they have spent months under incarceration. Such perverse sentencing must stop, as should all the repression the Uyghurs are facing', said Salil Tripathi, Chair of PEN International's Writers in Prison Committee.

"The targeting of Uyghur writers and other intellectuals forms part of the Chinese government's broader efforts to dislocate the Uyghur population from their cultural identity and heritage through overwhelming levels of censorship and repression.

"In an attempt to conceal the true extent of the atrocities being committed, the authorities have imposed a climate of almost complete secrecy surrounding those detained. As a result, many of the detainees have no means of communication with the outside world, making it impossible for family and friends to ascertain their wellbeing while also exposing them to greater risk of abuse. A recent example is Haji Mirzahid Kerimi, a renowned Uyghur poet who was among 14 staff members at the Kashgar Publishing House in Xinjiang who were detained for publishing books that were later deemed to be 'problematic'. Sentenced to 11 years' imprisonment at 80 years old, reports have recently emerged that he died on 9 January 2021 while serving his sentence after sustaining injuries from an incident where he reportedly "jumped and fell". Another example is the presumed detention of the world renowned scholar Rahile Dawut, a leading expert on Uyghur folklore at Xinjiang University, who disappeared without a trace while travelling from Xinjiang to Beijing in December 2017."
Despite all attempts at censorship by the ruling Chinese Communist Party, the severe persecution and genocide against Uyghur people, all well-documented, keep unfolding before the eyes of the entire world. Why is the world — and particularly the global Muslim community — largely silent as innocent Uyghurs are destroyed by a brutal, totalitarian regime for the "crime" of having been born a Uyghur?
By: Uzay Bulut
Uzay Bulut, a Turkish journalist, is a Distinguished Senior Fellow at the Gatestone Institute.
Source: Gatestone Institute.