Turkey records highest daily virus toll since mid-May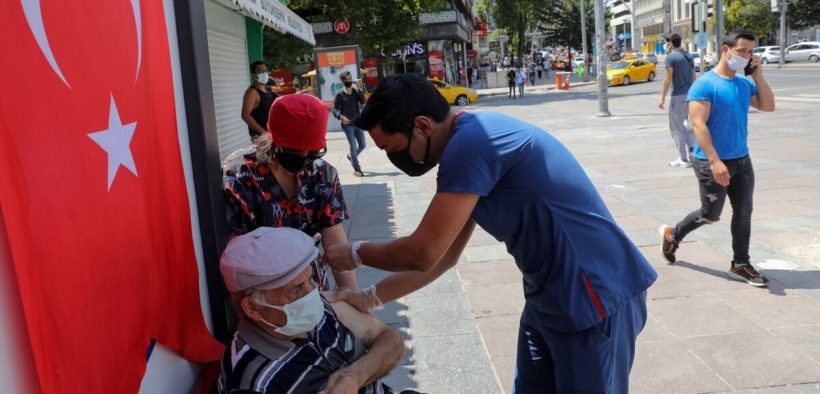 Turkey recorded 11,094 new cases of the coronavirus Friday, in what marked the country's highest daily caseload since mid-May.
Turkey, which lifted most virus-related restrictions July 1, also recorded 60 deaths in the last 24 hours, health officials said Friday.
The spike in cases comes as Turks celebrating the Muslim holiday of Eid al-Adha flocked to beaches, bars and restaurants despite warnings from Turkish officials to avoid large gatherings.
The country's resort cities are experiencing a larger-than-normal influx of tourists. The population of Bodrum in southwest Anatolia swelled to 1 million, more than five times its average of 181,000.
"We have seen the highest number of cases recently. Without securing ourselves with vaccination the pandemic won't be off the agenda," Health Minister Fahrettin Koca tweeted.
Cases had fallen in Turkey to around 4,000 in early July. In total, the country has recorded more than 5.5 million cases and 50,000 deaths from the virus.
Since launching its mass vaccination campaign in mid-January, Turkey has administered more than 65 million doses of the Pfizer and Chinese-made Sinovac vaccines. Roughly 63% of Turkey's population above the age of 18 has received a first dose, and nearly 35% have received two doses.
In an effort to curb the fast-spreading Delta variant, Turkey this month began administering booster shots to people above the age of 50 and health care staff.
In late June, new variants of the virus prompted the Turkish government to halt flights from Bangladesh, Brazil, South Africa, India, Nepal and Sri Lanka. Arrivals from a number of other countries, including the United Kingdom, are required to present a negative COVID-19 test before boarding their flights to Turkey.
Source:Al-Monitor
***Show us some LOVE by sharing it!***