Turkish teaching union demands release of Aysel Tugluk and sick prisoners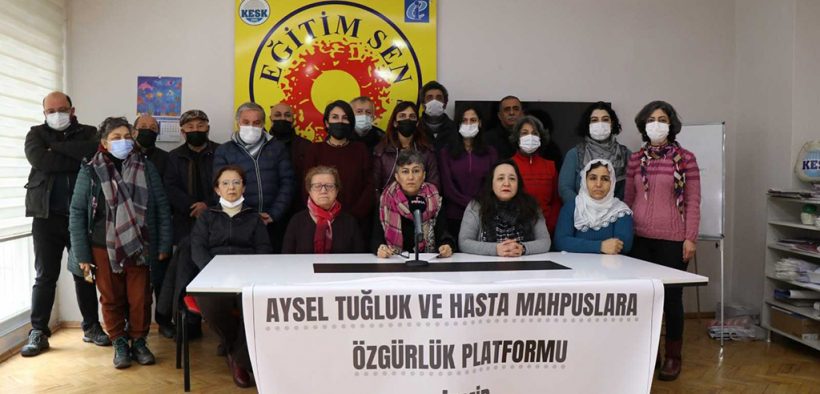 TURKISH teaching union Egitim-Sen launched a new campaign today demanding the release of sick prisoners, as widespread allegations of medical negligence and torture in jails continue.
At least 104 inmates have died since 2020, with many said to have died in suspicious circumstances, and 64 of the deceased prisoners were suffering from illnesses, according the Human Rights Association.
There are currently around 1,605 sick prisoners in Turkish jails, with 604 seriously ill.
The campaign was launched in the coastal city of Izmir and is supported by the opposition Peoples' Democratic Party (HDP), human rights and women's organisations, including the Free Women's Movement.
Spokesperson for the platform Meltem Isik said that torture and human rights violations were endemic in Turkey's growing prison population and highlighted the case of jailed HDP politician Aysel Tugluk.
She remains behind bars despite suffering dementia, which has deteriorated to the point that the former MP is no longer able to recognise friends and family members.
A petition demanding her release was launched earlier this year, warning that her continued incarceration placed her life at risk.
"Aysel's time is running out," Ms Isik said, urging organisations across the world to break the silence over the treatment of political prisoners.
"The louder we make noise, the better our chances of reaching beyond the walls. In these days when human dignity is trampled underfoot, we need to raise our voices together for the release of all sick prisoners and their access to treatment, especially Aysel Tugluk," she added.
The HDP has called for urgent action from the Council of Europe, in particular the Committee to Prevent Torture, to protect sick prisoners' rights and health.
The country's prison population has expanded rapidly under President Recep Tayyip Erdogan with 131 new prisons built between July 2016, when there was a failed military coup, and March 2021.
The £960 million expansion has seen prison capacity increase by 70 per cent, from 180,000 in 2016 to 320,000 in 2021.
Turkey has the highest imprisonment rate of the 47 Council of Europe member states, with 357 detainees per 100,000 people.
Source: Morning star