Journalists investigated over report on 'mafia intercepting state officials' car'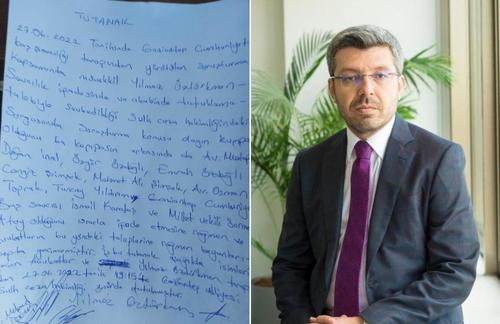 An investigation has been opened against two more journalists upon a complaint by a former lawyer for President Recep Tayyip Erdoğan.
The investigation is related to a news report about a mafia group allegedly intercepting a vehicle carrying state officials, businesspeople and the lawyer, Mustafa Doğan İnal, earlier this year in the southeastern Antep province.
After an application by İnal, the İstanbul 9th Penal Judgeship of Peace had imposed an access block on the reports about the incident, including an article on the Kısa Dalga news portal titled "The minutes of the mafia intercepting the state and the deep silence o the state."
Prosecutors opened an investigation against Ersan Atar, a columnist for Kısa Dalga, and Sezgin Kesim, its managing editor responsible for legal affairs, for "baseless slander and accusations against personal rights," following a complaint by İnal.
The prosecutor's office summoned Atar and Kesim to give a statement within seven days. The journalists will be brought by force if they don't show up.
"I fulfilled my duty as a journalist within the framework of universal rules of journalism," Atar said, adding that the news report subject of the investigation was based on an investigation and official documents, and it did not contain any insults or slander.
The investigation showed the attempts to punish "journalism based on documents," he said.
The prosecutor
The prosecutor who is running the investigation is Türkşad Kunthan Uçuk from the Press Crimes Investigation Bureau of the İstanbul Chief Public Prosecutor's Office.
After his graduation in 2018, Uçuk passed the prosecutors' examination. Shortly after completing his internship, he was appointed as a prosecutor in Osmaniye. Six days later, he was assigned to İstanbul.
Four months after becoming a prosecutor, he ran the investigation against journalist Sedef Kabaş, and demanded a prison sentence of up to 12 years and 10 months for her.
He had also filed a lawsuit against journalist Hayri Tunç for "inciting the people into hatred and animosity" because of sharing news on social media.
Most recently, he indicted bianet's former editor-in-chief Nazan Özcan over a report about lawyer İnal.
The report
The article published on Kısa Dalga on August 11 included documents confirming the allegation that a mob led by Yılmaz Öztürkmen, İnal's cousin and business partner, had intercepted a vehicle carrying İnal, Antep Governor Davut Gül and Deputy Mayor Osman Toprak in June.
The article revealed petitions of complaint submitted to the Gaziantep Chief Public Prosecutor's Office and the statements of the suspects.
However, a judgeship ordered an access block on the article, which was the removed by Kısa Dalga.
Source:Bianet