Turkey's Interior Minister: "Are we the refugee repository of Europe?"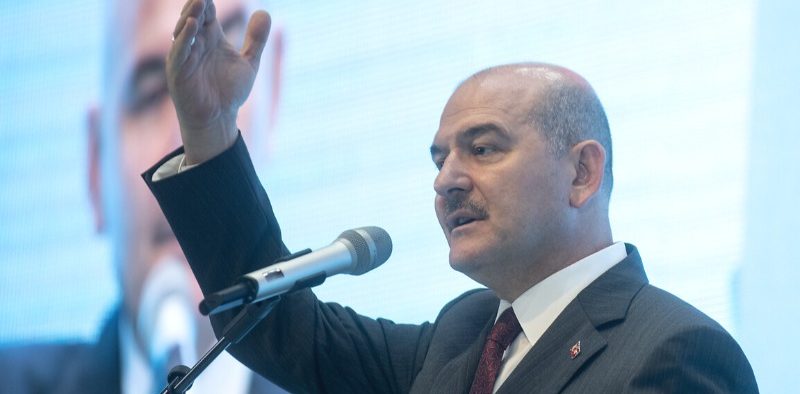 Speaking at the Second Regional Conference "Sarajevo Migration Dialogue" in the capital of Bosnia and Herzegovina, Suleyman Soylu asked: "Are we the refugee repository of Europe?"
Stating that the United Kingdom offered Turkey to send a portion of the immigrants from the UK, Soylu said: "England (UK) has made us an offer. They can not make us an official offer but they wanted to send us some of the immigrants who came to the UK. Are we your immigration storage? Are we the refugee repository of Europe? As humanitarians, we have taken all kinds of steps so far."
Claiming that Turkey ranks first in the world in terms of humanitarian aid, Soylu said: "We are not richer than the US or Germany." Soylu claimed that the West benefits from the employment of the immigrants, exploiting their labor, and making them work but does not help them in their own countries.
Umit Ozdag, the chair of the ultranationalist and anti-immigration Victory Party, replied to Soylu's remarks with his party's slogan: "Probably, this (statement) will be followed by him saying that the Victory Party will come, the refugees will go."
 Recent Developments on Refugees
 In January, an Al-Jazeera article said that there is "an alarming trend of violence against refugees (in Turkey)." The article notes that Turkey hosts more than four million refugees, more than three million of them Syrians. Their presence came under public scrutiny with figures across the political spectrum who blame the refugees for the economic crisis.
 The Al Jazeera article cited Tanju Ozcan, Mayor of Bolu from the main opposition party, the Republican People's Party (CHP) as being openly racist. Ozcan has been criticized by CHP's leadership after he announced a policy of charging refugees more for water, utilities, and marriage licenses.
 In September, a seventeen-year-old Syrian student who recently entered a medical school was stabbed in Hatay, a province on the border with Syria.
 In August, in Bolu, four Syrians sitting in a park were stabbed by a group who said: "Why are you sitting here, get away from our country." Deputy Interior Minister Ismail Catakli claimed that the attack was caused by the anti-refugee statements of Umit Ozdag.
 In his most recent anti-refugee statements, Umit Ozdag claimed that there is a risk of Turks being minorities in their own homeland and that people should vote for the Victory Party if they do not want it to happen.  
Yesterday, Umit Ozdag also commented on the news of a Syrian refugee returning back to Syria with a rhyme: "Goodbye, let your way lead you to Damascus, goodbye, the homeland should be left to Turks."
 Opposition's Strategy on Refugees
 The opposition alliance, also known as the "table of six" is working on a solution to the refugee issue. The alliance established the "Migration Commission" in order to find a policy on refugees. Ilay Aksoy of the Democrat Party, who is a member of the Migration Commission said that all six parties agree on establishing a dialogue with Syria as part of the possible solution.
On the other hand, a senior politician from the Future Party said that they have not agreed on a dialogue with Syria yet. The chair of the Future Party is reportedly against a dialogue with Bashar Assad.
Meral Aksener, the chair of the Good Party vowed to send Syrian refugees home and held President Erdogan responsible for the refugee crisis. She said that she is ready to travel to Syria to meet with Assad to ensure the return of the refugees.
 Kemal Kilicdaroglu, the leader of CHP last year said: "I am not content with the exploitation of refugees or for our beautiful country to be turned into a refugee prison by the imperialists!"

Source:gerceknews