64 pct of Turks find it 'difficult' to manage financially: Ipsos survey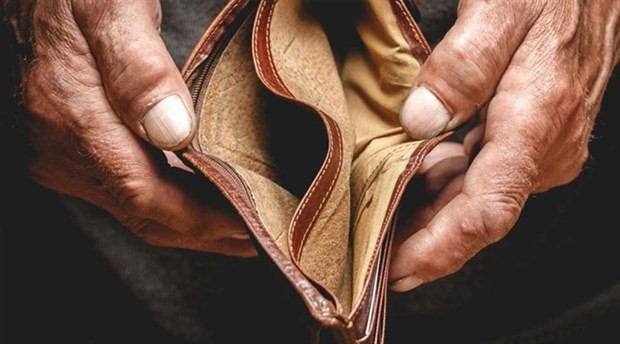 Sixty-four percent of people in Turkey, which is currently in the middle of an economic crisis as food and fuel prices have more than doubled in the last few months, stated that they find it "difficult" to manage financially, according to the Ipsos Global Inflation Monitor July 2022.
The survey was conducted on 21,515 adults in 28 countries around the world, including Turkey, with the Ipsos Online Panel system between May 26 and June 10, 2022.
When asked how well they are managing financially these days, 64 percent of Turks said they either find it "quite difficult" or "very difficult," while 24 percent said they are "just about getting by" and only 11 percent said they are "doing alright" or "living comfortably."
The participants were also asked about expected inflation over the next year, to which 55 percent of Turks said, "It will rise a lot," while 23 percent said, "It will rise a little," 9 percent said, "It will stay about the same" and 11 percent said, "It will fall."
According to the survey, 52 percent of Turks expect the unemployed in the country to "rise a lot" over the next year, while 29 percent expect their standard of living to "fall a lot" in the same period.
When asked about their personal financial situation over the next six months, 63 percent of Turks said they were "very concerned" or "fairly concerned" about their ability to pay the bills, while the figure rose to 80 percent concerning their ability to buy things they're used to buying and 84 percent about the cost of goods and services increasing.
The survey also showed that 88 percent of Turks expect an increase in the cost of their "food shopping" and "other household shopping" in the next six months, while 87 percent expect the same for "utilities, such as gas and electricity."
While 84 percent said they expected an increase in their "motoring fuel costs," 74 percent were expecting the same in their "mortgage/rent" and 78 percent in the "overall cost of going out socializing," according to the survey.
When asked about the reasons contributing to the rising cost of living in Turkey, 86 percent of participants said, "immigration into my country," followed by "the interest rate level in my country" (80 percent), "the policies of my national government" (75 percent) and "the state of the global economy" (73 percent).
Over the past several years Turkey has been suffering from a deteriorating economy, with high inflation and unemployment. President Recep Tayyip Erdoğan is criticized for mishandling the economy, emptying the state's coffers and establishing one-man rule in the country where dissent is suppressed and opponents are jailed on politically motivated charges.
A staggeringly high cost of living has become the new normal in Turkey, where recent increases in food and utility prices are pushing up inflation, further crippling the purchasing power of citizens.
According to official data, consumer prices accelerated to 80.2 percent at an annual rate in August, up from 79.6 percent in July.
An increasing number of Turks have complained on social media about rising electricity bills and falling into debt. Many have said even basic foods such as vegetables have become a luxury as prices have risen by nearly 400 percent.
Source:Turkish Minute