Turkish pro-gov't columnist targets economist Acemoğlu, says 'I am his master'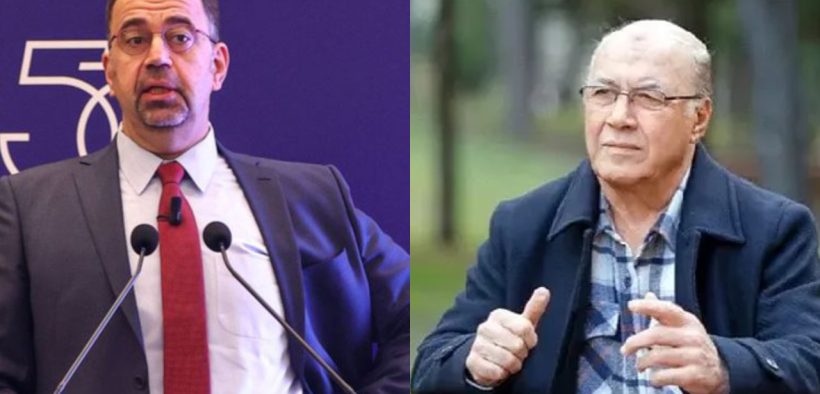 The appointment of internationally renowned economist and professor at Massachusetts Institute of Technology (MIT) Dr. Daron Acemoğlu, who was born in Istanbul to Armenian parents, as one of the main opposition Republican People's Party (CHP) leader Kemal Kılıçdaroğlu's advisors has created a racist backlash, especially among pro-government figures.
Pro-government newspaper columnist Necmettin Batırel on Dec. 3 said in a tweet that "The Armenian Daron Acemoğlu, praised by 'FETÖ', prepared Kılıçdaroğlu's vision program, (resembling his own roots)."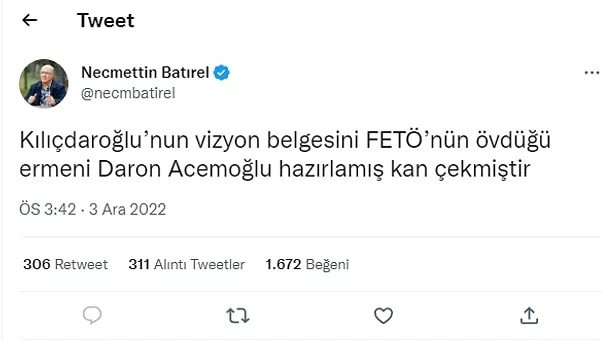 Pro-government figures usually accuses dissidents by being a member of the Gülen network, referred to as the 'Fethullahist Terrorist Organization' ('FETÖ') by the Turkish government.
In response to Batırel, Finance Professor at Sabancı University Özgür Demirtaş said that Batırel "can't even be Daron's shoelaces" (in a Turkish idiom meaning that they are not even worthy of being someone's shoelace).
"This tweet is both racist and presumptuous. The influence of Daron Acemoğlu on world's economy-finance professors is greater than the number of cells in your body. It's terrible that you talk like this about a professor who made us proud and is going for the Nobel prize," Demirtaş added.
Bu twit hem ırkçı hem de haddini bilmez bir twittir. Daron Acemoğlu denen kişinin Dünya Ekonomi-Finans Profları üzerindeki etkisi sizin vücudunuzdaki hücre sayısından fazla.

Nobele gümbür gümbür giden, bizleri gururlandıran bir hoca hakkında bu şekilde konuşmanız KORKUNÇ

— Özgür Demirtaş (@ProfDemirtas) December 3, 2022
In a new tweet and hate speech, Batırel said, "I said Kılıçdaroğlu's vision program was prepared by Armenian Daron Acemoğlu, who FETÖ praised. I did not insult Acemoğlu, but the chestnut Finance Professor Özgür understood the word from his butt, he thought I was criticizing and insulted him. Of course, I can't be Daron's shoelace, because I am his master," referring to Acemoğlu's Armenian roots.
After Batırel's tweets stirred huge reaction on social media, he deleted his tweets in question.
Moreover, Batırel on Dec. 5 apologised for his remarks. "My tweet led to wrong interpretation. I apologize to Acemoğlu and the CHP leader," he said.
"Kılıçdaroğlu'nun vizyon belgesini FETÖ'nün övdüğü ermeni Daron Acemoğlu hazırlamış kan çekmiştir şeklinde attığım tweet yanlış yoruma yolaçmıştır" Acemoğlu ve CHP liderinden özür diliyorum.

— Necmettin Batırel (@necmbatirel) December 5, 2022
Main opposition CHP leader Kemal Kılıçdaroğlu on Dec. 3 unveiled a new vision for Turkey's economic recovery as the country has been battling one of its worst economic crises in years.
As part of this vision, Kılıçdaroğlu appointed renowned economists as his advisors. Among the names are American economist Jeremy Rifkin, Turkish-American economist Prof. Daron Acemoğlu, Bilkent University academic Prof. Refet Gürkaynak, former chief economist of the Turkish Central Bank Prof. Dr. Hakan Kara, and founder of the Deep Poverty Network Hacer Foggo.

Source:Duvar English