Turkey and Egypt move toward normalizing relations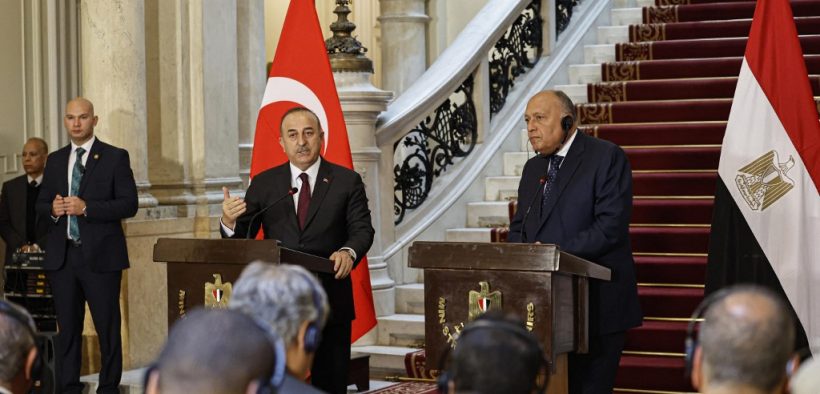 Turkish Foreign Minister Mevlüt Çavuşoğlu met with his Egyptian counterpart, Sameh Shoukry, in Cairo on Saturday, the first visit by Ankara's top diplomat to Egypt since ties were strained in 2013 following the ouster of Egypt's then-president Mohamed Morsi, a Muslim Brotherhood member and ally of Turkey, marking a significant step towards repairing relations between the two nations, Turkish and Egyptian media reported.
Çavuşoğlu said Turkey would upgrade its diplomatic relations with Egypt to the level of ambassador "as soon as possible," emphasizing a desire to maintain strong ties in the future. Shoukry said discussions on restoring relations would take place at "the appropriate time" and noted the talks had been "honest, deep, and transparent."
The meeting between the two foreign ministers followed Shoukry's visit to Turkey last month, displaying solidarity after massive earthquakes claimed over 50,000 lives in Turkey and Syria. The visit was the first by Egypt's top diplomat since relations soured.
"There is a political will and directives from the presidents of both countries when they met in Doha … to launch the path towards a full normalization of relations," Shoukry said, referring to a brief meeting between Egyptian President Abdel Fattah el-Sisi and Turkish President Recep Tayyip Erdoğan at the Qatar World Cup.
The two presidents previously had a tense relationship, with Erdoğan once referring to Sisi as a "tyrant" following the overthrow of Morsi.
Beginning in 2021 senior foreign ministry officials from Turkey started consultations to ease tensions with Egypt. At the time, Ankara requested that Egyptian opposition TV channels operating in Turkey tone down their criticism of Egypt.
Despite ongoing disagreements over Libya and maritime borders in the gas-rich eastern Mediterranean, Egypt announced last month that Turkish companies had committed to $500 million in new investments.
Çavuşoğlu expressed gratitude for Egypt's support following the earthquakes and highlighted the importance of working closely on regional issues. The Turkish foreign minister also suggested that a meeting between Erdoğan and Sisi could take place after Turkey's elections scheduled for May 14.
Source: Turkish Minute