Recession continues in Turkey's largest lake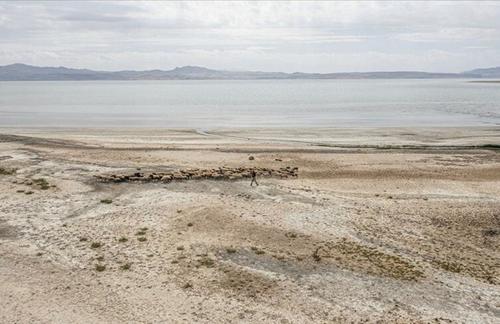 Photo: AA
Lake Van, Turkey's largest lake, has seen a significant drop in water levels in its shallow areas due to reduced rainfall and rapid evaporation.
The lake in the eastern province of Van has witnessed the receding of its shores by hundreds of meters, leaving a lasting impact on its ecosystem.
The vanishing waters have revealed centuries-old microbialites, historical structures, and settlements that were submerged in previous eras when the lake's levels were higher. The changes in the lake's coastline due to the effects of drought have been evident even in satellite images.
The changing shape of the lake
Dr. Mustafa Akkuş, a faculty member at Van Yüzüncü Yıl University's Faculty of Fisheries, compared satellite images from two years ago, taken in July, using data from NASA's Landsat and the European Space Agency's Sentinel-2 satellites. These recent satellite images clearly show numerous areas that were once submerged in water have now transformed into land masses.
Akkuş told Anadolu Agency that, according to his assessment of the satellite images, the shape of Lake Van on maps has changed in some areas due to the recession caused by drought.
"The satellite image we observe shows the shoreline of Gölağzı and Çelebibağ neighborhoods in front of the city center of Erciş. In the past, the lake was entirely inside the boundaries," he said. "However, when we examined the current image from July, unfortunately, due to the recession, the lake has receded, and an area of approximately 10-15 square kilometers has become land."
Also, in Erciş Bay, an area of 25 square kilometers that was previously covered with water has completely turned into land now, noted Akkuş, adding that a total of 100 square kilometers that were once underwater have now become land.
"At the point where we are located in Erciş Gölağzı Neighborhood, there used to be 2 meters of water in the past. Fishermen used to cast their nets here, but currently, we are about 1.5-2 kilometers away from the lake. We believe that this recession will continue, and the areas that have turned into land are beginning to create new agricultural opportunities for people."
Now, however, these areas are being used for grazing animals and agriculture.(TY/VK)
Source:Bianet
***Show us some LOVE by sharing it!***