How Netanyahu's Hamas policy came back to haunt him — and Israel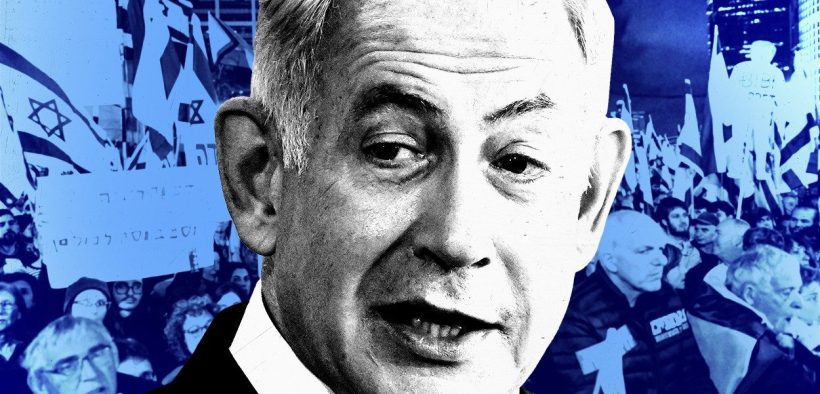 Israelis don't agree on much, especially lately, but polling shows they mostly agree that Prime Minister Benjamin "Bibi" Netanyahu is to blame for leaving Israel unprepared for Hamas's onslaught on October 7.
The accusations aimed at Netanyahu go beyond merely failing to foresee or prevent the Hamas attack of October 7, however. Many accuse him of deliberately empowering the group for decades as part of a strategy to sabotage a two-state solution based on the principle of land for peace.
"There's been a lot of criticism of Netanyahu in Israel for instating a policy for many years of strengthening Hamas and keeping Gaza on the brink while weakening the Palestinian Authority," said Mairav Zonszein of the International Crisis Group. "And we've seen that happening very clearly on the ground."
"(Hamas and Netanyahu) are mutually reinforcing, in the sense that they provide each other with a way to continue to use force and rejectionism as opposed to making sacrifices and compromises in order to reach some kind of resolution," Zonszein told CBC News from Tel Aviv.
'Keep Hamas alive and kicking'
This symbiotic relationship between Netanyahu and Hamas has been remarked on for years, by both friends and enemies, hawks and doves.
Yuval Diskin, former head of Israel's Shin Bet security service, told the daily newspaper Yedioth Ahronoth in 2013 that "if we look at it over the years, one of the main people contributing to Hamas's strengthening has been Bibi Netanyahu, since his first term as prime minister."
In August 2019, former prime minister Ehud Barak told Israeli Army Radio that Netanyahu's "strategy is to keep Hamas alive and kicking … even at the price of abandoning the citizens [of the south] … in order to weaken the Palestinian Authority in Ramallah."
The logic underlying this strategy, Barak said, is that "it's easier with Hamas to explain to Israelis that there is no one to sit with and no one to talk to.
Netanyahu's critics say that Hamas — with its bloodthirsty rhetoric, open antisemitism and stated intention never to share the land — played into the hands of a prime minister who also wanted to be able to tell western governments that Israel has "no partner" for peace.
Supporting Hamas rule in Gaza, those critics say, allowed Netanyahu to confine the Palestinian Authority to the West Bank and weaken it, dividing the Palestinians into two mutually antagonistic blocs.
Hamas puts its finger on the scales
Netanyahu first came to power in the 1996 election that followed the assassination of Prime Minister Yitzhak Rabin by an Israeli extremist opposed to the Oslo Accords.
Early polls showed Rabin's successor Shimon Peres comfortably ahead.
Determined to sabotage Oslo, Hamas embarked on a ruthless suicide bombing campaign that helped Netanyahu pull ahead of Peres and win the election on May 29, 1996.
Today, some of the same extremists who called for Rabin's death hold power in Netanyahu's government.
Just two weeks before Rabin's assassination, a young settler extremist posed for the cameras with a Cadillac hood ornament he said he had stolen from Rabin's car. "Just like we got to this emblem," he said, "we could get to Rabin."
Today, that young man, Itamar Ben Gvir, is 45 years old and has eight Israeli criminal convictions — including convictions for supporting a terrorist organization and incitement to racism. Once he was rejected by the Israel Defense Forces (IDF) for his extremist views. Now, Israel's police must answer to him as Benjamin Netanyahu's minister of national security.
Many analysts believe one of the main goals of the Hamas attack on Israel was to derail the normalization talks underway between Israel and Saudi Arabia, which would have left the Palestinians on the sidelines.
In a remarkable speech last week in Houston, Saudi Prince Turki bin Faisal unleashed on Hamas for its atrocities and obstructionism. But he also had words for Israel.
"I condemn Hamas for further undermining the Palestinian Authority, as Israel has been doing," said the former Saudi intelligence chief and ambassador to the U.S. "I condemn Hamas for sabotaging the attempt of Saudi Arabia to reach a peaceful resolution to the plight of the Palestinian people.
"I condemn Israel for funnelling Qatari money to Hamas."
Prince Turki was referring to money that the Qatar royal family has been sending to Gaza for years, to the tune of about a billion U.S. dollars.
'Hamas is an asset'
Netanyahu's hawkish defence minister Avigdor Liberman was the first to report in 2020 that Bibi had dispatched Mossad chief Yossi Cohen and the IDF's officer in charge of Gaza, Herzi Halevi, to Doha to "beg" the Qataris to continue to send money to Hamas.
"Both Egypt and Qatar are angry with Hamas and planned to cut ties with them. Suddenly Netanyahu appears as the defender of Hamas," the right-wing leader complained.
A year later, Netanyahu was further embarrassed when photos of suitcases full of cash going to Hamas became public. Liberman finally resigned in protest over Netanyahu's Hamas policy which, he said, marked "the first time Israel is funding terrorism against itself."
Netanyahu's education minister Naftali Bennett also denounced the payments, and also quit.
Israel vs. Hamas: A new phase?
Duration7:022 and half weeks of air strikes; A brief 'targeted' incursion; now, a widely expected ground invasion by Israeli forces in to Gaza. What could that look like? CBC News Network spoke with Javed Ali, former senior director for counter terrorism at the national security council, about that, and more.
The Palestinian Authority's Ahmed Majdalani accused the Qatari envoy of carrying money to Hamas "like a gangster."
"The PLO did not agree to the deal facilitating the money to Hamas that way," he said.
After both Bennett and Liberman fell out with Netanyahu, he was defeated by a new government that stopped the cash deliveries to Hamas.
But that government lasted just 18 months. Then Netanyahu returned to power with new, more extreme partners who backed the policy of fostering Hamas to prevent a negotiated peace settlement.
Netanyahu's current finance minister, West Bank settler Belazel Smotrich, explained the approach to Israel's Knesset channel in 2015: "Hamas is an asset, and (Palestinian Authority leader) Abu Mazen (Mahmoud Abbas) is a burden."
Paying Hamas to weaken Oslo
On March 12, 2019, Netanyahu defended the Hamas payments to his Likud Party caucus on the grounds that they weakened the pro-Oslo Palestinian Authority, according to the Jerusalem Post:
"Prime Minister Benjamin Netanyahu defended Israel's regular allowing of Qatari funds to be transferred into Gaza, saying it is part of a broader strategy to keep Hamas and the Palestinian Authority separate, a source in Monday's Likud faction meeting said," the Post reported.
"The prime minister also said that 'whoever is against a Palestinian state should be for' transferring the funds to Gaza, because maintaining a separation between the Palestinian Authority in the West Bank and Hamas in Gaza helps prevent the establishment of a Palestinian state."
Netanyahu insisted that neither the money nor the construction material given to Hamas would be diverted to military purposes. But today, the IDF finds itself showing how Hamas has done exactly that — by diverting and converting civilian funds and materials to warlike purposes.
The military tried to warn him at the time, former IDF chief of staff Gadi Eisenkot told the Ma'ariv newspaper. He said Netanyahu acted "in total opposition to the national assessment of the National Security Council, which determined that there was a need to disconnect from the Palestinians and establish two states."
"We Gaza border residents are paying the price for the lack of policy and the arrogance in facing terror," said Labor Party Knesset member Haim Jelin in 2019.
Those words would prove to be terribly prescient four years later.
Haim Jelin is a resident of Kibbutz Be'eri. The small community was devastated by Hamas on October 7. Roughly 130 of its residents were murdered, while others were taken into captivity in Gaza.
Catch-22 for two-state solution
Mustafa Barghouti, a physician and member of the PLO Central Council, was a key figure in talks between Hamas and Fatah that sought to unify the Palestinians in a single bloc that could negotiate a two-state peace.
"Each time we moved toward unity, Netanyahu would launch a campaign claiming that (Palestinian Authority leader Mahmoud) Abbas is cooperating with terrorists," Barghouti told CBC News from Ramallah in the West Bank.
"But each time Netanyahu was asked, 'Why don't you negotiate with Abbas,' he would say, 'I can't negotiate with a Palestinian Authority that doesn't represent all Palestinians.' And so he would use Hamas and this division to justify his absolute objection to any negotiated peace agreement."
Barghouti said the current war has ended U.S. and Israeli hopes of Israel normalizing relations with neighbouring countries without first resolving the Palestinian issue.
"One of the main results of what has happened is to show that normalization between Israel and some Arab countries does not solve the problem," he said. "It re-established the Palestinian issue as the central issue in this whole knot."
"Most of the world thought that it could sideline this issue," said Zonszein. "Certainly the U.S. thought that. But now it's clear that it is the key to stability in the region as a whole."
Biden: U.S. wants two states
On Wednesday, U.S. President Joe Biden warned Israel to stop attacks by Israeli settlers — a key part of Netanyahu's coalition — on Palestinian civilians. Attacks have spiked this year.
"They're attacking Palestinians in places that they're entitled to be, and it has to stop," Biden said. "They have to be held accountable."
Biden also spoke about what the U.S. wants to see after the war.
"When this crisis is over, there has to be a vision of what comes next," he said. "And in our view, it has to be a two-state solution."
Neither Hamas nor Netanyahu share that vision.
As Netanyahu has pointed out, Hamas does not recognize Israel's right to exist and lays claim to all of the land "from the river to the sea."
And just twelve days before the Hamas massacres in southern Israel, Netanyahu addressed the UN General Assembly, holding a map of what he called "The New Middle East" that showed all of the West Bank and Gaza, as well as East Jerusalem and the Syrian Golan Heights, as parts of an enlarged Israel, with no Palestinian state in sight.
Damage likely to be lasting
There is a widespread feeling in Israel that Netanyahu's career is finally ending. A trial on serious corruption charges looms in his future.
"He's finished. It's over," said Barghouti. "The problem is that the alternatives are no different from him when it comes to any Palestinian issue. They differ with him on other matters, but when it comes to Palestinians, I don't see any peace camp in Israel."
Hamas and Netanyahu may both prove harder to eliminate than their enemies hope. But even if they leave the scene, the damage to the two-state solution is not easily undone and the current war likely will make things worse, said Zonszein.
"I'm concerned that the fear and the trauma and shock of what happened is only going to make Israelis more scared of Palestinians, and Palestinians more scared of Israelis," she said. "And you see a lot of Israelis who are arming themselves now with personal firearms because they don't trust that the army and police will be there for them."
Nor will Gazans be easily reconciled to the restoration of a corrupt Palestinian Authority, especially one seen to be riding back to power on an Israeli tank.
"It's already lost most of its legitimacy and credibility on the street in the West Bank," said Zonszein. "There haven't been elections in 16 years and they don't have the ability to govern even the West Bank, so why would anyone think they have the ability to govern Gaza?"
Barghouti agreed the current Palestinian Authority and its leadership are at a dead end.
"No Palestinian leader will ever have legitimacy without free, democratic elections, and that is true whether he governs Gaza or not," he said.
"But in my opinion, Israel is not interested in a Palestinian government of Gaza."
By: Evan Dyer – has been a journalist with CBC for 25 years, after an early career as a freelancer in Argentina. He works in the Parliamentary Bureau and can be reached at [email protected].
Source: CBC