Turkey's Erdoğan says new Constitution needed to solve judiciary crisis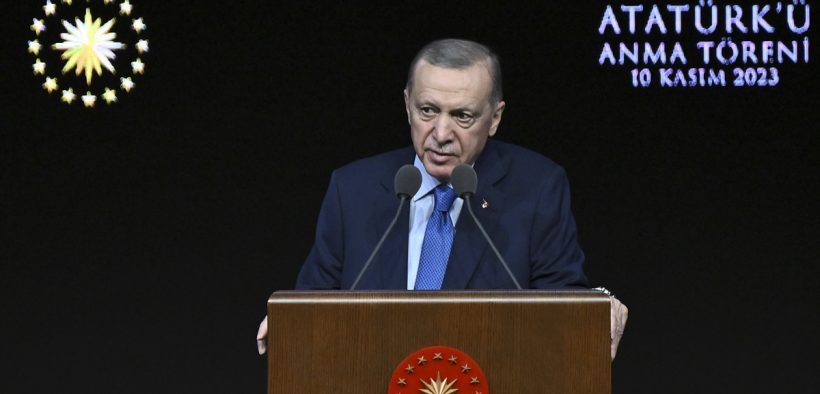 Turkish President Recep Tayyip Erdogan said he was in a position of "mediator" in the ongoing constitutional crisis, arising from the refusal of the Court of Cassation to acknowledge the Constitutional Court's decision regarding the imprisonment of TIP (Workers' Party) Member of Parliament, after taking side of Court of Cassation in a previous speech.
"We are not mere participants in this debate; we are mediators. Engaging with representatives of our high judicial institutions and esteemed legal experts, we are committed to finding a resolution to this matter," he said during a commemorative event for the death anniversary of Mustafa Kemal Ataturk, the founder of modern Turkey.
However, during a briefing with reporters in a return flight from Uzbekistan, he expressed concern over the Constitutional Court's recent decisions, saying the court committed several consecutive errors. Erdogan had acknowledged the significance of the Court of Cassation decision, stating, "The decision cannot be set aside or ignored."
In his most recent statement, Erdogan said a new constitution was necessary to solve these kinds of problems:
"The resolution of the jurisdictional dispute between the two judicial institutions lies in the constitution and laws. However, our existing constitution and laws prove insufficient in this regard. It is imperative to expedite the process of drafting a new constitution for our country."
Underscoring the critical nature of the constitutional matter, Erdogan concluded, "Hopefully, efforts toward a new constitution will commence promptly. We will swiftly take steps to prevent the disagreement between our institutions from escalating into a constitutional and systemic crisis. If necessary, utilizing all methods, including constitutional and legal amendments, we will do what it takes to prevent a recurrence of such debates."
Source: Gerçek News