Turkey's economic crisis crushes famed carpet industry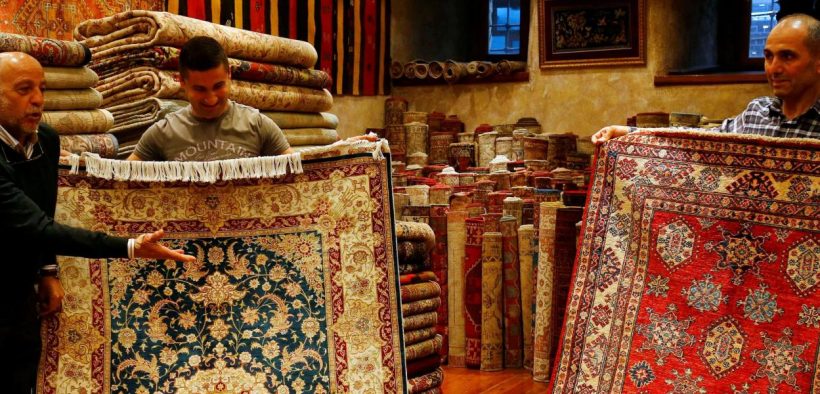 By Mehemt Zeki Cicek
Veteran carpet weaver Nuri Çapuroğlu knew something was amiss when his employer called all the workers together last November.
"They summoned us to the accounting office and told us that they would reduce the number of shifts because the crisis had hit Angora Carpet," he said, referring to his employer, and Turkey's economic crisis.
Angora had filed for bankruptcy and would soon shut down eight of its 10 weaving looms and place most workers, including Çapuroğlu, on unpaid leave. Still out of work nearly three months later, Çapuroğlu is starting to lose hope after 30 years of carpet weaving.
"I am ashamed of catching my children's eyes since I cannot put bread on the table or give pocket-money to my kids," said Çapuroğlu.
Gaziantep, a city of 1.5 million in Turkey's southeast, ranks among the areas worst hit by the country's economic turmoil. It had long been one of Turkey's main centres of textile manufacturing, but following a nearly 30-percent decline in the lira, 20-percent inflation, and economic contraction, the industry is under severe strain.
At least 40 textile firms in Gaziantep have filed for bankruptcy in the past six months, leaving 20,000 workers without jobs. Before the crisis, some 12,000 people worked as carpet weavers. Today the number is down to 1,500, according to Çapuroğlu.
Nihat Bencan, Gaziantep representative for the Confederation of Progressive Trade Unions of Turkey (DISK), said that in the past four years 50,000 people had lost their jobs, and even that number underestimated the problem. "When you take family members into account, the number of people affected by the crisis reaches hundreds of thousands," he said.
President Recep Tayyip Erdoğan has said Turkey is in an economic war and called on the population to sell dollars and buy lira. His administration has also targeted social media users who criticise the government over the economic crisis.
Erdoğan has for years forged a strong bond with conservative voters. Working class citizens have regularly voted for him since 2002. His supporters often say they like him because he is one of them, a child of the working class made good. But if the economic troubles continue under his presidency, Turkish citizens may become disenchanted with Erdoğan – a political risk with local elections looming on March 31.
A textile business owner who asked not to be named said that even talking about the economic crisis is considered a crime, and that the government had done little to help his industry. "When we said, 'We are going down', they patted us on the back and scoffingly said 'Our businessmen are strong', like they were consoling children," the company owner said.
The company owner said he and other business owners asked authorities to invest in research to ensure textile production with high added value. Instead, Turkey chose to make construction the country's economic engine.
The building boom did spur unprecedented economic growth, in part because the construction industry, with its broad supply chains, impacts up to a third of the overall economy, according to economists. But it also led to the neglect of Turkish industry, and Turkish companies that borrowed heavily to profit from an economic boom now struggle to repay loans in dollars and euros.
Turkey's foreign policy also undermined the textile industry, not to mention other exports, when Erdoğan made enemies of key trade partners like the United States, Israel and European Union states.
Ahmet Subaşi, of the Revolutionary Textile Workers Union, cited a report from the Gaziantep Chamber of Industry that highlights 34 percent growth in exports in the first 11 months of 2018, to which textiles likely contributed. He believes workers are losing their jobs while their bosses' are making good money.
Source: Ahval News