Australia warns all options on table over Erdoğan threat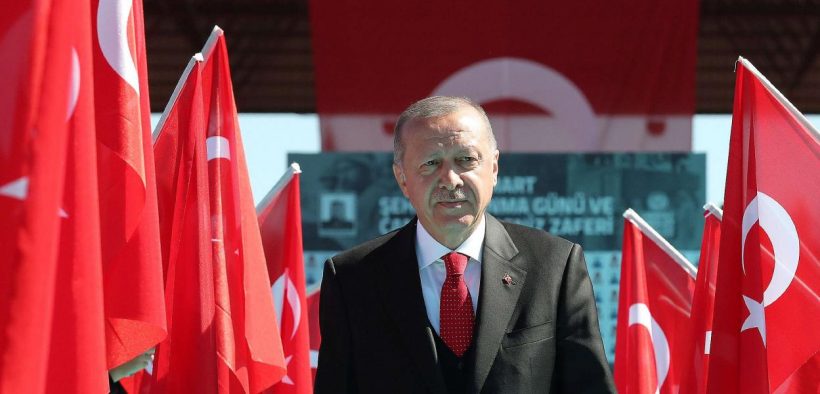 (Adds Erdoğan's Washington Post op-ed comments)
Australian Prime Minister Scott Morrison said on Wednesday that all options were on the table in response to Turkish President Recep Tayyip Erdoğan's threats to send any hostile visitors from Australia and New Zealand back home in coffins.
Australian national security agencies are reviewing whether it is safe for Australians to travel to Turkey for annual commemorations of the 1915 World War One battle between defending Ottoman forces and troops of the Australian and New Zealand Army Corps (ANZAC) alongside British and French soldiers trying to capture the Gallipoli peninsula.
Australian media said Morrison was considering expelling Turkey's ambassador over what he said were Erdoğan's "highly offensive and highly reckless" comments.
Visiting Gallipoli on Monday, Erdoğan suggested a repeat of the battle, in which Ottoman forces commanded by Mustafa Kemal Atatürk, fought off the invaders. Campaigning for March 31 local elections, Erdoğan seized on the New Zealand attacks to portray his country under threat after the Australian man charged with the killings linked his actions to the Turkish presence in Europe.
"Your grandfathers came and saw that we're here. Then some of them walked back, while others left in coffins," Erdoğan said. "If you come with the same intention, we'll be waiting for you."
Morrison condemned the remarks.
"I understand the deep offence Australians would be feeling about this. It is truly upsetting," he said, according to Australia's 9 News. "I have conveyed that in the strongest possible terms to the Turkish ambassador today, and I do not accept the excuses that have been offered for those comments."
In an opinion article for The Washington Post, Erdoğan on Tuesday argued that the alleged New Zealand shooter, Australian Brenton Tarrant, was the same as Islamic State (ISIS).
"We must establish that there is absolutely no difference between the murderer who killed innocent people in New Zealand and those who have carried out terrorist acts in Turkey, France, Indonesia and elsewhere," he wrote. "Unfortunately, Islamophobia and xenophobia, among other practices incompatible with liberal values, were met with silence in Europe and other parts of the Western world. We cannot afford to allow this again."
Striking a tone altogether different from the one he employed on the campaign trail in Gallipoli, Erdoğan also said Western leaders had responsibilities in the wake of the New Zealand attack.
"Western societies and governments must reject the normalisation of racism, xenophobia and Islamophobia, which has been on the rise in recent years," Erdoğan wrote . "All Western leaders must learn from the courage, leadership and sincerity  of New Zealand's prime minister, Jacinda Ardern, to embrace Muslims living in their respective countries."
Ardern said on Wednesday that her deputy would travel to Turkey to confront Turkish officials about Erdoğan's election rally statements.
"Our deputy prime minister will be confronting those comments in Turkey," Ardern told reporters in Christchurch, according to Reuters. "He is going there to set the record straight, face-to-face."
Morrison contrasted Erdoğan's Gallipoli remarks with those of Atatürk, the founder of the Republic of Turkey, who fought at Gallipoli and embraced the allied soldiers who were all buried on the battlefield, not sent home in coffins.
He was referring to words ascribed to Atatürk about the fallen allied troops.
"Those heroes that shed their blood and lost their lives," Atatürk is widely quoted to have said. "You are now lying in the soil of a friendly country. Therefore rest in peace. There is no difference between the Johnnies and the Mehmets to us where they lie side by side here in this country of ours."
The Canberra government has asked the Australian ambassador to Turkey to speak to Erdoğan's presidential aides to prevent a deepening dispute, the Sydney Morning Herald said.
It said the talks would help determine whether Australia changed its official travel advice on its nationals traveling to Gallipoli next month. Each year thousands of Australians and New Zealanders attend the commemorations at Gallipoli, seen as a watershed moment in their nations' histories.
Australian opposition leader Bill Shorten denounced Erdoğan's Gallipoli statements and pointed to Turkey's March 31 local elections.
"The remarks of the Turkish President were foolish and they were offensive," he said. "What I also understand, though – this might comfort for Australians who are upset by the remarks – there is an election in Turkey, a domestic election within the next 10 days. It is not unknown for domestic politicians in domestic elections to say inflammatory things about matters beyond their borders."
Source: Ahval News