Jailed lawmaker Demirtaş says pro-Kurdish HDP played key role in AKP upset at polls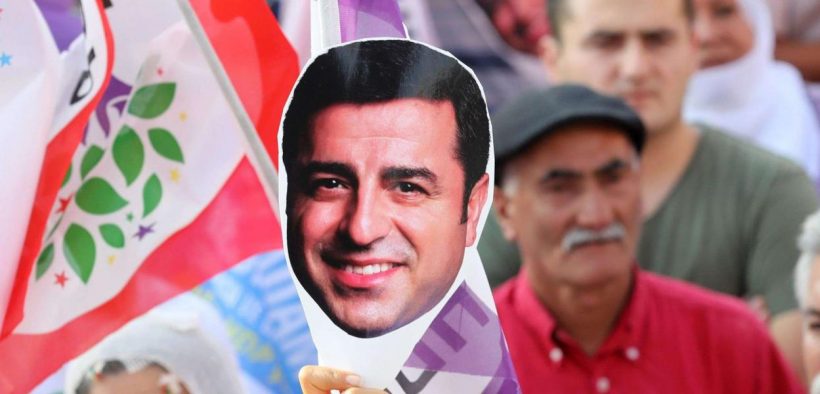 Turkey's March 31 local elections were a complete defeat for President Recep Tayyip Erdoğan's ruling Justice and Development Party (AKP), in which the pro-Kurdish Peoples' Democratic Party (HDP) played a key role, jailed HDP lawmaker Selahattin Demirtaş told Deutsche Welle Turkish.
Turkey's ruling AKP in the country's most recent polls lost in five of the six most populous provinces, marking the greatest defeat for the party in its 17 years in power.
What the AKP experienced in the local polls, "despite having control of 95 percent of media and state resources,'' was nothing short of a "complete upset,'' Demirtaş told Deutsche Welle. ''The opposition bloc was able to bring to life a democratic option during this election. Of course, I find this very important and meaningful,'' the jailed HDP former co-chair added.
The main opposition Republican People's Party (CHP) joined forces with centre-right nationalist Good (İYİ) Party ahead of the March 31 polls. The pro-Kurdish HDP also adopted a strategy to support CHP candidates in the country's largest cities, therefore ensuring the victory of the anti-Erdoğan vote.
Demirtaş, who has been jailed since Nov. 2016 on a string of terror charges, also spoke to HDP's claims of electoral fraud in Turkey's Kurdish majority provinces.
"There is one-sided legal system being implemented that is only protecting the leading party. If the manipulation experienced in Muş were to be unveiled, I am sure that the results will turn in the favour of the HDP… Unfortunately, the judicial system has been suspended with election committees, just as it has been with [the country's] courts,'' Demirtaş said.
HDP officials have appealed the results in the southeastern provinces of Şırnak and Muş, pointing to what they say are irregularities in the count, particularly in Muş, where the ruling AKP won by 538 votes.
The pro-Kurdish party won municipal elections in eight provinces in southeast and eastern Turkey, down from 11 in the last local elections in 2014.
Source: Ahval News