Russia able to shape Turkish policy – study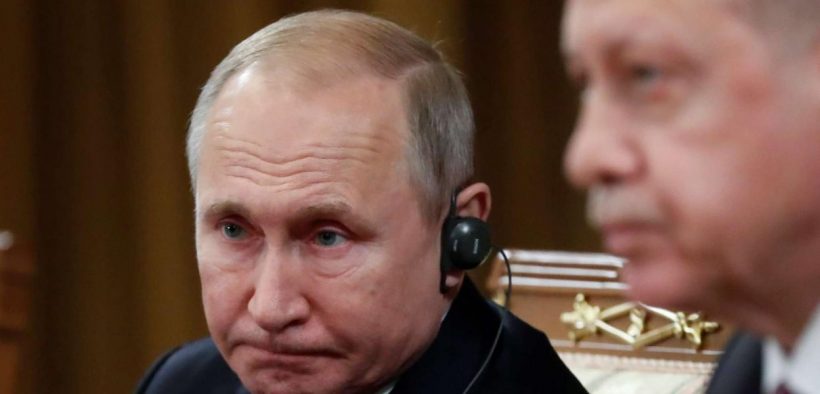 Russia's cyber army appears capable of shaping the positions and policies of Turkey's government, but largely refrains from doing so as the Black Sea neighbours' strategic interests are largely aligned, according to a study by Turkey's EDAM think tank.
The study, written by Akın Ünver, assistant professor of international relations at Kadir Has University, analysed the impact of Russia's information operations in Turkey, focusing on key recent events in Turkish-Russian relations and Turkey's 2018 elections.
In November 2015, Turkey shot down a Russian Sukhoi-24 jet over Syria after it violated Turkish airspace, which resulted in the killing of a Russian pilot by Syrian rebels on the ground.
After the initial pro-Russian line -that Turkey had shot down the Russian jet over Syria, not within Turkish airspace – failed, pro-Russian outlets hit on a new narrative: Turkey had aided Islamic State (ISIS) by purchasing oil from areas of Syria controlled by the group. This story flourished and may have ultimately shaped Turkish policy.
"In all of our cases, this is the most successful, high-impact and lasting Russian information operation, and arguably, Russia's success with this narrative has put Turkey on the defensive from a digital standpoint," said the report, adding that this narrative also seemed to have Kremlin support, as highlighted by a Russian Defence Ministry statement.
This narrative proliferated across Turkish Twitter, dominating Turkey's main argument that the Russian jet was shot down within Turkish airspace, at least until the August 2016 meeting between the countries' presidents, when relations improved.
"Nothing Ankara did, either diplomatically or public relations-wise was enough to counter the Russian narrative," said the report. "Russia was able to hack into Turkey's relations with NATO through this narrative as NATO country media outlets became some of the most prominent central hubs in the dissemination of this narrative. Even today, 'ISIS oil' narrative is shared widely through U.S.-based far-right conspiracy theory outlets like Breitbart and InfoWars."
Disinformation was rife during Turkey's 2016 coup attempt and in the days after. One of the Russian narratives was that Ankara's main police station had been bombed, which involved the sharing of a doctored version of an RT video of a 2014 Israeli bomb in Gaza. The report said it was impossible to verify who doctored the video.
Pro-Russian outlets also pushed the line that NATO and the United States were behind or supportive of the coup attempt, which was already a mainstream view in the Turkish information ecosystem, said the report.
Russia's cyber campaign in the wake of the December 2016 assassination of Russian Ambassador Andrey Karlov demonstrated considerable restraint, according to the report. And as for the most feared element of Russian disinformation campaigns, election meddling, the report found next to nothing.
Ünver looked at the six most popular social media discussions in the days before Turkey's June 2018 elections for president and parliament, and was unable to trace any of the fake stories to pro-Russian accounts.
Turkey and Russia reached agreement on Ankara's purchase of the S-400 Russian system in September 2017, leading to the $2.5 billion U.S. signing of the deal a few months later. Rather than any dispute, Ünver observed a meaningful evolution in the online discussion.
The "S-400 deal is an overall good way to observe the gradual shift of the Turkish information ecosystem from an ambivalent view towards Russia, into a mostly pro-Russian view," said the report, adding that the shift was less about liking Russia than a convergence of strategic interests. "Pro-Russian opinions have been quite well-integrated into the (Turkey) pro-government mainstream."
This helps explain why Russia's digital media presence in Turkey is minimal, and has little impact. The glaring exception was Russia's narrative linking Turkey to ISIS via oil. Ünver sees this narrative as "one of the digital drivers … of Turkey's growing distancing from NATO and its slide into the Russian orbit."
This marked the only time Moscow fully attacked Ankara online, and the only direct digital information confrontation between the two, which suggests that in Turkey, Russia may not even be trying.
"Based on the sustained damage Russia wreaked with the 'ISIS oil' information campaign, it is possible to argue that in most cases, Russia has so far refrained from flexing its digital informatics muscles," said the report. "There seems to be no logic in destabilising an already pro-Russian information network through further disinformation … This state of affairs, of course, is dependent on the continuation of converged strategic interests between the two sides."
Source: Ahval News