Will Turkey's Erdoğan copy Maduro playbook after poll defeat?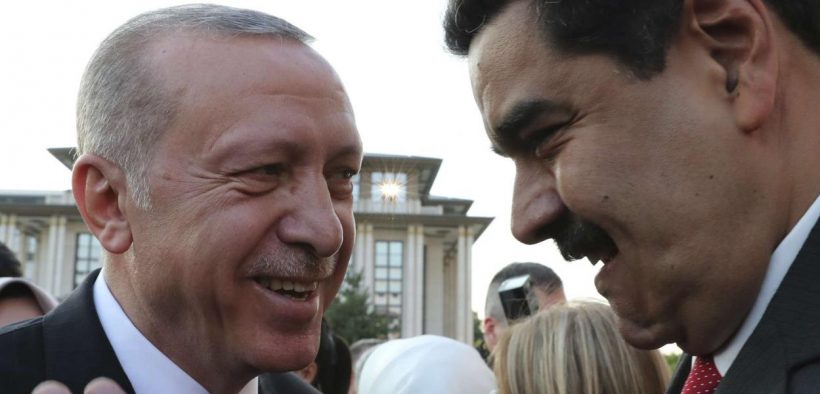 Efforts by Turkey's ruling Justice and Development Party (AKP) to dispute and possibly overturn its defeat in recent elections to choose the new mayor of Istanbul, the country's largest city and economic powerhouse, are stolen straight from the political playbook of Venezuela's Nicolás Maduro.
Turkish President Recep Tayyip Erdoğan on Monday called on the Supreme Electoral Board (YSK) to investigate what he called a criminal operation in the election. Shortly after, police duly raided several addresses in the city overnight looking for evidence.
The AKP has cited voter irregularities and called for a total re-run of the mayoral election in Istanbul, which accounts for nearly a third of Turkey's GDP. But the electoral authority has so far resisted calls to nullify the March 31 vote and organise a new election or perform a full recount. In the capital Ankara, the YSK rejected AKP appeals and finalised the results, handing the mayor's seat to an opposition candidate.
Maduro's reactions to his 2015 election defeat look eerily similar. When Venezuela's opposition won a landslide victory in December 2015 parliamentary elections, the governing party challenged the results in some districts, citing irregularities and interference.
"The bad guys won, like the bad guys always do, through lies and fraud," Maduro said. His supporters circulated videos that they said showed opposition candidates buying votes and interfering with the electoral process. Maduro officials also accused the opposition of using criminal gangs to intimidate voters.
After an investigation, three opposition members of parliament were disqualified from holding office on charges of buying votes. Three fewer members of parliament may seem like a minor punishment, but those three meant the difference between a three-fifths opposition majority and the two-thirds supermajority needed to possibly remove Maduro and rewrite the constitution.
The Venezuelan president then did everything in his power to limit the opposition's electoral victory and prevent it from challenging his power. In 2017, despite widespread condemnation, Maduro created a new constituent assembly to replace the democratically elected, opposition-controlled legislature so that winning elections in Venezuela no longer mattered.
In presidential elections last May, Maduro banned candidates and political parties, and manipulated the electoral calendar to benefit the ruling party. Facing an existential threat, Maduro eliminated Venezuela's remaining democratic institutions and continues all efforts to hold onto power.
Despite being squeezed out of media coverage and battling on an unequal playing field, Turkish opposition candidates have now managed to score a notable success by winning the municipalities of most major cities. But the big question is whether Erdoğan will let them take office and do their jobs. Early signs suggest he will not give up without a fight: on Tuesday, after meeting with Bolivian President Evo Morales, Erdoğan stressed the need to respect embattled Venezuela's electorate and decried intervention by third parties.
More importantly, the AKP's loss of major cities shows it is losing its electoral competitiveness. While celebrating their electoral win, the Turkish opposition should bear in mind that when the ruling party of a competitive authoritarian regime loses its ability to compete in the polls, as in Venezuela, it has a tendency to become more authoritarian in order to survive.
By Imdat Oner
Source: Ahval News