Venezuela's Trade Scheme With Turkey Is Enriching a Mysterious Maduro Crony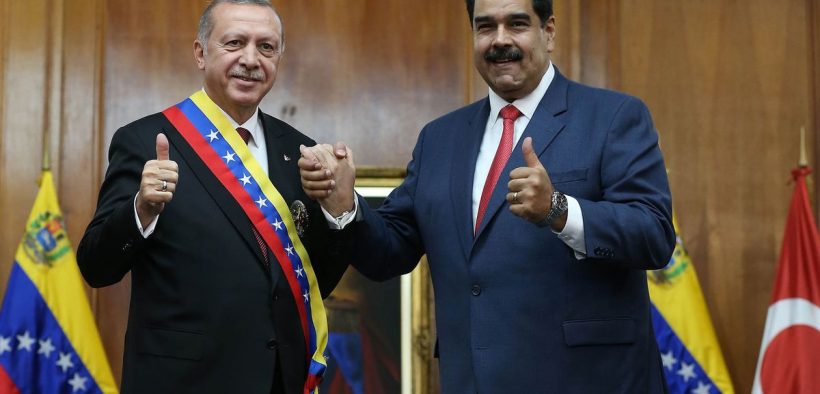 Venezuelan President Nicolás Maduro, right, presents the Order of the Liberator to Turkish President Recep Tayyip Erdogan at Miraflores Palace in Caracas in December 2018. PHOTOGRAPHER: CEM OKSUZ/ANADOLU AGENCY/GETTY IMAGES
Investigators say retrofitted criminal networks are being used to trade gold for the food that's propping up the regime.
In the late afternoon of July 15, 2016, a cluster of staffers inside the Turkish Embassy in Caracas struggled to make sense of the images from home flashing across their televisions and computer screens. Military trucks were blocking a bridge over the Bosporus, tanks were rolling into the Istanbul airport, and smoke was rising from the streets of Ankara. As best they could tell, a group within the Turkish military was trying to overthrow the government of President Recep Tayyip Erdogan.
Imdat Oner, the chargé d'affaires of Turkey's diplomatic mission in Venezuela, was straining to hear a live news report when a telephone rang, pulling him away from his colleagues. On the line was Samuel Moncada, Venezuela's deputy foreign minister. Oner knew him, but not well. He didn't feel he knew any of the Venezuelans well, because the relationship between Turkey and Nicolás Maduro's government seemed to him superficial, at best.
For a decade, Turkey had been trying to jump-start trade with Latin America, but Venezuela remained a dead zone. Hugo Chávez, Maduro's predecessor, had regularly slammed Turkey for its opposition to Syria's Bashar al-Assad, a Venezuelan ally. Shortly after Chávez's death in March 2013, Turkey, as a way to kindle economic ties, tried to sell Maduro on a Turkish Airlines route connecting Istanbul and Caracas. He ignored the approach, says Oner. Even after Venezuela's economy fell headlong into an extended and ongoing economic collapse, Turkey's offers to trade food and pharmaceutical products for Venezuelan oil derivatives went nowhere.
Given the history, Oner was caught off guard by the message now being delivered on behalf of Maduro—a promise of unflinching solidarity with Erdogan in the face of "external meddling." Maduro seemed convinced that the U.S. had orchestrated the Turkish uprising, just as he accused the Americans of being behind an unsuccessful 2002 coup attempt against Chávez.
Erdogan came to agree with him. In the months after the uprising, Turkey stripped hundreds of diplomats of their titles, labeling them supporters of a U.S.-backed overthrow attempt. Oner left the government as this was happening, and now is pursuing a doctorate degree in Florida. And Erdogan hasn't forgotten Maduro's pledge of support. He's since complained that almost every leader in Europe remained silent for days after the failed plot. But not Maduro. "With the coup attempt," Erdogan said at a news conference earlier this year, "we met Maduro. It has been a good beginning."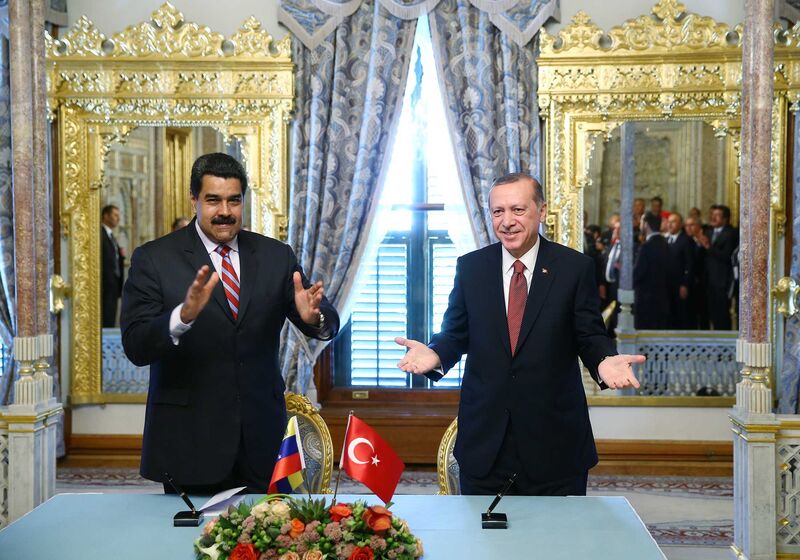 Within weeks of the July call, Maduro announced his first trip to Turkey. Before the end of 2016, that Turkish Airlines route between Istanbul and Caracas was inaugurated, and delegations from the two countries started crisscrossing the Atlantic to forge deals. They began to construct a secretive business network, one that could operate out of reach of financial sanctions imposed by the U.S. It would be a network that trades in two powerful currencies for Venezuela: gold and food.
Maduro was saddled with a near-worthless currency, the bolívar, that had been bludgeoned by years of hyperinflation. Profits from his country's massive oil reserves, which had funded the Venezuelan government for decades, were evaporating because of falling prices, a neglected and crumbling infrastructure, rampant corruption, and international isolation. Venezuelans were starving, and Maduro's approval rating had plummeted. So he grasped a financial lifeline in gold, one of the only resources of value he had left.
In August 2016, Maduro announced that a state mining company called Minerven would be the sole official gold buyer in the vast tracts of jungle, savanna, and rolling hills where mining had long been clandestine and unregulated—essentially legalizing a business lorded over by murderous gangs. He sent in troops to force miners to comply and began hoovering up ore from open-pit mines. (Through a spokesman, Victor Cano, the mining minister, declined to comment for this story.) Maduro also started cashing in on the billions of dollars' worth of gold bars that Chávez, who was loath to invest in U.S. dollars, had stockpiled. The sell-off carried hints of desperation. According to sources in Venezuela's central bank, the government secretly sold the bank's massive collection of rare gold coins, dating to the 18th century. The coins, box upon box of them, were thrown together in a single 30-ton sale in late 2017, and Venezuela accepted a price based on their weight alone, not their collectible value.
By then, Maduro was weathering extensive U.S. sanctions—mostly targeting individuals in his government accused of corruption, human-rights violations, and other crimes—and he seemed to anticipate that the U.S. Treasury might next sanction his dealings in gold to further choke the economy. Venezuela had been shipping freshly mined gold abroad, primarily to Switzerland, for processing. Last July, Maduro began sending it to Turkey. He'd already shipped at least $900 million in gold there by the time the U.S. last fall banned American individuals, banks, and corporations from doing business with anyone connected to Venezuelan gold sales. Tons more have gone since. The Turkish government declined to comment on allegations of wrongdoing related to the gold trade.
By Michael Smith and Monte Reel
Source: Bloomberg