Turkey Will Keep Voting Until Erdogan Gets His Way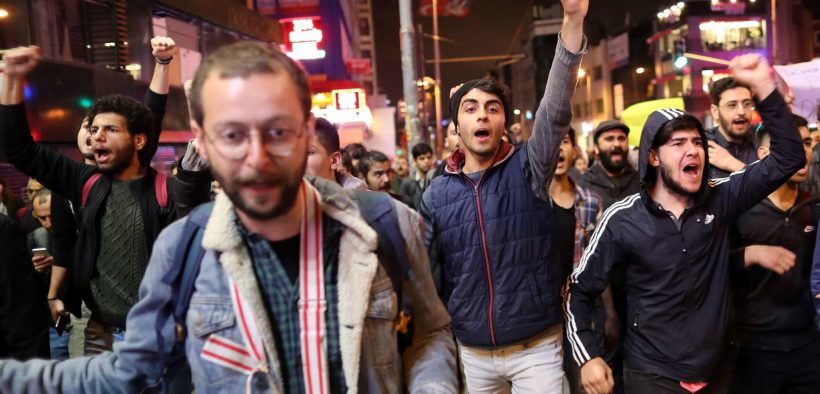 People protesting the order to rerun the mayoral election in Istanbul, Turkey. 
Credit 

Erdem Sahin/EPA, via Shutterstock
His decision to rerun a municipal election his party lost in Istanbul shows a growing weakness.
In his steady, 17-year march to ever-greater power over Turkey, President Recep Tayyip Erdogan has always been able to count on the votes of Istanbul, the city of 15 million straddling Europe and Asia where he got his political start as mayor in the 1990s and where his Justice and Development Party, or A.K.P., has a sizable patronage web. "Whoever wins Istanbul, wins Turkey," he has said.
So when the opposition won Istanbul in a nationwide municipal election on March 31, the victory was heralded as a major blow to Mr. Erdogan's ever more authoritarian rule. An even greater blow came when Mr. Erdogan had the election canceled. What happens next could be a watershed moment for his reign.
While Mr. Erdogan's strong-arm rule and the sweeping new powers he secured in an election last year have severely weakened Turkey's democratic institutions, and have left the political playing field far from level, Turks have largely continued to treat the ballot box as a place where they can express their opinions. With Turkey's economy in a severe slump after years of impressive growth, A.K.P. was expected to take a beating in the municipal elections, and it did. In addition to Istanbul, the party lost control over Ankara, the capital, and several provinces.
But it was the loss of Istanbul by a tiny margin that reportedly drove Mr. Erdogan to fury. In mid-April the election authorities confirmed that the opposition candidate, Ekrem Imamoglu, had narrowly won over the A.K.P.'s Binali Yildirim, a former prime minister and head of A.K.P. who appeared on posters alongside Mr. Erdogan. The loss reportedly sparked a major debate within A.K.P. on whether to challenge the results, and after first appearing to accept the vote, Mr. Erdogan made the wrong decision. On Monday, the High Election Council, its independence highly dubious, bowed before the A.K.P. and ordered a rerun for mayor.
The decision is wrong for several reasons. The clearest is that it was blatantly phony: The council had already ordered a partial recount, and the challenge was over a minor technicality. European leaders assailed the move, led by Federica Mogherini, the European Union's foreign affairs chief, who declared that canceling the elections goes "against the core aim of a democratic electoral process."
Above all, in challenging a vote he had obviously lost, Mr. Erdogan clearly demonstrated weakness, thereby greatly strengthening the opposition and Mr. Imamoglu, a relative unknown before the mayoral race. As soon as the decision was announced, people went out in the streets of Istanbul banging on pots and pans and whistling in protest.
Mr. Erdogan's decision sent the already sagging Turkish lira falling further, raising the price of foreign goods and fueling inflation.
The rerun is scheduled for June 23, and Mr. Erdogan will no doubt deploy all the weapons in his considerable political armory to make sure his man wins. But Mr. Imamoglu, a conservative candidate of the secular Republican People's Party, is now even stronger as a focus of opposition to Mr. Erdogan, something the opposition has lacked.
"Everything is going to be very fine," the Republican People's Party's leader, Kemal Kilicdaroglu, was reported to have said on Tuesday. "Despite everything, we will bring democracy to this country."
Some small opposition parties dropped out of the race, increasing Mr. Imamoglu's chances.
"We have won this election with the sweat of millions of people," he told his supporters this week. "You are the biggest witness to that sweat, you are our biggest comrades. You may be upset now, but don't lose your hope. We are here. Do not give up."
On Tuesday, he added, "Our democracy has been struck a great blow. We should all fix this process together."
Mr. Erdogan and his A.K.P. have done great damage to Turkey's democracy. But in Istanbul, they have overreached. If the A.K.P. claims victory, it will be tainted from the outset and ascribed to strong-arm tactics, feeding more popular anger. Or Mr. Imamoglu may win again.
By The Editorial Board – New York Times