Turkey and Russia are not friends, despite appearances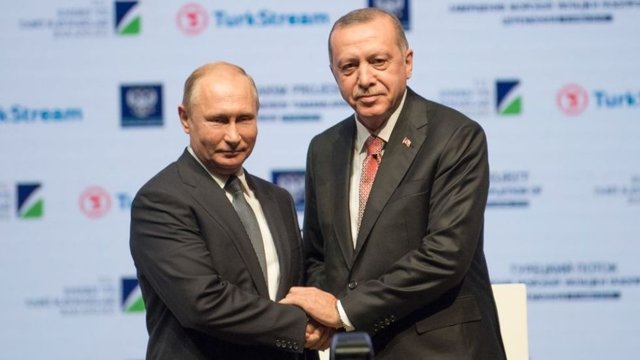 The 70-year-old alliance between the United States and Turkey is heading for its most turbulent period in decades. Congress voted this past week on legislation to punish Ankara for its planned acquisition of the Russian-made S-400 missile system and what lawmakers perceive as Turkish coziness towards Russia. Washington is preparing to curtail defense cooperation with Ankara and sanction Turkey. However, these actions will inadvertently deepen Ankara's ties with Moscow.
Tukey, a key member of the NATO alliance, is prepared to take possession of a sophisticated Russian anti-aircraft system initially designed to track and shoot down NATO fighter jets. This is inconceivable to the United States. A law passed in the wake of Russia's interference in the 2016 election requires the president to impose sanctions against anyone engaged in significant transactions with Russia's defense or intelligence sectors — a threshold that certainly would be met by the S-400 deal.
Turkey, once adored by many in Washington as a role model for Muslim-majority countries, today has few friends left on Capitol Hill. Turkish President Recep Tayyip Erdogan's crackdown on press freedoms, political opponents and democracy itself has engendered deep animosity towards him in Washington. Frequent meetings between Erdogan and Russian President Vladimir Putin, and Turkey's growing defense ties with Russia, leave the impression that Ankara is becoming a Moscow ally. The truth is that Ankara feels threatened by its massive neighbor to the north.
Between the 17th and 20th centuries, the Ottoman and Russian empires were deadly rivals. Until the collapse of the Russian Empire in 1917, Turks and Russians fought 17 major wars, which the Turks overall lost. Later on, Turkey's decision to enter NATO in the 20th century was driven by its fear of Russia. In 1946, Stalin demanded territory from Ankara. Seeing this as the return of historic Russian aggression, Turkey pivoted to the United States, entering NATO in 1952. In addition, as recently as 2015, Turkey shot down a Russian jet in connection with the civil war in Syria, where Ankara and Moscow generally have backed opposing forces.
Turkey's decision to pursue the S-400 system requires more context. For a decade now, Ankara attempted to procure American-made Patriot missiles without success. The U.S. resisted Turkey's demands for technology transfer and local production. As a result, Ankara sought unlikely substitutes, including a Chinese missile system in 2013, which fell through because of U.S. objections. Following the 2016 coup attemptagainst Erdogan, including the aerial bombing of the Turkish parliament, Ankara's — and Erdogan's — search for an anti-aircraft system grew even more imperative.
Of course, Putin is happy to sell weapons to a NATO member to drive a wedge in the alliance. Moscow can use the S-400 system to conduct invaluable intelligence-gathering efforts against the F-35, America's next-generation fighter jet. Turkey has been a critical partner in developing the aircraft since 2002, with significant industrial participation. What is more, Ankara plans to procure 100 of these jets. The Trump administration has halted the transfer of F-35s to Turkey until Ankara drops its plans to acquire the S-400. Simultaneously, Washington has made an "attractive" offer to sell Turkey Patriot missiles, provided Ankara walks away from the S-400 deal.
Despite the threat of being kicked out of the F-35 program, looming economic sanctions in the midst of a recession at home, and a clear alternative U.S. offer for NATO-interoperable Patriot missiles, Erdogan likely will move forward with Putin's offer because of Russia's significant leverage over Turkey.
In Syria, where Erdogan has backed rebels to oust the Moscow-allied Assad regime, Putin can deal the Turks their 18th defeat by Russia. A Russian-led onslaught against rebel-held Idlib province, home to 3 million people, would trigger a massive wave of refugees towards Turkey, overwhelming Ankara. Turkey also would face a stream of jihadists from Idlib, posing a grave threat to its security.
Moscow could unleash Kurdish proxies in neighboring Syria to wage a campaign of destruction and violence in Turkey. What is more, Putin can halt Russian tourism — more Russians visit Turkey annually than visitors from any other country — and block the import of Turkish agricultural products, as it did after Ankara's 2015 shootdown of the Russian jet, further squeezing Turkey's feeble economy.
Putin also can threaten energy supplies to Turkey, the second-largest consumer of Russian gas in Europe after Germany. This is not to mention the Kremlin's sophisticated propaganda and disinformation efforts in Turkey, whose society suffers from rock-bottom levels of interpersonal trust among advanced economies.
So, no, Turkey and Russia are not allies or friends. Erdogan's security concerns, mistrust of the West, and inability to secure American-made missiles left him searching for an alternative. Erdogan is unlikely to walk away from Putin's shrewd S-400 offer because he fears Russian reprisal. As a result, the consequences for U.S.-Turkey relations could be grave.
Turkey has the second-largest military in NATO and is home to Incirlik base, a major overseas post Washington uses to carry out strikes against ISIS and safeguard U.S. nuclear weapons. What is more, bordering Iran, Iraq, Syria, formerly ISIS held-territories and Russia across the Black Sea, Turkey provides strategic real estate for the United States. Turkey remains a critical country for American interests, despite Erdogan's autocratic tendencies and actions unbecoming of a treaty ally. Policymakers should tread carefully with this information in mind.
 By Soner Cagaptay –  is a senior fellow at the Washington Institute for Near East Policy and author of "Erdogan's Empire: Turkey and the Politics of the Middle East." 
& Andy Taylor –  worked in the U.S. House of Representatives from 2010-2019, where he covered Turkey on the House Foreign Affairs Committee staff.
Source: The Hill