Support for Turkey's AKP dwindles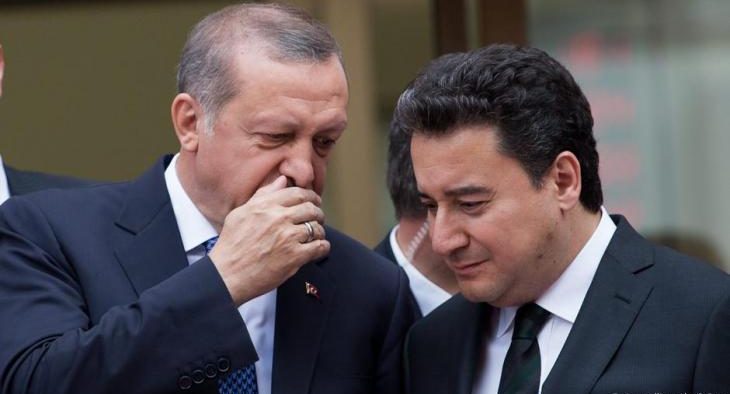 Support for Turkey's AKP dwindles
Erdogan's homegrown rivals
Erdogan has ruled Turkey firmly for the last 18 years, but his party now faces a huge challenge: former party heavyweights who have jumped ship to establish their own new parties. By Ayse Karabat
Over the last 18 years, under the strong leadership of President Recep Tayyip Erdogan, the ruling Justice and Development Party (AKP) has transformed the face of Turkish politics, mostly for lack of a robust opposition. But the AKP is now facing massive challenges, emerging simultaneously from three separate groups.
One, established on 13 December, is a political party named Future Party that will be chaired by former Prime Minister Ahmet Davutoglu. The other is to be headed by former Deputy Prime Minister Ali Babacan, who is acting alongside former President Abdullah Gul; an official launch of his party is expected within the next few weeks.
The third group comprises of those who are still among the AKP's ranks, but do not have a leader and are hesitant to act together with the other two groups. That said, however, they do share the same principal complaint: the AKP is no longer the party they once devoted themselves to. One is Mustafa Yeneroglu, who has been open in his criticism of the party and its undemocratic practices. He was forced to resign from the AKP – at Erdogan's request – in October.
All these groups feel that the AKP has turned into a highly centralised body where nepotism and repression are the order of the day. When the AKP first came to power, however, its political agenda was one that promoted freedom.
Climate of fear
Giving his inaugural speech at the founding of Future Party, Davutoglu emphasised the need to ease the restrictions on society, focussing especially on the need for a free press. "Despite all the pressures and the climate of fear that is being fostered, we have come together to draw up a prosperous future for our country," he said.
In a rare interview with private broadcaster Haberturk on 26 November, Babacan also expressed his concerns about the climate of fear. He said that Turkey's youth in particular had become afraid to write tweets, anxious that expressing their thoughts could prevent them from finding jobs. "Turkey's problems are growing and we feel that it has entered a dark tunnel," he said. However, as the editor-in-chief of independent news outlet Medyascope Rusen Cakir pointed out, both are fighting shy of naming the person responsible for this "climate of fear" or "dark tunnel".
"Babacan and Davutoglu may eventually point the finger at Erdogan, but their current attitude is casting doubts on their own credibility. They and their fellow defectors were previously active in the AKP and therefore bear, if only partially, some of the responsibility for creating the political atmosphere that they now find so intolerable," said Cakir, echoing the opinions of other columnists and pundits, who argue that these former AKP members should be more critical about the part they played in creating the current climate.
Davutoglu resigned from the AKP in September after it launched a disciplinary action against him. Similarly, Babacan was a member of the AKP until his resignation in July. Both of them are now openly critical of its rigorous party discipline and have promised that their new parties will give special importance to consultation mechanisms.
Both are opposing the presidential system, implemented in 2017, and defending restoring a parliamentary democracy. They promise to be inclusive and not to polarise society. But another point they share is not spelling out their approach to the Kurdish issue, one of Turkey's biggest issues both domestically and in foreign policy.
What about the Kurds?
In his inaugural speech, Davutoglu stressed the importance of the right to education in the mother tongue, but did not explicitly mention the Kurdish language. His party's agenda does, however, criticise the lack of democracy in general for exacerbating the Kurdish problem.
In an interview with Karar newspaper in November, Babacan claimed that socio-economic underdevelopment was one of the underlying problems. He claimed the Kurdish issue will be a priority concern for them. Some former ministers who were actively involved in the efforts of the AKP to address the issue in the past, namely Sadullah Ergin and Besir Atalay, are now among those working alongside Babacan.
Vahap Coskun, a law academic at Diyarbakir Dicle University and political analyst, told Qantara that in the given nationalistic atmosphere it is unsurprising that both new movements are aiming for a balanced discourse.
"It is likely that Davutoglu's party will mainly seek the votes of conservatives and religiously sensitive individuals, while Babacan's party will seek the support of centrists. This would reflect their attitude towards the Kurdish issue and the attitude of Kurdish voters towards them," Coskun said, indicating that Babacan's party could be more appealing to the Kurds.
He also pointed out that the current administration has tried to throw all the blame relating to Turkey's Syria policy shortcomings onto the shoulders of Davutoglu, something with which some Kurdish voters are likely to agree.
Gurkan Zengin, author of Davutoglu's biography, told Qantara that the main difference between Davutoglu's party and Babacan's will actually be in their foreign policies.
"Davutoglu is suggesting the continuation of the foreign policy of which he is an architect, a multi-dimensional, multi-layer foreign policy which embraces not only Euro-Atlantic relations, but also China, Russia and Middle East. Babacan, on the other hand, is giving the impression that his party will follow a Euro-Atlantic-centric foreign policy."
One other reason for their pursuit of separate paths is their modus operandi. Both of them stress on the importance of consultation, but as Babacan has said, his party wants to establish a cadre party, while Davutoglu's organisation will put him at the centre.
Joining forces
One thing could bring them together, however, and that is the possibility of them joining forces with the opposition bloc. The presidential system, which became operational following the referendum in 2017 and which requires a more than 50 percent share of the vote to elect a president, presupposes the formation of alliances between political parties.
During the 2018 general elections the AKP and its Nationalist Movement Party (MHP) ally captured a parliamentary majority, based on a combined 53.7 percent of the vote, while Erdogan secured a first round victory, taking 52.6 percent in the presidential vote.
These small margins, nevertheless, can be easily overcome if the AKP loses some of its votes to the new parties. Different opinion polls are suggesting that such a scenario is quite possible since they are estimating up to 3.4 percent popular support for Davutoglu's Future Party and nearly 8 percent for Babacan's.
New elections are not expected until 2023, but the opposition is expecting the government to opt for early elections, before the two new parties can fulfil their legal obligations to run in the polls. It is also not yet clear what the attitude of the opposition parties will be towards these new ones.
But Turkish politics is always good for a surprise. Erdogan, who has already started to target them, may try to persuade them to re-join his AKP.
One thing, however, is clear: support for Erdogan is dwindling. In just the last two months, his party has lost 57,000 members. This trend seems likely to continue, if not grow.
Ayse Karabat
© Qantara.de 2019