Turkish mob boss who mysteriously fled Turkey faces extradition from Kosovo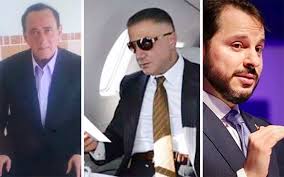 Sedat Peker, a Turkish mafia leader, was arrested in North Macedonia and will be extradited to Turkey via Kosovo, exiled Turkish journalist Ahmet Dönmez reported on Monday.
According to Dönmez, Peker is currently held at a police station in Skopje, North Macedonia's capital city. He also writes that Peker was arrested at the request Turkey by Macedonian police.
Local Macedonian news outlet Koronos described Peker as a "reputed drug lord" residing in the country and that he was accused of trying to contact drug traffickers there.
Peker had some notable high-level enemies inside Turkey including Berat Albayrak, President Recep Tayyip Erdogan's son-in-law, and Alaatin Cakici, a mafia boss close to Devlet Bahceli, Erdogan's coalition partner. He was previously imprisoned during the Ergenekon trials in 2013 and sentenced to a ten year long term, but he was released like many other defendants months later when the cases collapsed.
The gangster fled the country under a cloud of suspicion. He had dismissed reports that he fled due to legal troubles, saying he relocated to the Balkans to pursue business endeavours. Dönmez, the Turkish journalist, however alleges that Peker may have fled because of the dispute between him and Albayrak, who sought to have him arrested, pushing him to emigrate.
Peker is also a long-time rival of Alaatin Cakici, who was released from prison last year as part of an amnesty bill signed by Erdogan to reduce prison populations during COVID-19. Bahceli personally lobbied hard for Cakici's release because he considered him a national hero for his work as a government hitman targeting Armenian and Kurdish terrorists in the 1980s.
In videos shared by Kahraman TV, Peker is filmed insulting Cakici in personal terms.
Source: Ahval