Greece faces court over 'violent expulsion' of migrants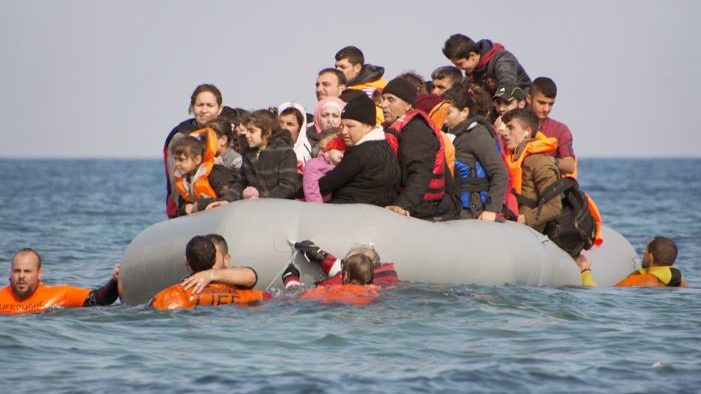 GREECE is being taken to the European Court of Human Rights for its massive "pushback" operation, in which more than 180 migrants were expelled to Turkey last year.
Rights campaigners said today that the Legal Centre Lesbos (LCL) has filed the complaint with the court after the "violent expulsion" that took place over two days in October.
The centre is representing 11 Syrian nationals who were part of a group of between 180 and 200 people, including 40 children, forced back to sea to make a hazardous crossing to Turkey.
According to the LCL, the group had been on board a fishing boat, aiming to seek asylum in Italy, when they fell into distress at sea off Crete on the morning of October 20.
Having called for help from the Greek authorities and the UNHCR, the United Nations agency mandated to aid and protect refugees, and under the instruction of the Greek coastguard, they entered Greek territorial waters.
They waited there for over five hours after the promise of being rescued. But, as witnessed in video footage, the group was instead violently attacked, by surprise, at night, by masked "commandos" in black uniform without insignia, operating from Greek coastguard vessels. Group members were assaulted, had their belongings stolen and were threatened with further violence if they attempted to return to Greece.
"The group was then forcibly transferred to two different Greek coastguard vessels on which they were forced to spend the night outdoors, without food, water or any assistance, before being abandoned on October 21 on various unseaworthy motorless life rafts near the Turkish coast," LCL said in a statement.
LCL said that this is the fifth case lodged with the European Court of Human Rights regarding collective expulsions of migrants, with those seeking asylum instead met with "violence, humiliation and torture at the hands of Greek authorities, eventually being abandoned at sea without means to stay safe or to call for rescue."
Greece is the one of the only European countries that does not ban collective expulsions, and, with no ability to bring proceedings in its domestic courts, the Strasbourg court is the last resort for investigations and remedy.
Under a so-called EU "deal of shame" signed in March 2016, migrants are stopped in Greece and sent back to Turkey to stem the flow into Europe. Ankara receives billions of euros under the agreement, though it has frequently complained of not receiving the funds in full.
Source: Morning Star