Fears for life of prominent Muslim Brotherhood leader's son in Egyptian jail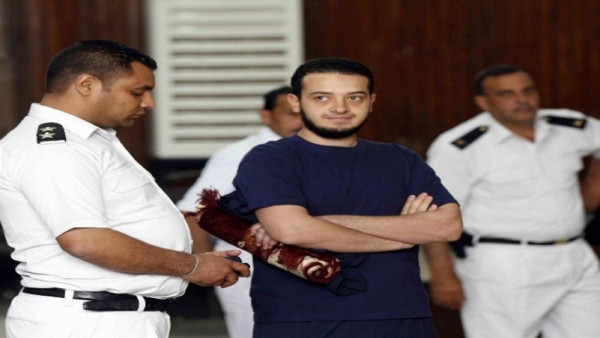 Anas El-Beltagy has been held in jail for more than seven years despite a court ordering his release in 2018, while his father Mohammed, a prominent Muslim Brotherhood leader, faces execution.
Anas El-Beltagy was only 19 years old when he was arrested in 2013 [Al-Araby Al-Jadeed]
An Egyptian political detainee who has spent more than seven years in detention has said that his life is in danger after he was exposed to abuse and held in solitary confinement by authorities.
Anas El-Beltagy, son of senior Muslim Brotherhood figure Mohammed El-Beltagy, had his death sentence upheld by an Egyptian court last month.
Anas was found innocent of the charges against him by three courts. The Cairo Criminal Court ordered his release in 2018 was detained again for investigation on charges of "joining a prohibited group with intent to stop the implementation of the law and constitution".
He has not left prison since he was arrested on 31 December 2013, when he was 19 years old.
His family and lawyer have said that at his last court appearance, he told the judge that his life was under threat and that his mental and physical health had declined because of the poor conditions he was being held in.
El-Beltagy has been held in solitary confinement and is losing hope of being released due to his continued detention despite being found innocent.
He has been held for much longer without trial than Egyptian administrative detention laws allow. His lawyer says that his continued detention is illegal and there is "no logical justification" for it, adding that authorities have no intention to bring him to trial.
El-Beltagy has reportedly been subjected to abuse and deprivation of food and drink in solitary confinement, as well as medical neglect.
A student at Cairo's Ain Shams University, he has also not been permitted to continue his education or sit university exams, nor has he been allowed to be held in detention with his father in the same cell, as Egyptian law stipulates.
Anas's father Mahmoud El-Beltagy is a former member of the Egyptian parliament and a prominent leader of the Muslim Brotherhood.
In 2013, current Egyptian President Abdel Fattah Al-Sisi led a military coup that overthrew Egypt's first democratically elected leader, Mohammed Morsi, a member of the Muslim Brotherhood.
Since then thousands of members of the group have been detained by Egyptian authorities, with many being sentenced to death or long prison sentences or subjected to torture, abuse, and medical neglect.
Mohammed El-Beltagy was arrested in August 2013, when Egyptian troops violently cracked down on a Muslim Brotherhood sit-in protest at Cairo's Rabaa Square, killing hundreds of people.
His daughter, Anas' sister Asmaa, was killed in the crackdown while Mohammed El-Beltagy himself now faces execution.
Anas' family say his continued detention, neglect, and abuse in prison are due solely to the fact that he is his father's son.

Source: the New Arab
***Show us some LOVE by sharing it!***