Kurdish football fans arrested by anti-terrorist police for 'provocation'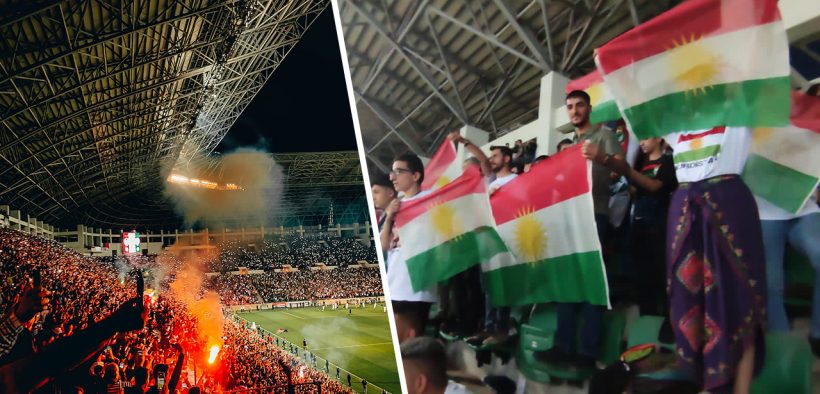 At least five fans of Amedspor Football Club have been arrested and taken to the city's Anti-Terrorist Branch police station after Turkey's Interior Ministry launched an investigation into fans of the club, from Diyarbakır (Amed), the unofficial capital of the country's mainly Kurdish southeast, following a show of support for Iranian anti-government protesters at a match last weekend.
Images from the match show opposing fans throwing objects at one another after the match finished, and some news sources said that Bursa players had been targeted while warming down on the pitch.
Yet the ministry's statement, quoted by Turkish news outlet Halk TV, referred to "provocative images" worn at the match by fans "in spite of security measures."
Many Amedspor fans arrived at their team's 2–0 home victory against Bursaspor on Sunday carrying Kurdistan flags and wearing T-shirts bearing images of Mahsa (Jîna) Amini, the Iranian Kurdish woman whose death sparked anti-government protests in Iran.
I am so proud of this. Wow. Today in Amed, Diyarbakir, fans of Amedspor attended the game holding Ala Rengîn and T-shirts supporting Jîna Amini. There's no excuse for anyone else now. They are risking their freedom doing this in the Turkish occupied Kurdistan. Her Bijî!#JinaAmini pic.twitter.com/nwvJXcGHR7

— Haks ☀️ (@iAmHaks) September 25, 2022
Amini died on 16 September, after being hospitalised during a reported beating by Iran's morality police. The 22-year-old had been arrested for wearing her hijab improperly, and her death has led to both massive protests in Iran's mainly Kurdish provinces and nationwide demonstrations against the Islamic Republic's strict impositions on women's rights.
Demonstrations in solidarity with Amini and the Iranian protesters have taken place around the world, in countries ranging from Britain to Malaysia. But the T-shirts worn by Amedspor fans, the Turkish Interior Ministry said, was a "provocation".
"Those who want to poison sport with provocative materials will be afforded no opportunities," the ministry said in a statement. "The necessary intervention has been made on the provocation, and an immediate investigation into those concerned has begun."
Cultural expressions by Kurds, the country's largest ethnic minority, have been treated as a threat by the modern Turkish state since its beginnings in the early 20th century. Restrictions on the Kurdish language and political imagery including the Kurdish flag have been a running theme under the ruling Justice and Development Party (AKP) since 2015.
After the match, the pro-government newspaper Yeni Şafak tweeted a video of Amedspor fans peacefully chanting in time to cheerful music, and waving their Kurdish flags. "Before the match, some Amedspor fans posed for the cameras carrying 'rags'," the newspaper's tweet said.
Amedspor-Bursaspor maçı öncesi bazı Amedsporlu taraftarlar, ellerindeki paçavralarla kameralara poz verdi

— SPOR (@yenisafakspor) September 25, 2022

Source:MedyaNews