Kurdish music band Koma Amed reunites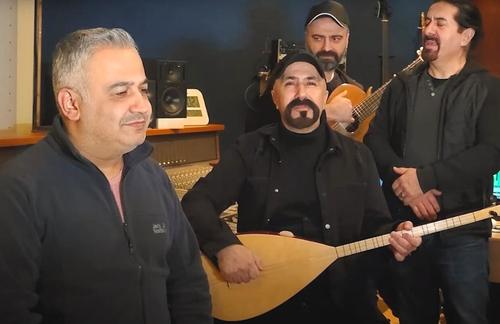 Koma Amed's influence on Kurdish music was incalculable in 1990's. The band announced that they reunite.
The band released the acoustic version of the song "Êvare" on Youtube yesterday (February 1).
Serhat Çarnewa, Süleyman Çarnewa, Memo Gül, and Mazlum Rewşen will be the members of the reunited band, it was announced.
Memo Gül wrote that they are very excited.
"Our reunion as Koma Amed made us very excited, just like it did our audience."
The contemporary folk music group was founded first in 1988 by medical students from Ankara and Hacettepe universities in Ankara.
Their first album, Kulîlka Azadî, was released in 1990.
The original members of the band were Evdılmelik Şexbekir, Gülşen Çetin, Savaş Çakmak, Rohat Kutlay, Fikri Kutlay, Mustafa Kart, and Ahmet Kaya.
Şexbekir, a founding member, joined the PKK in 1991 and was killed in 1992.
In 1993 the group moved to İstanbul and continued their work in Mesopotamia Culture Center in Beyoğlu.
After 1997 when their album Dergûş was released, some members had to seek asylum in Germany for political reasons and the band was separated.
Koma Amed was one of the first bands called "Kom" (Band in Kurdish) in the 1990s. They read Kurdish folk songs in a folk-jazz style. They worked on traditional Kurdish music experimentally and released albums and songs that music lovers of all circles loved.
The Dergûş album was a great success. In 1999 the then Foreign Minister of Türkiye, İsmail Cem gave this album as a president to his counterparts in the European Union. (TY/PE)
Source:Bianet