Turkey's Erdogan appears via video link after health scare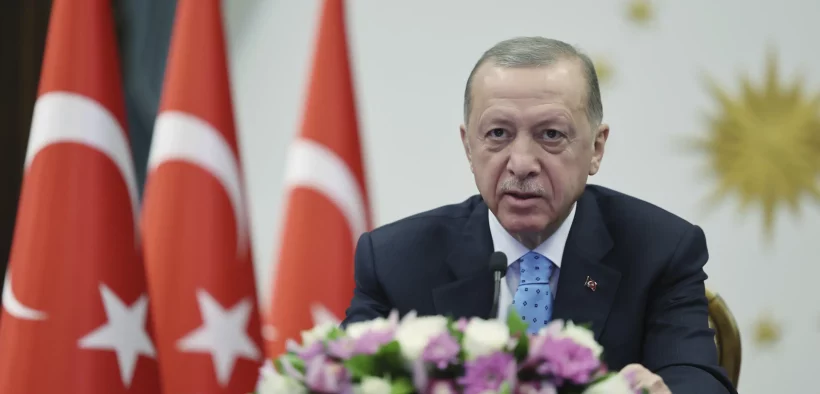 (AP) — Turkish President Recep Tayyip Erdogan inaugurated a nuclear power plant via video Thursday in his first public appearance since falling ill on live TV and canceling campaign stops, as he sought to dispel concerns about his health weeks before a crucial election.
The 69-year-old leader looked pale sitting behind a desk surrounded by Cabinet members, aides and political allies to preside at the event marking the delivery of the first fuel to the Russian-built Akkuyu Nuclear Power Plant in southern Turkey.
Erdogan, who has ruled Turkey for two decades, canceled election rallies Wednesday and Thursday after suffering what the health minister described as a gastrointestinal infection during a TV interview on Tuesday.
Turkish officials denied online rumors that Erdogan, who underwent intestinal surgery in 2011, had suffered a serious illness and was hospitalized. "We categorically reject such baseless claims regarding President (Erdogan's) health," his communications director, Fahrettin Altun tweeted.
Dr. Fahrettin Koca, the health minister, said Erdogan was improving.
"I was with him this morning. His health is fine," Koca said Thursday. "The effect of his gastrointestinal infection has decreased. He will continue his schedule."
Erdogan, seeking a third term as president, has been campaigning hard as he faces an especially strong challenge in the May 14 election, attending several events per day. The latest opinion polls showed a slight lead for Erdogan's main challenger, center-left opposition leader Kemal Kilicdaroglu, who is backed by the Nation Alliance, a grouping of six political parties.
Kilicdaroglu and other members of the Alliance have expressed their wishes for Erdogan's speedy recovery.
In the video, Erdogan boasted that he was "proud to be making the move that will place Turkey among the nuclear power countries of the world."
Russian President Vladimir Putin also participated by video at the ceremony. He described the plant the "biggest project in the history of Turkish-Russian ties."
With Thursday's events, the Akkuyu plant officially became Turkey's first nuclear power facility even though construction is continuing. It is expected to produce about 10% of Turkey's electricity needs once completed.
The plant, which is being built by Russia's state nuclear energy company, Rosatom, is located 338 kilometers (about 210 miles) west of the epicenter of Feburary's devastating earthquake that killed more than 50,000 people.
The facility was not damaged and is being designed to endure powerful quakes. Still, its location, on the edge of a major seismic fault line, has raised concerns, especially in the nearby island nation of Cyprus.
"We don't forget the thousands of victims from the 7.8 magnitude earthquake on Feb. 6, 2023," said a statement from the Cyprus Anti-Nuclear Platform, a group of dozens of Greek Cypriot and Turkish Cypriot organizations. "For years we have stood against this project which can result in grave consequences to the environment and to the security of the entire eastern Mediterranean."
The ceremony was the latest in a series of infrastructure and defense projects that Erdogan has undertaken to try to boost support in the election. Last week, he marked the first delivery of natural gas discovered in the Black Sea and announced plans to provide free natural gas for households for a month.
Erdogan was prime minister from 2003 to 2014 and has been president since then. He has been criticized for his increasingly authoritarian rule and handling of the economy and rampant inflation in recent years, as well as the earthquake.
Also on Thursday, about 3.4 million Turkish citizens living abroad began voting for president and seats in parliament. The biggest contingents include 400,000 Turks in France and 1.5 million in Germany who can cast ballots until May 9. If no candidate wins outright and a runoff is needed on May 28, overseas balloting would take place May 20-24.
In Berlin, one voter who identified herself only as Fatma said, "Erdogan is strong. We are behind him."
Those comments were echoed by 39-year-old Ozlem Dinc in Paris, where up to 300 people lined up to vote outside the Turkish General Consulate in the suburb of Boulogne-Billancourt.
"We hope from the bottom of our hearts that he will come to power again and that he will conquer the whole world," she said.
Others in Paris were critical of Erdogan and the changes he has made.
"We have to change the president first and then the system," said Sema Jude. "The presidential system in Turkey is not democratic and it is like a dictatorship."
Cinar Negatir agreed, though for other reasons. "Yes for a change of president, because economy is at 0%," he said. "That's why we vote to change the president."
The atmosphere outside the consulate was calm, with Erdogan supporters and opponents discussing their views in line.
___
Jordans reported from Berlin. Kerstin Sopke in Berlin, Nicolas Garriga in Paris and Menelaos Hadjicostis in Nicosia, Cyprus, contributed.